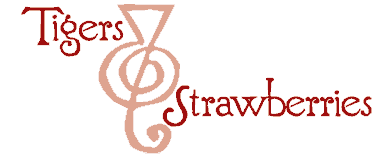 Cook Local, Eat Global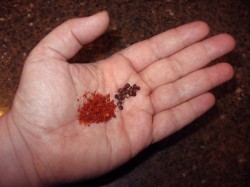 Under normal circumstances, I would never advocate that a person attempt to find a substitute for the flavor of black pepper–or really, any other spice. They all taste unique, and substitutions do not happen on a one-to-one basis. However, when I discovered recently that I had developed an allergy to black pepper (which I still hope is some odd side-effect of being pregnant and will eventually go away), I found myself in the position to have to find something to take the place of that very commonly used spice in my cooking.
At first, this search was not very successful.
In Indian spice blends, like my house garam masala, I found that I could use some allspice instead of black pepper and have a satisfactory flavor and level of heat. The flavors of the two spices are in no way analogous, however, the level of "heat" that allspice registers on the tongue is of a similar caliber as the heat of black pepper, and so long as it is a spice blend containing at least four or five different flavors, it works fine.
As a stand-alone spice along with salt, however, allspice is not a very good substitute.
Then, in more of a "stand-alone" situation where I wanted the bite of black pepper, but didn't want to hide it in a spice blend, I tried some of Penzey's Aleppo Pepper flakes. Aleppo peppers are a slightly hot chile from Turkey, which combine a unique sweetness with just a little bit of a bite and very little heat. For some dishes, particularly foods that are Mediterannean in origin, Aleppo pepper flakes–pictured above–are a pretty good substute, though the sweetness of the chile is noticable and can throw off the flavor balance of some dishes.
Finally, a loyal reader, Mel, I believe, mentioned that I should try "Grains of Paradise," a spice that was once used as a substitute for the more expensive black peppercorns back in the Middle Ages. She also said it was somewhat hard to find, however, with the Internet at my fingertips, I was not surprised to find it readily available from several online sources, including the one I bought some from–The Spice House, in Chicago. She mentioned that it was related to ginger, not black pepper, so both she and I were of the opinion that it might be a workable substitute.
I had heard of the spice, but had never run across it myself, so after ordering a jar of it, I decided to do a little research on it to see what gave it its flavor. So I let my fingers do the walking across the keyboard to my favorite source of knowledge on all things spicy: Gernot Katzer's Spice Pages, and found a great deal of interesting and useful information.
Grains of Paradise, Aframomum melegueta, is a spice that is native to West Coast of Africa, and is particularly grown in Ghana. It is no longer very much used except in West African and North African cookery, though at one time, it was used as an inexpensive substitute for black pepper in Europe. None of the flavor constituents contain piperine, the substance that gives black pepper its flavor, so it is unlikely that I will have any sort of allergic reaction to this spice.
The spice consists of seeds, about the size of cardamom seeds, that grow together in a dried brown pod that also looks similar to a cardamom pod. The seeds, however, instead of being greyish black are reddish brown, until they are ground and then they are somewhat greyish, and very, very fragrant. (You can see them in the picture above.)
I was excited to try them when they came in yesterday, so I immediately tore open the box and opened the jar. Sprinkling a few out into my hand, I sniffed them, and discerned very little scent. When I first cracked a seed between my teeth, I was equally disappointed and wondered if I had gotten a shipment of very old, worn out spices, however, as I chewed the seed thoroughly up with my molars, a very distinctive fragrance and flavor was released.
What was it?
It tasted like a mixture of good dried ginger and black pepper. I popped another seed in my mouth, and kept chewing, and the flavor deepened. It definately had the black pepper sharpness teamed with the incomparable lingering scent of ginger.
I used it to sprinkle over my pollo ala plancha last night and was thrilled to discover that the flavor was very, very close to that of black pepper, with the ginger note only adding a welcome flowery scent to the dish.
It was great!
I think this will be my all-purpose pepper substitute from now on; I just need to order a new pepper mill to put it in!
Thank you, Mel!
24 Comments
RSS feed for comments on this post.
Sorry, the comment form is closed at this time.
Powered by WordPress. Graphics by Zak Kramer.
Design update by Daniel Trout.
Entries and comments feeds.