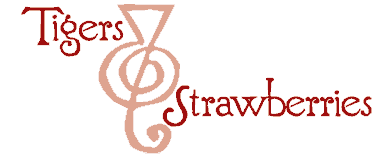 Cook Local, Eat Global
One of the prettiest pies known to humanity is a sour cherry lattice top pie.
Or, at least, I think so.
The brilliant color of the cherries is set off by the seemingly intricate woven strips of pastry; the fruit looks like round ruby baubles set in a golden filagree. The openwork top also allows the fragrance of the filling to fully permeate the air, so while the pie bakes, the whole house is filled with the scent of cherries, spices and browning pastry.
It really is a joy to behold.
I was always afraid of making latticework pie tops for years, even though I grew up watching my Grandma patiently weave them herself. She especially liked lattice tops for cherry or blackberry pies; she eschewed them for apple pies, stating simply, "Apples aren't as pretty as cherries and berries, so there is no need to show them off."
How does one make a lattice-work top for a pie?
Well, the traditional way looks complicated, but is really easy.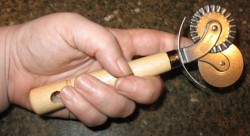 All you do is roll out your pastry for the top crust just as you would for a double-crust pie. But, instead of draping that round of pastry over the filled bottom crust, trimming it and pinching the edges to make a decorative border, you cut 1/2″ strips of pastry out of the rolled top. I like to use a fluted edged pastry cutter to cut the strips, because it makes the pie top look even fancier, but you can use a straight cutter, a pizza cutter or a knife just as easily. Just make sure to try and keep your strips the same width, and keep the cuts parallel.
I like using my Italian pastry cutter, shown above. It has two cutting wheels, so you can cut a straight or fluted edge, and you can use it to cut pastry, pasta, cookie dough or bread dough, depending on what you are up to. The wheels are sharp, so the pastry comes out with nice cleanly cut edges–no blurry flutes here! But, you could do just as well cutting straight edges with a pizza cutter or a very sharp knife, though I have to say, using a knife can be clumsy, and is the method most likely to cause crooked edges.
Once you have the strips cut, you lay out the first layer of them , using the shorter strips first, with each strip gradually increasing in length until the center strip, and then decreasing again. Do not trim the strips to fit at this time! Leave about a 1/2″ space between strips.
Next, you need to lay the second layer of strips and weave them into the first layer. This isn't nearly as hard as it sounds.
All you have to do is fold back every other strip of the first layer of pastry before you lay down the first strip of the second layer. Look at the photograph, and you can get the idea. Fold back every other strip of the first layer, lay down the first strip of the second layer, and then unfold the folded back strips and lay them flat once more. Then, before you lay the next strip, you take the strips from the first layer that were not folded back on the first go-around, and fold them back, then lay the second strip, and lay everything flat again.
Repeat as necessary, until you have covered your pie with a basket-weave effect lattice top.
Now, you need to trim the edges of your strips even with already trimmed edge of the bottom crust, pinch the edges of the strips to the bottom crust, and then tuck the edges under and squeeze gently against the top edge of the pie pan. Then, make a fluted edge by whatever means you prefer to do it–I use my fingers, but some people like to use spoons and fingers. (If you follow the link to the lard-butter pie crust recipe, there are photographs and extensive instructions on how to make the dough, roll out the crust, put it in the pan, fill it, place the top crust on top, trim it, and flute it, so fear not.)
The recipe for the filling is in large part from Ken Haedrich's book, Pie, though I added the spices myself. The ginger, in particular, adds a delicious fragrance to sour cherries that is unbeatable. I also lowered the amount of sugar in the filling considerably, as I am fond of the tart flavor of sour cherries. If you want a sweet cherry pie, use sweet cherries, okay?
(For this pie, I am happy to say that the many of the ingredients are fresh and local to Ohio. I used lard from Harmony Hollow Farms here in Athens, cherries grown in Athens, and butter from Hartzler Family Dairy in Wooster, Ohio. If you live in Athens, Ohio, you can get the first two ingredients at the Farmer's Market and the butter at The Village Bakery down on East State Street.)
Sour Cherry Lattice Top Pie
Ingredients:
1 recipe Lard-Butter Crust (or, you can use all butter if you want)
6 cups fresh sour cherries, stemmed and pitted
1/2 cup raw sugar
1/4 cup cornstarch
1/4 teaspoon ground dried ginger
1/8 teaspoon ground cardamom
grated zest of one lemon
2 tablespoons cold butter, cut into small pieces
Method:
Preheat oven to 400 degrees F.
Mix together all filling ingredients except butter, and allow to macerate until the cherries release some of their juice.
Roll out dough for the bottom crust ,and lay it into 9 1/2″ deep dish pie pan, and then add filling. Smooth the filling flat with a spatula, and dot top with tiny bits of the 2 tablespoons of butter.
Cut strips, and use them to weave the top as directed above. Trim the strips and bottom crust as directed in the instructions for the Lard Butter Crust. Turn edges under and flute them as instructed and illustrated in the recipe for the crust.
Place pie onto silpat-lined baking sheet and place in the center oven rack and bake for 30 minutes. (20 minutes if you have a convection oven.) Reduce temperature to 375 degrees F and rotate pie 180 degrees, so that the part that faced the front of the oven now faces to the back. Bake until the top is golden brown and any visible juices bubble thickly–about 35-40 minutes. (With a convection oven, it is more like 25-30 minutes.)
Remove from oven and cool pie on wire rack for at least two to three hours before cutting into it and serving it. (My experience is this–with lattice top pies, it is best to serve them completely cool–otherwise, they will not be very pretty.)
24 Comments
RSS feed for comments on this post.
Sorry, the comment form is closed at this time.
Powered by WordPress. Graphics by Zak Kramer.
Design update by Daniel Trout.
Entries and comments feeds.