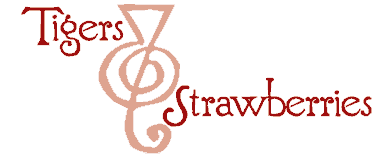 Cook Local, Eat Global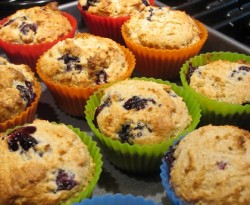 Summer fruits tend to inspire a flurry of baking at my house.
Now that I am pregnant, they inspire not only a flurry of baking, but a flurry of grazing, as cold, simple breakfasts such as plain fruit is about all I can handle in the summer heat. (I went out to the farmers market today, and nearly fainted from the heat by the time I got home; I have been inside ever since.)
But along with this summer's large amount of baking and grazing, comes a desire to experiment.
I have a recipe for blueberry muffins from Cook's Illustrated that I have been wanting to try, because, as you know, it is "The Best" blueberry muffin recipe, ever, because, well, the editors and authors of the magazine say it is. But, in point of fact, the recipe sounded pretty tasty, though I have to admit to being somewhat dismayed by the amount of fat present in the muffins: the recipe includes an egg, four tablespoons of melted butter and ten ounces of sour cream, along with, in my opinion, not enough blueberries (1 1/2 cups).
I wondered if I could boost the health profile of the muffins a wee bit by subbing some of the sour cream with Greek-style yogurt, and by substituting half of the all-purpose flour with some of King Arthur Flour's White Whole Wheat Flour. And, of course, by using freshly picked organic berries, and more of them, because, dammit–there needed to be more.
And while I was at it, I decided to try out one of my newest kitchen gadgety things–Sur la Table's Silicups.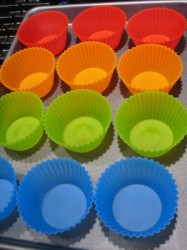 Silicups, for all that they sound like "Sillycups" are not silly, but quite ingenious: they are silicone muffin cups that are not only reusable, but which will release from the muffins without the use of extra grease, butter or other lubricant. They also come in rainbow-brilliant colors (and pastels, if you are into those, which I am -not-), are simple to wash (dishwasher safe) and don't require you to use a muffin pan with them. They can just sit on a cookie sheet happily.
I bought the silicups a while back, but hadn't yet gotten around to baking with them, because I really prefer muffins to cupcakes. Cupcakes–well, maybe when our Kat is in school and needs to take a treat for her birthday, I might make cupcakes, but really, until then, probably not. No one in our household much cares for them, really. They can dry out easily, and often they are more trouble to make than a single large cake. So, the silicups had to wait until I had fresh fruit and the yen for muffins.
How did they work?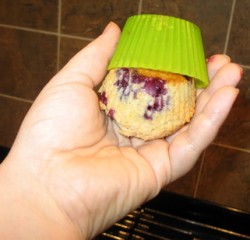 You can see for yourself that the silicone releases perfectly as advertised–all I had to do to get the muffins to drop out of the cups was invert them and give a wee squeeze to the outside edges, and pop! The muffin would drop into my waiting hand without any difficulty whatsoever. I suppose that I could have left them in the cups for serving–the bright colors are cheery and pretty, but I -had- to see if the muffins really did come out as easily as advertised.
As for the recipe–how was it?
Well, never having made the original as written, I cannot speak for it from experience, but my thought is that it was probably a little bland. All of the flavoring items–the spices and lemon zest–were my own additions. And to my taste, they really added a lot to the recipe. As for the white whole wheat flour–you could not detect it at all. It completely lacks the slight bitter edge to the flavor that typical whole wheat flour has. The muffins turned out to be quite tender as well. The next time I make this recipe, I may replace 75% of the flour with the white whole wheat and see what happens, but I suspect that I will be using this flour often in my future baking.
As for the sour cream and yogurt–the next time, I will use all yogurt. As it turned out, I couldn't replace the 50% of the sour cream in the recipe with yogurt–I ran out of yogurt–but I think that with the thicker Greek style yogurt, there will be very little sacrifice in texture and flavor by using it instead of the sour cream. I ended up also subbing half the sugar required in the recipe with raw sugar; next time, I will use all raw sugar and in fact, probably reduce the amount of sugar somewhat. I don't think it is necessary. (The dipping of the finished muffins in butter and then in sugar and cinnamon is a nice touch–I liked the crunchy topping, but the raw sugar made the muffins less pretty than they would have been had I used white sugar.)
And the fruit? Well, the original recipe called for frozen fruit–probably so it could be made year-round–and called specifically for wild blueberries. I used fresh, locally grown cultivated berries, and I added an extra 1/4 cup of them to the batter, which I determined was strong and thick enough to hold more fruit.
As you can see–the muffins turned out to be loaded with fruit–and in my universe, where muffins are primarily about fruit, that is an excellent and beautiful thing.
The only other thing I can think of that would improve these muffins would be to use a mixture of different berries instead of just blueberries. Imagine strawberries, raspberries, blueberries and sour cherries, for example. Or maybe just a mixture of sweet and sour cherries. Ooh. Maybe I will make some of those for tomorrow morning's breakfast.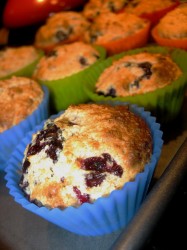 Blueberry Muffins with Cinnamon-Sugar Topping
Ingredients:
1 cup all purpose flour
1 cup white whole wheat flour
1 tablespoon baking powder
1/4 teaspoon ground ginger
1/4 teaspoon ground cardamom
1/8 teaspoon cinnamon
zest of one lemon
1/2 teaspoon salt
1 large egg
1/2 cup sugar
1/2 cup raw sugar
4 tablespoons butter, melted and slightly cooled
3/4 cup sour cream
1/2 cup Greek-style yogurt
1 3/4 cups fresh blueberries, rinsed and thoroughly dried
1/4 cup raw sugar
1/4 teaspoon cinnamon
3 tablespoons melted butter
Method:
Preheat oven to 350 degrees F. Line up silicups on baking sheet, or spray standard muffin tin with nonstick baking spray.
Whisk together dry ingredients, including lemon zest in a very large bowl.
In another bowl, whisk egg until well beaten. Add sugar and whisk well until thick and well combined–about thirty seconds. Add melted butter in two or three additions, whisking well between. Add sour cream and yogurt and whisk until well combined. Do not overbeat once sour cream and yogurt are added.
Add berries to dry ingredients and toss to combine. Fold in sour cream mixture until batter comes well together. The batter will be very thick–do not beat or overmix.
Use an ice cream scoop to portion batter into silicups or muffin tin. (The silicups are probably smaller than the muffin tin cups–you will have enough dough left over if you use silicups to bake in a mini loaf pan.)
Bake until light golden brown and toothpick inserted into center of muffin comes out clean–about 25 minutes. (With a convection oven like mine–it will take between 15 and 20 minutes.)
Allow muffins to cool five minutes, then release from cups or pan. While cooling, mix together the sugar and cinnamon. Dip tops of still warm muffins in butter, and then in the sugar and cinnamon mixture, then allow to cool on a wire rack until just barely warm.
13 Comments
RSS feed for comments on this post.
Sorry, the comment form is closed at this time.
Powered by WordPress. Graphics by Zak Kramer.
Design update by Daniel Trout.
Entries and comments feeds.