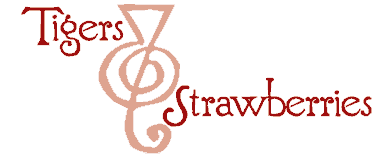 Cook Local, Eat Global
My eloquent, if cynical, compatriot, Kate at The Accidental Hedonist has a post riffing on the recent NY Times article about our good friend and neighbor, high fructose corn syrup. I thought I would pick up the issue with her and examine it from my own perspective, as a little, you know, subversive dig on this fine and rainy Independance Day.
Why a dig? Well, what is more all-American than corn, and any product made from it? It is our native grain, a cultivated grass that cannot live without human intervention, a lifesaver to the Pilgrims and the backbone of many Native American diets.
So, what is my beef as a locavore with high fructose corn syrup, a home-grown sweetener if ever there was on, using our most patriotic of grains to produce a sugar that is cheaper to grow than sugar cane (which does not grow much in our continental US, and thus would have to be imported from Elsewhere), and comes from one of the most democratic of plants that can grow nearly anywhere? What exactly is my beef with high fructose corn syrup, hereafter known as HFCS?
The issue with HFCS is this–it is in nearly every processed food product out there in copious amounts.
The precipitious rise in total sugar consumption among Americans has more to do with eating processed foods that one does not think about having sugar in them–salad dressings, soups, tomato sauces, ketchup, bread and the like–than it does with Americans lacking "food discipline." If you look at the statistics themselves, all taken from Marion Nestle's book, What to Eat, and sourced by the author from the USDA, one notices a pattern emerging.
While total individual consumption of sweeteners increased among Americans from 1980 to 2004 from 120 lbs per capita to 142 pounds per capita, individual use of refined sugar (table sugar) -decreased- during the same span of years from 84 pounds per capita to 61 pounds per capita. The average individual consumption of HFCS, however, more than doubled between 1980 and 2004–going from a mere 35 pounds to 78 pounds per capita.
What happened? Did Americans dump out our sugar bowls and install pitchers of HFCS on our tables? No.
No, what happened was, the use of table sugar, meaning the stuff that we add to food ourselves, dropped, because Americans had taken heed to warnings that refined sugar was not so good for us from health professionals in the media. But if that is the case, how did we start eating so much HFCS, if we are lowering our own use of added sugars?
The answer is this, and it is quite simple: Americans are not themselves adding more sugar to their diets–it is being added to their diets by food processors.
My aim is not to lay all of the blame on the food processors and to vilify them as a group. Americans still have personal responsibility in their dietary choices, one of which I will harp upon quite readily–Americans' consumption of soda, which is pretty much nothing but HFCS, water and flavorings, has also sky-rocketed. Anyone with three quarters of a brain should know that soda is not a healthy beverage for anyone, much less children who are now more apt to drink soda than milk. (In 1975, each American typically drank 27 gallons of soda per year; in 2005, that amount has doubled to 54 gallons. Thirty years ago, American boys drank twice as much milk as soda. Now, the statistics are reversed–boys drink twice as much soda as milk. These statistics are from Eric Schlosser's new book, Chew on This: Everything You Don't Want to Know About Fast Food, which is aimed at children.)
My goal is to point out that American consumers can hardly be held completely to blame for the obesity and diabetes epidemic when food processors have been adding large amounts of HFCS to most processed foods for years, including foods that one does not think about being sweet or containing any kind of sugar. One cannot avoid what one does not know exists. I think of HFCS as a "stealth" sweetener, because it is in so many foods that the average shopper would not think to look for it in, in large part because it serves a purpose other than sweetening foods. It is, like all sugars, hydroscopic (allthough HFCS is particularly hydroscopic) meaning it draws moisture from the air into the food product, thus keeping it softer, less dry, and tasting and feeling more fresh.
Unless the average American knows anything about the hydroscopic properties of sugars, they wouldn't think to look for HFCS in non-sweet yeast breads, rolls and crackers, where it is used basically as a preservative.
And don't start with me on "they should just read food labels" spiel. Yes, they should. But, how many harried Moms and Dads out there doing shopping in between work and home have a chance to do that? And why should they think to -look- for sugar of any sort in food items that are not normally thought of as sweet, such as jarred spaghetti sauce, unless they have -heard- that such items have high amounts of sugar added to them? It is not a logical assumption that one is going to find HFCS in one's spaghetti sauce, unless one knows a decent amount about food processing in general, and let's be real here–most people don't know these things.
And yes, I -know- that the solution is for people to read labels, cut down on processed food, eat more whole foods cooked at home, and stop drinking soda, but for many time pressed individuals who do not know how to cook, this is all easier said than done.
The fact is that the more information that is out there about HFCS and how much of it is in processed food, the more chance there is that individuals and families will get the clue that they are more sugar than they think they are, which is helping to cause the massive amounts of obesity and diabetes we are seeing around the country, and might try and do something about it in their own lives.
But without good information getting out there, without the media of all types–from informal media like blogs to newspapers to television to radio to books–talking about HFCS, people are not going to be getting the information they need to make any sort of wise decisions.
One of the best dietary decisions an individual or family can make is to cut out drinking soda completely from their diets–sodas are nothing but empty calories, and can really add a great many calories to a daily diet very quickly. This, of course, leads to weight gain. In my very own experience, after I quit habilutally drinking soda as my main drink of choice (now it is water or unsweetened tea or coffee), I lost four dress sizes within a year and have stayed pretty steadily at the same size since. I not only look better, but I feel better.
Another good dietary choice is to try and cut back on processed foods, especially those with large amounts of HFCS–such as ready to eat cereals and other obviously sweetened products. But, even if one just learns to read labels habitually, a shopper can make a better choice in processed foods like spaghetti sauces, salad dressings and breads–while HFCS is used in many brands of these products, they are not in -all- brands. HFCS -can- be avoided, if a shopper knows to avoid it in the first place.
What I would like to see is some food processors cutting back on the use of HFCS in their products, but I figure that is a bit pie-in-the-sky. It is too easy to use in remedy of various processing ills, and it is too cheap, thanks to government subsidies keeping prices artificially low.
So, there it is, folks–my non-patriotic, cranky diatribe about our very own American corn-based sweetener and what I think is wrong with it.
Happy Independance Day.
17 Comments
RSS feed for comments on this post.
Sorry, the comment form is closed at this time.
Powered by WordPress. Graphics by Zak Kramer.
Design update by Daniel Trout.
Entries and comments feeds.