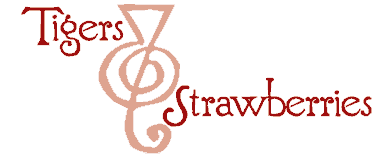 Cook Local, Eat Global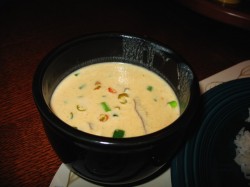 Some foods are comforting because they remind us of our childhoods.
They remind us of home, mother, milk, and the warmth of grandmother's kitchen. They take us back to when life was good, and simple and food was something that came to you without effort. As children, we asked, and then, did receive.
Other foods are comforting because of what they are.
For me, Thai tom kha gai is comforting just because of what it is: a silky, velvety-smooth coconut-milk based soup filled with the flavors of lemongrass, galangal, lime, and chile, enlivened by small pieces of just-cooked chicken and slippery-sweet mushrooms. From the first time I tasted this soup, years ago in a Thai restaurant in Cleveland, I have longed for it, and every time I eat it since, from the first taste, I feel like I am coming home.
It doesn't remind me of my childhood at all, or at least not the childhood I remember consciously of this life. It cannot–it is a soup born of a place of where yards are fillled with trees bearing tropical fruits, and kitchens exist in a room separate from the main house. It is born of a place where rice is the staple food, grown in emerald terraces, where gilt Buddhist temples rise from the trees, and where strong flavors are the rule of the day.
I was not born into such a world, but every time I taste tom kha gai, my heart is made at peace, my stomach is made happy, and I cannot help but smile, resting in the comfort of the flavors that envelop my senses.
Yesterday, I cooked up a Thai dinner: tom kha gai, nam sod and panang neur with steamed jasmine rice. In part, it was because I wanted to make a nice dinner to celebrate the holiday, and. in part, because I was on a mission of mercy. A friend of a friend is suffering post-surgical appetite loss, and it turns out that she is partial to Thai food. So, I promised to make up some Thai food to send over to her, in the hopes of kick-starting her appetite, as there is no place any closer than Columbus to get take out Thai. My hopes are that the healing powers of chicken galangal soup will assist in healing someone who is having trouble eating, and if it does, and she eats well, I promised to make some more Thai goodies to keep her eating, so that her body can do its work to repair itself.
The second word in tom kha gai, "kha," means, "galangal," and it is the backbone of the soup. Coconut milk is the vehicle that carries the flavor, but it is not the basis of the soup. It is all about galangal.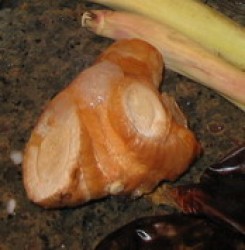 Galangal is the tougher, larger, more complex-flavored cousin to ginger. Also a rhizome, galangal is best used fresh or failing that, frozen; I have tried to use dried chips of it to make tom kha gai in the past and have failed miserably. Most of the sharp, medicinal tang of the flavor is dissipated when it is dried, so the complexity of galangal is lost, leaving on a whisper of mustiness behind.
When fresh or frozen, however, the full impact of galangal is ready to be absorbed into the coconut milk-based soup. To infuse the broth with the galangal flavor, I buck tradition and simmer it very slowly over at least a two hour period of time. I leave the stalks of lemongrass and the lime zest or leaves in for the full time as well, allowing their fresh, floral flavors to fully invade the succulent coconut milk and chicken broth base along with the galangal. I also slip a tablespoon or so of red curry paste into the soup at this time to add a further note of complexity to the flavor.
Galangal is often found fresh at Asian markets that cater to southeast-Asian populations; it can even more often be found in plastic packages frozen. The rhizomes are simply cleaned up, and cut into big chunks, then packed in clear plastic and frozen, and I have found little difference in quality between fresh or frozen galangal. One thing I will note–these very tough, hard rhizomes are easier to cut once they have been frozen and thawed–they are like rocks otherwise. That is why I always use my heaviest cleaver to cut them when they are fresh.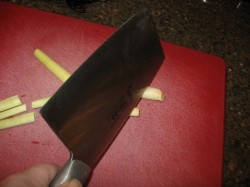 When the soup base is fully flavored by these aromatics, I fish them out with my wire skimmer, and discard them; neither galangal slices nor bruised lemongrass stalks (to bruise them, I cut the stalks as directed in the recipe, and then tap them heavily with the back edge of a cleaver–one can smash them with the flat of the cleaver as well, but one risks having them fall apart and leave shards of fibrous material in the soup if one completely mashes the stalks) are particularly edible unless they are cut very finely or pounded into a puree.
After the basic flavors are in the broth and the stalks, rhizomes and zest are discarded, I then add a lot of fish sauce to the broth, to add a deep, satisfying salty tang. Do not skimp on the fish sauce, no matter what you might think of what it smells like. With fish sauce, more is better. After I have tasted the soup, I then add the sliced mushrooms and the chicken bits, allowing them to simmer gently until just done; I do not like the chicken to become overcooked and tough. It should be as tender and silken as the broth.
Finally, a kiss of lime juice, a sprinkling of herbs and scallion tops, and out the soup goes to the table, accompanied by a bowl of sliced Thai chiles so diners can add as little or as much heat as they would like. (I like it very, very hot, personally, and find that there is no other soup in the world that can cure me of a cold faster than supremely spicy tom kha gai. It also gives my cheeks an attractive rosey glow, I am told.)
It is a simple soup to make, and it really is comforting. I hesitate to claim healing powers for it, but I do know that after eating last night, everyone's sinuses cleared right up, including Heather's, and she has been having a horrible time with allergies this week.
Ingredients:
2 19 ounce cans of coconut milk (I prefer Mae Ploy brand, but Cha Khao is also good)
1 quart chicken broth or stock
5 1/4″ thick quarter-sized to half-dollar sized slices of fresh or frozen galangal root
3 stalks lemongrass–bottom 1/3 only, bottom of stalks trimmed, and outer layers stripped away–cut into three equal pieces and bruise with the back of the cleaver
5 kaffir lime leaves, or the zest of two regular limes (I just cut the zest off in big pieces with a peeler to make it easier to fish out when all the flavor is gone from it)
2 tablespoons red curry paste, or to taste (recipe here, or you can use Mae Ploy brand–it is good)
fish sauce to taste
6 fresh shiitake mushrooms, stems removed and sliced thinly
1 whole boneless skinless chicken breast, trimmed and cut into 1/2″ cubes
juice of two limes or to taste
1/2 cup fresh cilantro leaves, stems removed
3 scallion tops, thinly sliced
red and green Thai bird chiles, sliced thinly as a garnish
Method:
Combine coconut milk, chicken broth, galangal, lemongrass, lime leaves, zest or oil, and curry paste in a heavy-bottomed pot. Bring to a boil, turn down heat and simmer. Season to taste with fish sauce. Turn down heat and allow to simmer for at least one half hour, forty minutes is better.
Fish out galangal and lemongrass. Add mushrooms and chicken. Simmer until chicken is done. Fish out lime leaves, add lime juice to taste, and garnish with cilantro leaves, scallion tops and sliced chilis.
The flavor should be a balance of spicy, refreshingly sweet and herbal and sour, with a musky note from the galangal.
30 Comments
RSS feed for comments on this post.
Sorry, the comment form is closed at this time.
Powered by WordPress. Graphics by Zak Kramer.
Design update by Daniel Trout.
Entries and comments feeds.