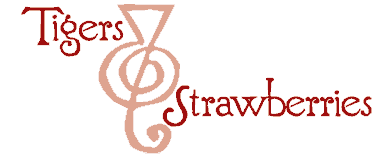 Cook Local, Eat Global
Don't I know that writing about cheese sandwiches is boring, and no one wants to read about them?
Yeah, well, I guess that I don't.
Especially since I am writing about my new favorite cheese sandwich in order to tell you about my new favorite cheese.
You see, I adore cheese. Before I ever tasted real Chinese, Thai or Indian food, there was cheese, and I loved it. I loved all kinds of it, and to this day, when it is comfort food I want and need, and I don't reach for tom kha gai, it is most likely cheese that I will nab from the fridge, bring to room temperature, and nosh upon.
Okay, sometimes I don't bother with the "bring to room temperature" part of the equation.
And sometimes, I use the cheese to make that most pedestrian of repasts–a cheese sandwich.
Cheese sandwiches -are- pedestrian, that is, unless you are a pregnant woman who is not also a vegan.
When one is a dairy-inhaling pregnant woman, cheese sandwiches are not boring: they are a blessed invention. They are manna from heaven. They are, especially when made with fresh, delicious, wholesome ingredients (that means, not Wonder Bread and Velveeta or–ick–Kraft Singles, folks) a quick, simple snack or hot lunch that a busy pregnant woman who is too tired to remember her name can put together in a flash, then eat, all the while secure in the knowledge that she is getting much needed calcium into her system.
So, you see my new favorite up there, don't you? What is it made of? Well, locally grown organic tomatoes from Shade River farm, for one. Fresh lemon basil from Green Edge Gardens/Athens Hills CSA for another. The bread is the pain de campagne from our beloved local Big Chimney Bakery. And then, as you can see, delightfully melty, oozing, seductive semi-ripened raw cow's milk cheese that I bought at the Village Bakery's "Undercover Market," a small but well-stocked little shop down the hill from our house that sells locally produced foods, fair trade foods and raw milk cheeses produced primarily in Ohio, though I am happy to report, they also carry raw milk cheeses from dairies as far afield as Georgia.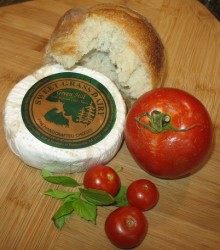 Like my new favorite cheese–Sweetgrass Dairy's "Green Hill" semi-ripened, soft, raw cow milk cheese. The cheese is buttery-smooth and rich, owing to the nature of the milk given by pasture raised, purely grass-fed Jersey cows. (Milk from cows raised on grass is filled with an astonishing array of nutrients, including beta carotene, CLA (conjugated linoleic acid–a potent cancer fighting fat), omega-3 fatty acids, and vitamins A and E. Jersey cows give the richest, creamiest milk of any breed of cow.)
The cheese is amazingly delicious. A double-cream, it is similar in flavor and texture to brie, but to my taste, a little less "funky." (Don't get me wrong–brie put the "fun" into "funky," and I love it, but it does tend to have a strong odor that some people find objectionable–Green Hill lacks that odor.) The cheese is great on its own, but when I first decided to pair it with the pan de campagne, lemon basil and tomatoes, I discovered that while it is milder than brie, it very easily stands up to the strong flavors of the bread, herb and tomato. Putting the open faced sandwich under the broiler at half power for three to five minutes renders the bread chewy-crisp, the cheese buttery and oozy, the basil fragrant as a citrus orchard and the tomato melty and soft. The broiling ties everything together into a cohesive whole, into a sandwich that is more than the sum of its parts.
So there we are. My new favorite sandwich made from my new favorite cheese. Take it from this pregnant woman, Green Hill cheese is a great American artisan cheese that comes from a dairy that not only makes cheese to be proud of, but they raise their cows and goats in a way that is good for the animals, good for the environment, and good for us lucky folks who get to eat their wonderful cheeses.
If you are curious and want to taste some of their cheeses for yourself, you can order them individually online here, or you can choose gift box assortments here.
I'm happy that I can just skip down the hill and pick great cheese up at the Village Bakery any time I want!
16 Comments
RSS feed for comments on this post.
Sorry, the comment form is closed at this time.
Powered by WordPress. Graphics by Zak Kramer.
Design update by Daniel Trout.
Entries and comments feeds.