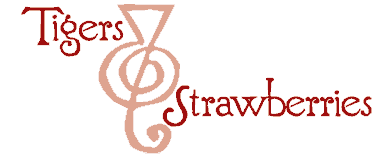 Cook Local, Eat Global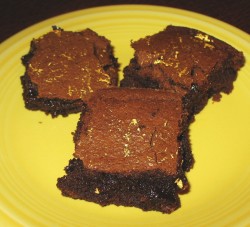 Chiles are one of my favorite fruits and flavoring agents in the entire culinary universe.
As far as I am concerned, they are among the most versatile of ingredients, and can allow the cook to play with a range of flavor, color, heat and aroma that very few other ingredients can manage. As a result of this versatility and the playfulness that it evokes in me, I have come up with a few recipes where chiles appear in contexts that one does not usually expect the fire of a pepper to erupt.
One of those contexts is in a dessert.
A decadadent, rich dessert, filled to bursting with chocolate.
Yes, I know. Chiles with chocolate are becoming a bit de rigeur these days, what with the film "Chocolat" and all.
And I have to admit that I was first inspired to make these brownies after I belatedly rented and watched that movie, and was enchanted with the thought of pairing chile pepper with chocolate in a sweet context. (Mole sauces are wonderful, don't get me wrong, but I have to admit to liking my chocolates sweet. But, not too sweet.)
But, these brownies, which I named in honor of another film ("Pirates of the Caribbean," if you are wondering) are not just about sweet and hot, chocolate and chile. Oh, no. I packed them full of flavors that are associated in one way or another with Mexico: vanilla, cinnamon and coffee, to be precise. And I used high quality chocolate in them, plus added Dutch process cocoa, in order to get a deep, dark chocolatey flavor, color and aroma.
And then, just for kicks, I sprinkled gold leaf on the top of them. You know–to give them that extra bit of flash, and to help them live up to their name. (Allright, I have to 'fess up here. I did the gold for the blog. And it looks cool, and it is extremely cool to be eating gold. But for the first two years worth of making these lovelies, I have not used the gold. You don't have to. But, if you want to–follow the instructions on the gold leaf and have fun.)
These brownies are addictive, and have become a favorite dessert around here since I made them up a couple of years ago. I have made them for weddings, for holidays, and just because. This winter, I may try glazing them with dark chocolate ganache and then sprinkling them with gold leaf and see what happens. In the summer, the ganache would just melt into puddles of goo, but in the winter–well, it may just add a little bit moreishness to them.
The flavor is complex. The first flavor to hit is a combination of the good chocolate and the smokiness of the chipotle. Then, the cinnamon kicks in, and then the espresso. Finally, the chipotle chile heat creeps up the back of your throat and warms your mouth. And then you take another bite, and a whisper of vanilla insinuates itself on your tongue, and then dances with the espresso and chocolate, and then the smokiness cuts in and the chile turns it all into big party. And you take another bite, and it all starts over again. They are, in a word, fantastic. These brownies are one of the few of my recipes I -will- brag about, like in public, even though it is not at all in my nature.
They really are that good. They are sexy hot, and I don't say that about many of my recipes.
But these brownies–they are smokin'.
So, there we are. My entry for The Spice is Right IV: It's Too Darned Hot!. A bit close to late, but still within the deadline–and by popular demand. For those who loved my Aphrodite Cookies–I am giving you another recipe of a similar caliber–these brownies will make your reputation. I promise you.
Just tell folks where you found the recipe, okay?
Aztec Gold Brownies
Ingredients:
4 ounces (2 squares) semi-sweet (62%) Scharffen Berger chocolate, grated (you can use a higher percentage chocolate–like 70% here, but it will make super-rich brownies. Just so you know.)
1 stick salted butter, at room temperature, cut into cubes
1 ¼ cups sugar
1 tsp. cinnamon
1 tbsp. espresso powder
1 ½ tsp. ground dried chipotle pepper
¾ cup all purpose flour
2 tbsp. Dutch cocoa
3 large eggs
½ tsp. double strength Penzey's vanilla extract (or 1 tsp. Penzey's Mexican Vanilla Extract)
Method:
Preheat oven to 325 degrees F. Line 8″ square glass baking pan with foil and spray with Baker's Joy.
In a glass bowl, melt butter and chocolate in microwave in 10 second increments. If chocolate is well-grated, this should take about 40 seconds-stir after thirty seconds.
Place sugar, cinnamon, espresso powder and chipotle pepper in a mixing bowl and stir well. Put flour and cocoa in another bowl and mix well.
Scrape chocolate into sugar mixture and beat on medium speed about 30 seconds. Scrape sides and bottom of bowl and beat another 20 seconds or so.
Add eggs, beat to incorporate, scraping as needed. Add vanilla, and stir to incorporate.
Add ½ of flour mixture, and stir on low speed until mostly mixed in. Scrape bowl and add rest of flour, mixing until incorporated. Scrape bowl. Beat on medium high speed for about 45 seconds, or until mixture lightens visibly. This is to incorporate air, which is the only leavening in the batter.
Scrape into prepared pan and bake at 325 for 30-35 minutes.
Allow to cool in pan for fifteen minutes. Lift out foil and lay on a wire rack and allow to cool -completely- before cutting. Otherwise, they will fall apart. They are very fudgy in the middle, with a bit of a crispish crust on top. If you cut too soon, they will be gooey in the middle and crackle way too much on the top and then fall apart.
They will still taste good, but they won't look very good when you go to serve them, and they -will- be hard to eat.

22 Comments
RSS feed for comments on this post.
Sorry, the comment form is closed at this time.
Powered by WordPress. Graphics by Zak Kramer.
Design update by Daniel Trout.
Entries and comments feeds.