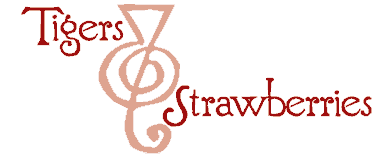 Cook Local, Eat Global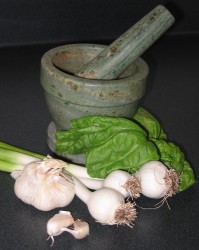 This Spice is Right challenge may be a bit difficult, but it should be fun.
In recognition that August is, at least in the Northern Hemisphere, a time of growth, plenty and harvest, and considering how many bloggers we have from around the world, it might be fun if we highlighted the local flavoring ingredients that are in season where we are.
For us North Americans, that can mean onions, garlic, chiles, nasturtium seeds, blossoms and leaves, dill seeds, fennel seeds, fennel bulbs, coriander seeds (green and dried) and any number of other goodies that we may have grown and harvested ourselves, dried ourselves or processed ourselves. Or, it could be we obtained them from the local farmer's market.
For those who live in say, India–the field is a bit more open, isn't it? Some folks have black pepper vines growing wild over their back garden fences. There may be a co-op of farmers down the road who grow ginger or turmeric or chiles or cardamom. They may, like we North Americans, have a pot of chiles growing on their deck or doorstep.
For folks in Europe–well, you know what grows near you! Lavender is one–caraway seeds, dill seeds, fennel–and of course, onions and garlic. The list isn't as restrictive if one thinks about it.
And once you figure out which locally grown spice you want to highlight, I would really like it if you featured it in a recipe containing as many local ingredients as humanly possible! That includes vegetables and fruits, which will be in copious supply next month, meat, fish and dairy, eggs, legumes and grains. Work with what you can get from your local farmers.
See what happens!
Go native for a meal!
It should be fun. I look forward to seeing what folks come up with–I have a bang-up bunch of goodies to feature for "It's Too Darned Hot!" so look for three round-up posts over the next three days.
As always, the deadline is August 15th at midnight EST. Post your recipe before that time, with a link back to this post in case your readers want to join in the fun, too, and send me an email including a link to the post, your name, where you are, and a link to your blog's main page. I will do the rest!
And then, next week, we are going to be away in Washington, DC, with a friend who is interviewing at Georgetown University. (She's brilliant.) But, I will still be posting from the hotel room–I have some posts and photos lined up and ready to go while we are gone so you don't have to get lonely.
One other thing–I have the schedule for the next few months of themes for the Spice is Right. Would you like me to go ahead and post them and let y'all plan ahead? Or, do we want to continue as we have been? I will tell you that there will be no Spice is Right in October, since I will be busy giving birth to Kat that month, and there may not be one in November. The only way there will be one during that two month hiatus is if someone else wants to pick up the baton for two months and come up with themes and do round-ups. If you are interested, email me, if not, we will just take a two month break, and come back in December.
Thank you for all of your interest and support in my event!
16 Comments
RSS feed for comments on this post.
Sorry, the comment form is closed at this time.
Powered by WordPress. Graphics by Zak Kramer.
Design update by Daniel Trout.
Entries and comments feeds.