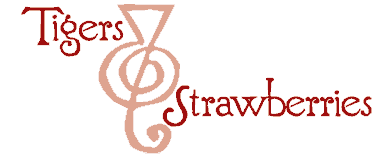 Cook Local, Eat Global
And here we are, in the final phase of It's Too Darned Hot's round-up. As always, if I missed an entry you sent along to me–do not fret–just send another email to me, and I will edit you into this post once we get to Maryland and I can sit down with my laptop and go to work.
And, I am sorry that Tigers & Strawberries was down last night–that would be our webhost, Dreamhost, having an outage again. Believe me, it was frustrating, because I was going to have this post done before I went to bed, and instead, had to work on it this morning.
Anyway, enough kvetching! Let's get down to business and take a look at the last chunk of entries to come in:

Debbie writes Dejamo's Distracted in Chicago, but she used to live in Austin, Texas. And when she lived there, she was gifted by her friend Donna with a recipe called Salsa Gigante. And I just want to thank Donna for introducing her to this lovely salsa, which in turn means, I need to thank Debbie for introducing it to us, because it looks like the quintessential Tex-Mex sort of recipe: filled with serrano peppers, cilantro, garlic and goodness. Debbie confesses to not liking spicy foods for years, but this salsa was a revelation to her–she realized that it wasn't that she didn't like heat–it was that she didn't like pickled jalapenos, which were the only bearers of hotness she had come across before! I, for one, am glad that Debbie had that revelation, and so should we all! Thanks for sharing a great memory with us.

Shreyas, the author of Raven Swallows the Sun, makes a discovery in the course of coming up with her entry for this month's event: fish are friends (and food!) She cooks Tilapia for us that is spices with a glorious-sounding mixture of ancho chile and Herbes de Provence, which she says tastes flowery. (That would be the lavender that is in it–and probably the tarragon, too!) As she describes the dish, it is simple to do: cook the tilapia in parchment packets seasoned liberally with ground ancho chile (which is a dried ripe poblano chile) and the afformentioned Herbes de Provence mixture, until tender and juicy. You cannot go wrong with that, in my opinion–look how scrummy the fish turned out to look! Lovely entry, Shreyas: I am thrilled to see that you, like me, are getting over your fear of cooking fish out of lack of experience. The only way to get that experience is to jump in feet first and learn to swim in the kitchen!
A fellow Ohio blogger, Rosie is Bitchin' In The Kitchen, and while she is up to that, she is also making some fine and tasty goodies like this Holy Basil Chicken. (Holy Basil, Batman–this chicken is freaking awesome! What do you mean, where's the Catwoman–I need another bowl of chicken and rice!) I have to admit to a bit of pride to read that I inspired her to haul off and make this wonder with a post I wrote extoling the virtues of the flavor of chiles, Thai basil and lime, in large part because her family cleaned up the whole thing on her first try making it. Not only that, but they extracted promises from her that she would make it again, and SOON! (I am telling you–chile, Thai basil and lime are hard to beat in the heat of summer–we've been eating Thai food for about a week now, and the heatwave means nothing to us, because the Thai food keeps us cool and comfy.) Rosie, that's just it–the next time I am going to be in Columbus, I am just going to have to email you and let you know and see if we can't meet at the North Market and have an afternoon of shopping and kitchen gossip. I think it would be fun!
Oh, my. I am nearly struck speechless by Mrs D and Chopper Dave's contribution to this event. The couple behind the Washington State blog, Belly Timber, have made a dish that has me salivating before the sun is even up, and the wicked thing about it is that I am not currently eating salmon, which is one of my favorite foods, because of the methylmercury issue. (Being pregnant sometimes sucks, you know?) But, enough about me–let's talk about Salmon Ceviche, which is what you see peeking out of that pretty poblano pepper up there. Ceviche is a great Central to South-American dish that involves chemically "cooking" fish with the citric acid in citrus juice. Usually it is lime or lemon juice, but these folks kicked it up two notches and used both grapefruit and navel orange in addition to the lemon. And they used those lovely poblanos, as well as red jalapenos and it just all sounds glorious. Fabulous. Fantastic. I am still drooling, darnnit. Mrs D. and Chopper Dave–thank you for an outstanding entry, and I really hope to see you come back next month with something equally salivatory.
Limes and Lycopene author, Kathryn from Sydney, Australia, is an herbalist, so she gives us lesson on how chiles are often used to treat patients with sinus troubles. This, in large part, explains my mania for these fiery fruits: I was born and raised in a place with polluted air, and like many who grew up there, my sinus troubles are chronic. However, to back up Kathryn's assertions with my own experience: since I have started eating large amounts of chiles frequently, I have not had as many sinus infections and problems with congestion as I did before. So there you are. Eat chiles and breathe better. It is a great side effect of enjoying the exciting flavor of one of the world's most popular spices. And how does our herbalist and cook recommend we eat chiles? She gives us recipes for Harissa and Lablabi: the classic North African hot sauce and chickpea soup combination. Two confort foods in one! Thank you, Kathryn, and I hope to hear more from you soon–that was a great post!

Kitarra is always conjuring up something wicked and writing about it in Cooking Debauchery; this time around she really goes all out and makes for us a versatile sauce: Gingered Mango-Habanero Sauce. It's got habanero, mango and ginger, with lime and raw sugar in it. How can that possibly be anything other than scrumdillyishous? I mean, really! And not only does she give us the recipe, and the story behind it, she gives us umpteen different possibilites of how to use it, too. As a marinade, it rocks, as a dipping sauce for potstickers, it is heavenly and as a topping for ice cream? Well, then it is positively sexy. How can this be? Let me repeat: habaneros, mango, ginger and lime. A menage a quatre made in Paradise. Thank you, Kitarra for keeping my early-morning drool going until the sun came up.
Oh, boy was Anupama, author of the UK blog, Food-n-More telling the truth when she said her entry was "too darned hot!" She gave me a recipe for one of my favorite Indian dishes: Kharachi Mirchi (Pickled Green Chillies). Ooooh. Now, for Debbie, and all the rest of us who don't like those nasty canned picked jalapenos, I have to tell y'all this: Indian pickles are not like that. Nope, not at all. They are different. They are salty, and sour and spicy and hot and downright lip-smackin' good, and they are also addictive. My favorite varieties are lime, green chile and green mango pickles, but really, I have run across very few Indian pickles that have not struck my fancy. And I have to say this–they are even better homemade. So run out to the kitchen and get crackin on Anu's recipe and make yourself some pickled green chiles, because they are bound to be amazing.
Finally, we come to my own entry, the often begged for recipe of my Aztec Gold Brownies. These brownies, in the two years I have been making them, have been one of the most requested recipes ever. So, finally, here it is: dense, fudge-like moist brownies flavored with chipotle chile, espresso, cinnamon and vanilla, and crowned with gold leaf. They are one of my favorite desserts ever, because the flavors are both bold and subtle–they dance across the palate in a parade, with each flavor sliding up slyly behind the first. The chile leaves a final, lingering warmth in the back of the throat, which is powered by the richness of the chocolate. I consider them to be decadance in a very small package.
There we have it–all of the entries into this month's The Spice is Right event. Once again, I am blown away by the variety and ingenuity shown by the myriad of entries and I am thrilled to see so many participants from all over the world sharing cultures, recipes and wisdom. It is like a bunch of neighbors coming together over a kitchen table and coffee to swap recipes–only here, the neighbors are global, and the kitchen table is virtual.
I want to thank everyone for coming to my virtual table and sharing this feast of recipes old and new, for every course of the meal, from soup to salad, to sauces and condiments, to grain and veggie dishes to entrees from the land and sea to dessert.
And, I hope to see you next month, when the theme will be "Fresh and Local."
8 Comments
RSS feed for comments on this post.
Sorry, the comment form is closed at this time.
Powered by WordPress. Graphics by Zak Kramer.
Design update by Daniel Trout.
Entries and comments feeds.