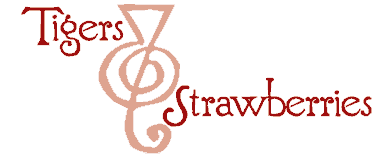 Cook Local, Eat Global
And now we come to it: my favorite Thai curry of all time.
Green curry.
I tend to only make green curry in the summer, when the herbs and seasonings that go into it are fresh and readily available, because I am snobby about the curry paste. There is something about green curry paste that to my palate does not survive storage. Canned pastes, and even the ones packaged in resealable plastic tubs like Mae Ploy, which are generally quite good, lack the brilliant color and sparkling flavor that the freshly made paste brims with. It just plain doesn't taste as good somehow.
I think it is because the flavor and fragrance of Green Curry relies so much upon fresh herbs and chiles that much of that goodness is lost when the paste is preserved in a can or plastic container.
The ingredients to the paste, once found and obtained, are simple to combine into a pungent, fragrant paste, particularly if one has a Sumeet grinder. If one does not have access to such a tool, a food processor combined with a mortar and pestle will make, if not quick work of the paste making, at least, easier work than it would be by doing it the traditional way, which is with a mortar and pestle alone. I used to use either a mortar and pestle alone or in combination with the food processor in order to make green curry paste in my pre-Sumeet days; I only once tried to make it with just the food processor. With only the food processor, the paste was too chunky and lumpy; it refused to smooth out into anything resembling a true paste. But, I found that if I used a food processor to puree the vegetal ingredients into bits, I could then use the mortar and pestle to finish the job and make the curry paste just as velvety smooth as I wanted it to be.
One other note about the curry paste.
You may be tempted to leave out the shrimp paste.
Unless you are allergic to shrimp, or are keeping kosher and do not eat shellfish, please do not leave out the shrimp paste.
I know it smells kind of strong, and doesn't look good, but it really does give a great boost of umami flavor to the Thai curries. Without it, the curry paste tastes a bit flat, and seems to be missing something. That is because it is.
If you must substitute, you can use red miso–but I urge you that unless you must avoid shrimp for health or religious reasons, that you give the authentic ingredient a try.
What is best cooked in a green curry?
Well, pork is traditional, but as I am not easily eating red meats these days, I opted for chicken.
In truth, my favorite animal-based proteins cooked in green curry are crab and salmon; I like to make a thick curry sauce from the paste and coconut cream and slather it over salmon steaks or filets and then broil them to perfection, and then use the rest of the paste to make a vegetable based curry and serve the salmon on a bed of steamed jasmine rice with a circlet of the curried vegetables around it. THAT is my number one favorite version of that dish, but I don't think I will be having it for a while–not until Kat is born and weaned from breastmilk, anyway. (I am concerned at the amount of methylmercury that is being found in large predatory fish like salmon and tuna–it is a contaminant that can cause serious nerve and brain damage in fetuses and developing children.)
Another favorite is green curry crab, but lacking crabmeat, that is hard to do.
So, I did a green curry chicken with mixed green vegetables.
You can glimpse the vegetables I used in the curry above; I don't know why I like to match the colors of the veggies to the curry so much with this dish, but I do. Or, maybe it is because some of my favorite green veggies are in season when the Thai basil is up and happy–in the summer. Anyway, eggplant–green Asian or Thai eggplant if I can get it–is a necessity. The velvety richness of eggplant marries perfectly with the creamy curry sauce and the sharp herbal flavors and chile heat. Zucchini, especially if it is not overcooked, is also wonderful; its blandness is a perfect carrier for all of the flavors of green curry. Green beans add a verdant crunch, especially when not allowed to overcook, and sugar snap peas, again, barely cooked, add sweet sugary zing.
The onions that I use in this dish, however, are always purple.
Why?
Because green and purple look lovely together, that is why! I usually use regular large red onions, but at the farmer's market last weekend I found these glorious royal purple scallions, and had to use them, and they not only were very pretty, they added a good amount of snappy flavor to the finished dish. I just floated them into the sauce near the end of cooking and then garnished with basil leaves and roughly chopped cilantro, stirring them in at the last moment so that they barely wilted by the time the curry was served.
Owing to the heat of this dish, I served it with plenty of steamed jasmine rice. Paired with a Thai tomato-cucumber marinated salad, this was a wonderful dinner, full of fresh, delightful flavors that really let the vegetables stand out, while still being highly seasoned. It is a dish that I only make a couple of times a year, but I always look forward to it, and it is always worth the extra time and trouble it takes to make it and make it well.
Green Curry Paste
Ingredients:
20 white peppercorns, ground finely (Obviously, I substituted grains of paradise here because of my allergy)
1 tbsp. coriander seeds, toasted to bring out flavor, and ground
½ tsp. cardamom seeds, removed from pods and ground
1 tsp. coarse sea salt
4 green jalapeno or serrano chilis, roughly chopped
1 green poblano or pasilla chili (optional, for color), roughly chopped
15-20 green thai bird chilis, chopped
2 tbsp. chopped lemongrass (about the bottom third of one stalk)
1 tbsp. chopped fresh or frozen galangal
1 tsp. grated lime zest
1 tbsp. finely chopped cilantro roots or stems
2 tbsp. finely chopped basil leaves
3 shallots, chopped
8 cloves garlic chopped
2 tsp. young ginger, chopped
2 tsp. shrimp paste
Hand method:
Grind seeds in a spice or coffee grinder. (If you use a coffee grinder, clean out before and after.)
Put ingredients into mortar and pestle in order of their appearance, grinding the first ones thoroughly first. When you get to the sea salt, use it in sprinkles to help grind the tougher herbs, such as lemongrass, galangal, lime zest, cilantro root and basil stems.
If you run out of room in your mortar and pestle, put paste into a bowl and grind in batches.
Food processor/Sumeet method:
Grind spices into a powder with spice grinder or mortar and pestle.
Put everything else into a food processor and process into a rough paste. (A regular food processor will not make a smooth paste. Before I discovered the Sumeet, I used to use the food processor to break everything down to small bits, then, I would turn it into a paste by working it with the mortar and pestle by hand. This was less time consuming than the hand method, but resulted in a similar texture, color and flavor.)
With the Sumeet, you just grind everything together into a smooth paste by putting ingredients into the jar in batches.
This recipe makes about a cup and a half of curry paste. When I am making curry, I use the entire batch to flavor the curry. You don't have to use so much. If you want to keep it in the fridge, it keeps pretty well for a few days. For longer storage, put into a zioplock bag, push out all the air and freeze. It will keep, with a small loss of fragrance and fresh flavor, for months in this way.
Green Curry Chicken with Asian Eggplants And Green Vegetables
Ingredients:
1 1/2 19 ounce can Mae Ploy brand coconut milk
2-4 tbsp. fresh green curry paste
2 kaffir lime leaves, or the zest of two limes
fish sauce to taste
palm or raw cane sugar to taste (about 1 tbsp.)
1 pound boneless skinless chicken breast, trimmed and cut into 1" chunks
1/2 pound Asian eggplants (round or long Thai green ones, or long purple ones….doesn't matter) cut into slices on the diagonal about ½" thick
2 small zuchinni, cut in half longways, then cut into half-rounds about 1/2″ thick
1/2 pound green beans, trimmed, topped and tailed and snapped into 1″ pieces
1/4-1/2 pound sugar snap peas, topped and tailed
2 large fresh shiitake, stems removed and discarded, caps cut into 1/4″ slices
1small purple onion, cut into squares, or 4 purple scallions, cleaned and sliced on the diagonal into 1/4″ slices
lime juice to taste (about the juice of ½ to ¾ of a lime)
1 cup fresh Thai basil leaves
½ cup cilantro leaves, roughly chopped
½ cup mint leaves, roughly chopped (optional)
Method:
Take about a two tablespoons of cream off top of the coconut milk, and melt in a pan. Add curry paste in whatever amount you think you will want to use–as I said, I use the whole batch because I like my curry to be very full of flavor. You may think that is too intense. To be on the safe side, maybe you should use 2/3 of the batch to start with.
Fry curry paste in coconut cream until well-scented, then add lime zest (Don't do this, if you are using lime leaves) and fry a few seconds longer. Add the rest of the coconut milk. If you are using lime leaves, add them to the curry at this point. Bring curry to a simmer on medium low heat.
Add fish sauce and sugar to taste and bring to a simmer. Simmer slowly for about fifteen minutes, stirring now and then.
Add eggplants, and cook until tender. When nearly done, add the rest of the vegetables except the onions, and the chicken. Cook until the chicken is nearly done, then add the onions, so that they cook only about two or three minutes, until just barely softened.
Add lime juice to taste, then add fresh herb leaves, remove from heat and let leaves wilt slightly, then serve with plenty of steamed jasmine rice.
12 Comments
RSS feed for comments on this post.
Sorry, the comment form is closed at this time.
Powered by WordPress. Graphics by Zak Kramer.
Design update by Daniel Trout.
Entries and comments feeds.