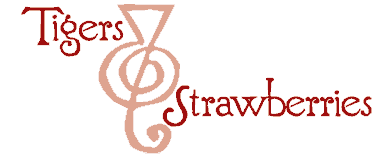 Cook Local, Eat Global
A few weeks ago, I had a routine glucose tolerance test that pregnant women go through. The results were borderline high, so I went back for a three hour glucose tolerance test and while it came back with four normal readings and one high reading, my doctor suggested that I avoid eating much in the way of refined sugars and refined white flours, white rice and pasta.
Now, I won't eat whole wheat pasta, beacuse I really think it tastes like wet cardboard, but the fact is, I like whole grain breads better than white breads, and I prefer brown rice to white. (That sentiment on rice is not shared by Zak and Morganna, so in deference to them, I bought a small rice cooker, and when we eat basmati or jasmine rice, I will make a small amount of it whole grain for myself, and cook white for the two of them in our larger rice cooker. It seemed a logical solution.)
The refined sugar isn't too much of a problem, as I don't bake or crave sweets too much. But, I had bought three pints of blackberries in order to make a pie, and was stuck with the problem of how to make a pie without using a bunch of sugar and white flour.
Remembering the cider-sweetened apple pie which was such a hit in the fall, I decided to do a juice-sweetened blackberry pie.
However, it is not so simple to find blackberry juice as it is to find apple cider.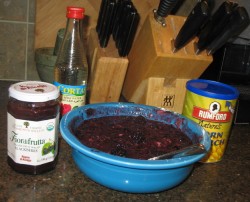 What I did find, on the other hand, was a product from Italy called Fiordifrutta–an organic Italian preserve that consisted simply of blackberries, apple juice and apple-derived pectin. It is smooth–obviously, it has been cooked down, and the seeds have been strained–and it is intensely blackberry-flavored. So much so, that it tasted like thousands of berries went into the making of one teaspoon of that stuff.
It was also considerably sweeter than the berries I had, which were more sweet-tart in flavor.
So, I rinsed the berries, and drained them, and set them in a bowl, and in order to get them to release their juice, I sprinkled them with 1 tablespoon of raw sugar–a paltry amount, considering that most recipes call for a half cup to a cup of it. One tablespoon had them releasing their juices after about an hour and a half, in just as copious an amount as more sugar would have yielded, though not as quickly.
I then mixed in some rosewater, a 1/3 cup of the preserves, and 3 tablespoons of cornstarch.
As for the crust–I used the same recipe I always do–the wonderful lard-butter crust, but instead of using all purpose flour exclusively, I used half that and half white whole wheat flour. I also used the 1 tablespoon of raw sugar in the crust, but next time, I will leave that out as well, because the white whole wheat adds a nutty sweetness that I think will easily take the place of the sugar.
The crust dough handled the same as if I had used all purpose flour exclusively. It was no harder to roll out or cut than the usual recipe is.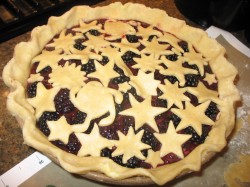 In fact, it was so easily handled, I decided to have fun with the crust, and instead of making either a lattice top or a double crust pie, I would cut motifs out of the dough and scatter them over the top of the pie. Because blackberries bake up such a dark, velvety purple, I decided to use my two sets of "celestial" cookie cutters and make a series of stars and comets to dance over the fruit in a shining array.
The touch of whimsy made the pie especially impressive to Morganna, Brittany and Donnie–the young folks really liked the idea of having a whole Universe in a pie.
What made me happy was that no one knew anything of my substitutions–the pie tasted just as good as the less-healthy ones I had made in the past. The filling, in fact, was particularly delicious, much more fruity in flavor than traditional fillings, and in fact, was praised vociferously for being excellent. It also, as you can see in the photograph below, held together remarkably well–the pectin in the preserves helped hold it together during baking and made a firm filling that sliced well, but which wasn't goopy or too jelly-like.
I suspect that this method for making fillings will work with other fruit-based pies. Some pies I could use the concentrated juices to sweeten them–I will try that for the fruits for which I can find concentrated juices. I could have cooked down a portion of the berries to make a concetrated juice myself, but I thought that the addition of pectin might make a nice filling and I was correct. Besides, the preserve tasted so intensely "blackberry" that I couldn't resist using it in the pie.
I just can't wait to try it on my whole wheat toast next.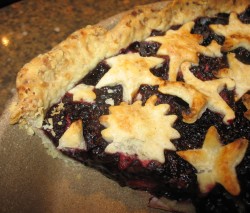 Fruit-Sweetened Blackberry Pie
Ingredients:
5 cups fresh blackberries
1 tablespoon raw sugar
1/3 cup blackberry Fiordifrutta (I found this at the local healthy food store, but I have seen it in specialty stores before)
1 tablespoon rosewater
3 tablespoons cornstarch
Method:
Rinse and drain blackberries until thoroughly dry. Put in a bowl and sprinkle with the sugar, and cover. Allow to sit for an hour and a half until it releases a good quantity of juice.
While this is going on, go to my recipe for the lard-butter crust, and follow the instructions there, except substitute half of the all purpose flour with white whole wheat flour, and leave out the sugar. Roll out the bottom crust as called for in the instructions and lay it in the pan and trim it as directed.
Mix together all of the filling ingredients and pour into the trimmed bottom crust.
Roll out the top crust as directed in the recipe, but instead of laying it over the pie, cut out a bunch of leaf, star, heart or other shapes with small cookie and pastry cutters, and array them over the pie, touching along the edges.
Make a fluted edge to the bottom crust, and bake pie as directed in the crust recipe instructions.
Allow to cool nearly all the way before eating–otherwise the filling will not hold together to be served, and the pie won't look as pretty cut as it could.

15 Comments
RSS feed for comments on this post.
Sorry, the comment form is closed at this time.
Powered by WordPress. Graphics by Zak Kramer.
Design update by Daniel Trout.
Entries and comments feeds.