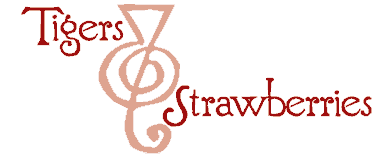 Cook Local, Eat Global
One of the best things about the farmer's market here in Athens is the fact that the folks here often grow unique varities of vegetables that you just don't find in most markets, even farmer's markets, elsewhere.
For example, look at those lovely beans above. Are they not just the prettiest things? Don't they look lovely in their batiked burgundy and white coats? Don't they just make you want to grab them up and figure out a way to cook them?
This is what they looked like at the market–not nearly so pretty, but I got a glimpse of the one shelled bean, enough to see what it was.
"Are those Christmas limas?" I asked the farmers, who incidentally, were the same older couple from whom I bought the horticultural beans a few weeks back, and from whom I have been buying pounds of Kennebec potatoes for the past several weeks. (Look for a post waxing rhapsodic about Kennebecs in the future–it was my Grandpa's favorite potato to grow, along with Irish Cobblers, and I love the flavor of them.)
The little lady's grey eyes lit up and she smiled. "Oh, you know your beans," she said. "Yes, indeed, and if you liked those horticultural beans, you'll love these. They taste like chestnuts." She winked to me. "Did you put ham in those horticultural beans?"
"Of course," I said. "Ham, onions, garlic, sage, rosemary, some wine and then when they were done, I tossed pasta with them."
Her grin grew. "Allright then! That sounds right good. You treat these beans the same and you'll love them, I promise. These're an old type of lima, not many people grow it, but they should, because it is just beautiful on the plant, in the pot and on the table."
I told her I'd take a basket, and she dumped it into a bag, then dug around in her bucket of backstock Christmas Limas, and put about four more handsful in the bag. (This is what happens when you make friends with your farmers. You get extra, what the Cajuns call langinappe. This is something that will never happen in a grocery store, no matter how friendly you are to your clerks.) As she packed up the beans and her husband packed up my ten pounds of potatoes, she said, "We dried the rest of those horticulturals for winter–would you be interested if we bring them to market?"
How could I say no?
The answer is I couldn't, so I assured her I would buy both the horticultural beans and the Christmas limas dried, especially if the limas tasted as wonderful as I heard.
Christmas limas are indeed an old variety, most popular in the 19th century, and according to Slow Food USA, is a member of the "Ark of Taste" a group of plant and animal varieties which are in need of being saved from extinction. A native of Peru (as all lima beans are), the Christmas lima is used both fresh, and dried. The plump, quarter-sized beans come 2-4 in a pod and when cooked, have the dry fluffy texture of a baked potato and the nutty, sweet flavor of chestnuts. (One should never eat lima beans raw–they are somewhat toxic until cooked.)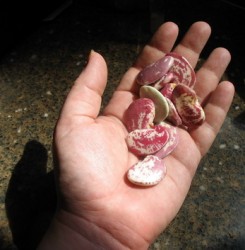 I ended up shelling only about a third of the beans last night; I had a craving for corn chowder, thanks to Elise's wonderful post about it on Simply Recipes from a few days ago. Crab and corn chowder became a staple of my summer cooking when we lived in Maryland; here in Ohio where blue crab is thin on the ground, I decided that I would use the chicken stock I had just made and some of the chicken I had recovered from the bones. Reading that Christmas limas were good in succotash, a Native American mixture of beans and corn, I had the idea of adding them to the chowder, along with my usual Southwestern style flavorings of roasted sweet red peppers, chiles both dried and fresh, cumin, coriander and cilantro.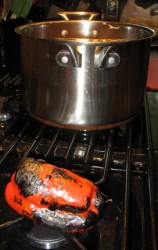 A few words about chowder: often, I have been asked, what makes a chowder? Is it a seafood soup? Does it have to have milk? Can it have tomatoes? Which is more authentic–Boston or Manhattan clam chowder?
According to Jasper White, one of the great chefs of the Northeast, what makes a chowder a chowder is potatoes. Not fish, not clams, not milk, not thickening them with dry crackers. Potatoes.
However, it is also generally accepted that chowder evolved from the fish and clam soups cooked by the Native Americans of the northeast, particularly the Narragannsett (who, by the way, gave us the term "succotash," from their word, "misukwatash"), which the Indians cooked in hollowed wooden vessels by adding hot stones to the water and ingredients therein.
The English word, "chowder," is believed to have come from the French term, "chaudier," which is the name of the iron cookpots or cauldrons of the time period which were used to cook these fish, seafood and potato soups. The root of "chaudier" is "chaud," which means, "hot."
Whatever the etymology and derivation of the term, "chowder," these days, it means a tasty soup, usually with potatoes, often with seafood or fish, very often with cream or milk, and is generally considered native to the Northeastern United States.
This version is native to Barbara's house, which is no longer in the Northeast, but is in Appalachian Ohio, however, the flavors it sports are more Southwestern than hillbilly. Make of this what you will–but do know that this is a very filling, nourishing soup, filled with intense flavors.
I first started making corn chowder when we lived in Maryland. I had bought my first batch of tetraploid "supersweet" fresh corn, and found it to be insipidly sugary-sweet when eaten off the cob. But, I had the rest of the dozen ears left and I didn't want to waste it. So, I combined it with bacon, crabmeat, new red potatoes, roasted red bell peppers and chiles, then enriched the soup with a bit of milk and creamn and called it crab and corn chowder.
It was a hit.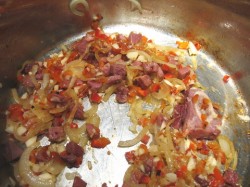 This version is even more substantial, since I used a bit of ham and a hambone to flavor the broth, and I added the very filling Christmas limas to the mixture, along with the chicken and the corn. With a killer fresh salad and some whole wheat bread from the bakery down the road, it made a lovely late summer meal. The leftovers have been duly stashed in the freezer to reappear for lunch or supper sometime after Kat's birth, when we are having the quandry of what to have for dinner when Mom has no time to cook.
As you can see from the photograph below, Christmas limas (which I suspect are named for the fact that their skins are red and white and the interior is green), keep much of their skin color after they cook. They cook up to an attractive wine-stained blush, which looks well in the chowder.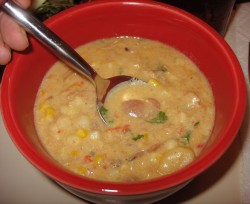 Chicken, Corn and Christmas Lima Chowder
Ingredients:
3 tablespoons olive oil (or bacon grease, or butter)
1 large onion, thinly sliced
1 ounce ham, cut into very small dice
1 ham bone (optional)
1/2 teaspoon celery seeds
1 red bell pepper
1 ripe jalapeno, seeded and finely diced
1 head garlic, peeled and minced
1 teaspoon ground cumin
1/2 teaspoon ancho chile powder
1/2 teaspoon ground chipotle chile powder
2 quarts chicken stock
1 cup fresh Christmas (or plain) lima beans, shelled–see note below
1 cup cooked, deboned chicken, shredded
2 cups (two medium) potatoes, well scrubbed and cut into a medium dice
water as needed
8 ears of sweet corn, cut from the cob–yellow corn or a mixture of yellow and white are preferable, simply because it adds color
1 cup milk
2 tablespoons roux made from 1 tablespoon flour and 1 tablespoon butter, melted and cooked together over medium heat for three minutes
1/2 cup heavy cream
salt and pepper to taste
1 cup minced cilantro
Method:
Heat olive oil or the fat of your choice up in a heavy-bottomed dutch oven or soup pot over medium low heat. Add onions, and cook, stirring, until they become transluscent. Add ham and ham bone, and continue cooking until ham browns and onions turn golden brown.
Meanwhile over a gas burner, cook a washed red bell pepper, until the skin is completely charred and blackened, turning now and then as needed. When it is completely black, put into a bowl and cover tightly with plastic wrap and allow to steam until cool enough to handle. Peel off the skin with your fingers, and discard. Remove seeds, and any white ribs of placental material inside the fruit, then cut into a very small dice.
Add roasted red pepper to the pot, along with chiles, garlic and spices. Cook, stirring, until fragrant–about two minutes. Add chicken stock or broth, and the lima beans and chicken, and cover, turning heat down to low. Simmer for one hour, stirring as needed.
Add potatos, and if needed, water to just cover potatoes. Allow to cook until potatoes are soft, and most of the liquid has boiled down–it should be reduced to 1/3 of its original volume. Add corn and milk, and bring back to a boil. Add roux, and cook stirring, until it thickens.
Add cream, salt and pepper and cilantro.
Serve immediately.
Note:
Shelling lima beans is hard; the pods are very tough and strong. When we froze limas in huge quantities and had to shell bushels of them in a day, we always used penknives to cut the end of a pod off, then pull off the string between our thumb and the side of the knife blade. We cut off both ends, did the strings, and then pried the pods open, and then would scrape the limas from the pod with the other thumb. It is hard work, and it tires both hands, particularly the thumbs. But, it is well worth it, for the beans look and taste fabulous afterwards.
Posted by Barbara on September 7, 2006 in Local and Sustainable, Nutrition, Diet and Health, Recipes: Almost Vegetarian, Vegetarian and Vegan, Recipes: American Regional, Recipes: Comfort Food, Recipes: Fruits and Vegetables, Recipes: Meat, Poultry and Fish, Slow Food and Heritage Foods | 6 Comments
6 Comments
RSS feed for comments on this post.
Sorry, the comment form is closed at this time.
Powered by WordPress. Graphics by Zak Kramer.
Design update by Daniel Trout.
Entries and comments feeds.