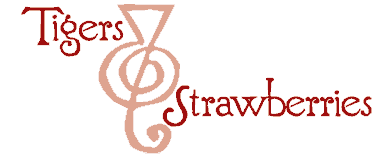 Cook Local, Eat Global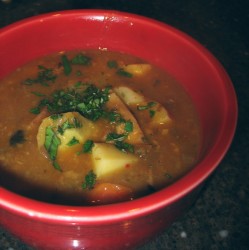 I know that a lot of people prefer eating out all the time to cooking at home.
I, however, am not one of those folks.
After being forced to eat out for three weeks straight in Columbus, Ohio, and having to limit our choices to a few places downtown in order to stay close to the hospital, I can honestly say that I am tired of eating other people's food, no matter how good it is.
And that is the thing–a lot of what we ate was quite good, but considering our stress level (very high) and our patience (very low) and our general physical condition (tired, with sluggish digestion), after about the first week and a half, it all became distinctly unappealing. There were very few places to get really good salads that didn't cost an arm and a leg, and I am convinced that most people in Columbus see vegetables as a garnish to make a plate of meat and starch look colorful. (Again, there is plenty of good food in Columbus to be had–but we were limited in where we could go due to scheduling constraints with Kat's feeding schedule.)
Needless to say, as soon as we got home, and could eat home-cooked food again, we were ecstatic.
The first two days of our time home featured lunches and dinners cooked by Karl, Zak's dad. Karl is a great instinctive cook who likes to play with ingredients in creative ways; my one criticism of his cookery is that he is too self-effacing about it. While most often he creates his own innovations and variations on simple themes for his meals, Karl also is a careful methodologist (this comes from being a physician, I think), who will tirelessly tinker with a recipe, recreating it over and over until he gets it just right. At that point, he records the recipe and uses it over and over again, to much acclaim which he then minimizes by saying, "Oh, it is nothing, really."
Well, I am here to tell you, it is not nothing. And it is certainly not nothing when Karl came to our house and cooked all of our meals for two days, plus extras that he popped into the freezer for later, helping rebuild the stock of ready-made meals I had laid in before I had Kat.
Nope, that is not nothing–that definately counts as a very thoughtful, loving, and kind gift from a new Grandpa to his son and daughter-in-law.
After Karl left, I was itching to get back in the kitchen.
But what to make?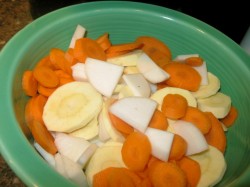 I had no local veggies left save some onions, garlic and potatoes, as most of our CSA veggies had gone bad in our absence. But, a visit to the Village Bakery down the hill from us, which features locally produced cheeses, milk, baked goods, eggs, meats, fruits and veggies, netted me a handful of sweet leeks, some turnips, parsnips, carrots and salad greens, all grown in Athens County. Up on my deck, herbs still straggled on in their planters, barely surviving the three weeks of neglect that sadly had been thrust upon them by my absence. I found parsley, marjoram, oregano, rosemary and thyme yet living, as well as some scraggly, unkempt basil struggling against the rapidly dipping temperatures.
Chunks of lamb shoulder lay in my freezer, and so I decided to put together a lamb stew that featured all of these autumn root vegetables, as well as the locally grown shiitakes that I had dried before Kat was born.
Stews are one of my chief comfort foods. To me, stews are like soups on steroids: chunks of meat and vegetables, cooked to savory perfection with a host of pungent aromatics such as onions, leeks, garlic and herbs, and bathed in a roiux-thickened broth that is nothing less than magical in its ability to marry the disparate flavors into a cohesive, warming, filling whole that is significantly greater than its constituent parts.
Think about it–there is nothing inherently special about cubes of lamb shoulder, parsnips, carrots, turnips, potatoes, leeks, onions, garlic, mushrooms and herbs, is there? But add a good broth, and cook it all down together and maybe add a splash or two of wine, and the flavors come together and meld into something that is so evocative of home, it might as well be served on a welcome mat instead of a tablecloth.
And for us, adding a big green salad with plain vinaigrette and a loaf of the Village Bakery's Dakota Whole Wheat bread, made the humble meal so special that it outshone the excellent white-tablecloth steakhouse meals we ate at Mitchell's Steakhouse in Columbus. (A word about Mitchell's–the food, service and decor is great. The portions are hideously large, particularly on the eight-inch high, eight layer carrot cake. I'm just saying that not only does no one need to eat a steak as large as twenty ounces at a sitting, neither does anyone need to eat a half a pound of cake, either. Other than that, the restaurant was exemplary.)
(Note about the use of the pressure cooker: If you do not have one, start this stew much earlier in a regular stew pot or Dutch oven, and cook conventionally, adding the vegetables to cook after the meat is mostly fork tender. I will say, however, that the use of the pressure cooker means you get stew in around an hour and a half, instead of the three to five hours it takes normally, and it tastes every bit as good as the long-cooked version.)

Autumn Roots and Lamb Stew
Ingredients:
3 tablespoons olive oil
4 medium leeks, cut in half lengthwise, then sliced thinly and rinsed well in several changes of water, then drained completely
1 medium onion, sliced thinly
1 stalk celery, minced
3 fresh or dried and rehydrated shiitake mushrooms, stems removed and cut into thin slices
4 large cloves garlic, minced
2 tablespoons fresh rosemary, minced
1 tablespoon fresh marjoram, minced
1 tablespoon sweet paprika
1 tablespoon Aleppo pepper flakes or black pepper to taste
1 teaspoon salt
1 pound boneless lamb shoulder or leg, cut into 1″ cubes
1/4 cup flour
1 quart vegetable broth
1 quart chicken stock
1 1/2 cups dry white wine (I used a Riesling)
3/4 pound redskinned new potatoes, well scrubbed and quartered
3 medium turnips, peeled and cut in half, then into 1/4″ slices
1 large parsnip, peeled and cut on the bias into 1/4″ slices
3 large carrots, peeled and cut on the bias into 1/4″ slices
roux made from 4 tablespoons butter and 4 tablespoons flour, cooked to a medium brown color
4 tablespoons mixed fresh herbs (I used parsley, thyme, rosemary and marjoram), minced
Method:
Heat oil in the bottom of an eight to twelve quart pressure cooker over medium heat. Add leeks, onions, celery, mushrooms and garlic and saute until onions take on a slight yellowish hue and the leeks begin to take on color. Add the herbs, paprika, pepper flakes and salt and continue cooking for about three minutes.
Toss lamb with flour and add to pressure cooker and brown on all sides. When meat is thorougly browned, deglaze the bottom of the pot with vegetable broth, scraping up all the browned bits. Add chicken broth and wine, and bring to a boil.
Put lid on cooker, bring to full pressure, turn down heat to low and cook for forty-five minutes. Quick release pressure and open lid; the meat should be fork-tender.
Add potatoes into the pot, bring liquid to a boil, put the lid on, lock it and bring to full pressure. Cook for seven minutes, quick release pressure, remove lid and bring to a boil.
Add remaining vegetables, lock on lid, bring to full pressure and cook for two minutes. Quick release pressure and remove lid.
All vegetables and meat should be fork tender.
To thicken the stew, bring the broth to a boil in pressure cooker, with the lid off. Bring the roux to bubbling. Pour the bubbling hot roux into the stew, and stir like mad. The broth will thicken as it boils in about three minutes.
(To make roux, melt the butter in a heavy small skillet over medium heat. When it is melted and bubbly, add the flour, and stirring constantly, allow to brown. When it is the depth of color you want, and quite bubbly add to the stew. Do not ever stop stirring the roux, and do not cook it on too high of a heat or it will scorch and if you use it at that point, your entire stew will taste bitter and burnt. Roux is scortched when it smells burned and little flecks of black appear in it.)

Garnish with the chopped herbs, and serve with a large salad and some really hearty whole wheat bread.
6 Comments
RSS feed for comments on this post.
Sorry, the comment form is closed at this time.
Powered by WordPress. Graphics by Zak Kramer.
Design update by Daniel Trout.
Entries and comments feeds.