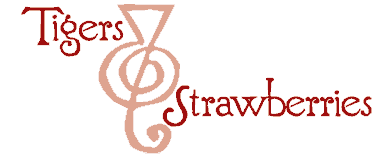 Cook Local, Eat Global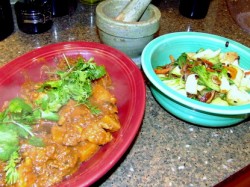 Regular readers must have thought that I was never going to cook Chinese food again, after my hiatus on it during the latter half of my pregnancy. Brought on by the loss of mobility in my right arm caused by an intensification of my already extant carpal tunnel syndrome which came about through the general fluid retention and swelling of pregnancy, my reluctance to cook stir fries was due to the intense amounts of cutting and prep involved in the cooking process.
However, after the fluid has gone down, and I have been doing daily stretches and exercises to gain my hand and forearm strength back, I am more than ready to hop back into the routine of cooking good homestyle Chinese dishes in my kitchen.
The first Chinese dinner I made came about because I found gorgeous seasonal Asian produce at the farmer's market on Saturday. Long beans, baby bok choi, tatsoi, Japanese turnips, fresh shiitake mushrooms and diakon radish all found their way into my market basket and came home with us, leading me to want to make Sichuan red-cooked beef with turnips, paired with steamed rice and a simple stir fry of baby bok choi and shiitake mushrooms.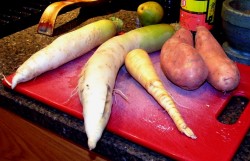 The two dishes complemented each other perfectly; the red-cooked beef was tender with soft root vegetables that all but melted in the mouth, with an abundant savory-spicy sauce that was easily soaked up by the neutral flavor of the steamed rice. The stir-fried bok choi on the other hand, was crisp, light and naturally sweet, with a minimum of sauce clinging to each bit of greens, sweet peppers and mushrooms.The meat was heavy in yang energy, while the greens were yin, with the rice balancing the two. (It is good to remember that the Chinese ideas of menu planning include balancing the flavors, colors, textures, health properties and energy of foods within each meal. This is an aesthetic practice that also has philosophical, health and cultural meaning. One must be aware when serving Chinese foods that these cultural, philosophical, aesthetic and medicinal qualities of food are all in play at the same time, and are all equally important. It is a lot to think about, but that is also part of why I find Chinese cookery so endlessly fascinating.)
But, as everyone knows, I couldn't leave well enough alone. When it came time to cook the beef, I couldn't just use either the turnips or the diakon alone, especially since I had found some lovely deep reddish-orange sweet potatoes and creamy parsnips at the market as well. Zak, Morganna and I still felt distinctly starved for vegetables, so, I had to use them, too.
Besides, I have found that when the diakon or turnips (this time around I used the diakon and saved the turnips for a later use) are spicy rather than sweet, a sweet root vegetable makes a good flavor counterpoint. In the past, I have used carrots to provide this note of sweetness, but I saw no reason why sweet potatoes and parsnips could not perform the same function. Besides, I was pretty certain that the honey-like flavor of the sweet potatoes would be enhanced greatly by the deeply spicy, rich sauce that the long simmering of the beef creates. (I also substituted young leeks for scallions as those were on hand from the CSA and scallions were not. The effect in the dish was perfect–the leeks were a bit more assertive in taste, which added another note of complexity to an already multi-layered set of flavors.)
As for the bok choi, I planned to flavor them simply with garlic, onion and ginger, with fermented black beans, my own chicken stock and oyster sauce as the main sauce components. Morganna wanted chile peppers, but I noted that the beef was already going to be quite spicy from the broad bean and chile paste, so that perhaps instead of chiles, I would use a sweet red pepper instead. This added color and another note of sweetness to the dish that contrasted beautifully with the musky flavor of the black beans.
I am not giving a recipe for the Sichuan red-cooked beef; it is a simple variation on the recipe I adapted from Fuschia Dunlop and posted long ago. In order to recreate it, simply toast -all- of the spices called for in the original recipe, where only the Sichuan peppercorns are toasted, and then add two sweet potatoes and one parsnip, cut into chunks, with the diakon or turnips. The rest of the method and ingredients are exactly the same as the previously published recipe.
As for the baby bok choi and mushroom stir fry–after you take a look at my general instructions on stir-frying posted here, you can follow the recipe below and recreate the dish as I made it Saturday night.
If you wanted to make the bok choi as a stand-alone dish, I suggest you add shrimp or tofu for a light supper of a stir-fry and steamed rice.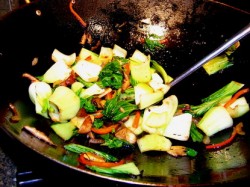 Stir Fried Bok Choi, Mushrooms and Sweet Pepper With Fermented Black Beans
Ingredients:
3 tablespoons peanut or canola oil
1 small onion, peeled and sliced thinly
2 cloves garlic, peeled and sliced thinly
1/2″ cube ginger, peeled and sliced thinly
1 tablespoon fermented black beans, mashed lightly
4 fresh shiitake mushrooms, stems discarded and caps sliced thinly
1 small sweet red bell pepper, seeded and sliced into thin jullienne slices
3/4 pound baby bok choi, bottoms trimmed off, washed, dried and cut into bite sized chunks (about 1″ square)
2 tablespoons chicken broth or stock
1 teaspoon dark soy sauce
2 tablespoons oyster sauce
1/8 teaspoon sesame oil
Method:
Heat wok on high heat until a thin ribbon of smoke appears. Add peanut or canola oil and heat until it shimmers–about thirty seconds to a minute.
Add onion, garlic, ginger, and black beans and stir fry until the onions become transluescent and limp, and all of the aromatics are fragrant and tender–about a minute or two.
Add mushrooms and stir fry one more minute. Add bell peppers and stir fry thirty seconds.
Add bok choi, chicken broth, and dark soy sauce and continue stir frying until the leaves darken and become velvety, and the stems are tender crisp, and the sauce reduces and clings to the vegetables. This should take about two minutes.
Add oyster sauce and sesame oil and stir fry for about thirty seconds to a minute more, then pour into a heated serving dish and serve immediately.
5 Comments
RSS feed for comments on this post.
Sorry, the comment form is closed at this time.
Powered by WordPress. Graphics by Zak Kramer.
Design update by Daniel Trout.
Entries and comments feeds.