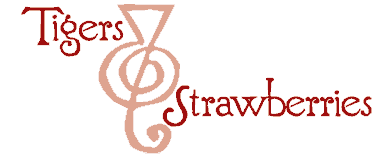 Cook Local, Eat Global
So, I had a few extra moments to myself today–a rare commodity these days–and decided to try and catch up on what's happening in foodblogland. I only got to look at a couple of my favorite blogs, but one entry at one blog jumped out at me and made me want to jump up and testify.
Amy, of Cooking With Amy ranted a wee bit about how she cannot abide picky eaters.
Her post brought forth an amen and a hallelujah from my "amen corner" here, because if there is a human behavior that works my very last nerve, it is food controlling behavior that impinges on the ability for other people to enjoy their own dinners, or otherwise interact socially with the food-controlling individual.
And the thing is–I try really hard to be tolerant of people. I really do. If I know that someone really hates a particular food, I will refrain from cooking it for them. I have already written about how, as a host, I do take into account people's real food allergies and religious proscriptions against certain foods. I am respectful of health restrictions, because they involve keeping the diners alive (food allergies are not to be trifled with), and my own personal honor is such that I must respect people's food restrictions that are based on their religious beliefs, because to not do so is for me to put myself between them and their view of God. And that is not my place, nor, really, anyone else's place. So, that is all good.
But what about people who just have a list of foods they don't like because they are "icky?" What about people who refuse to eat large categories of foods for no real reason except that they had some traumatic food incident in childhood that has left them permanently scarred? Or, they just don't like the taste of most foods? Or, they are food controlling because it makes them the center of attention?
I, like Amy, just don't have patience with these folks. Though, I must make a caveat here–when I say I don't have patience with picky eaters, please understand I am talking about ADULTS, not kids. I cut kids slack because they go through developmental phases where they are picky, and nearly every kid goes through a stage where they don't like this or that sort of food. (And that which they like and dislike often changes from day to day, much to the eternal frustration of their parents and caregivers.)
What I object to are adults who act like kids.
And my attitude toward such adults is this–grow up and get over yourself. Or, shut up when we are at the table. Or, get therapy, because you really need it. Or, I just don't interact with them, because the rise in my blood pressure as I watch them harry waitstaff or when they whimper about this or that food and how they won't eat it while I am trying to cook is just not worth it.
What is funny about this is that I am married to a man who used to hardly eat anything. Zak used to eat meat, potatoes, a handful of vegetables, pasta, rice, bread and the holy of holies–cold breakfast cereal. I am told by his parents that he used to live on sugar cereal virtually alone, and that there were years when he would eat it for two out of three meals a day.
Well, when I met him, he had just come back from Italy where he had his first culinary epiphany when he tasted pesto for the first time. (This was back before pesto had come to the US and taken over the culinary scene to the point where it became ubiquitous. At this point, in the early 90's, he was astonished that I even knew what it was.) So, he had tasted truly great food in Italy and in the rest of Europe, and had started loosening up his own food neuroses.
But he credits moving in with me as being a turning point in his life as an eater. Apparently, my indomitable will in the kitchen broke him of being a picky eater, because I flatly refused to cater to his whims and limit my cooking to what I knew he liked. I just flat out refused, and cooked and ate whatever I had a mind to. If he didn't like it, he could always eat cereal, and there were times when he did. But, over the years, his tastes changed to the point where he is quite the epicure now, and actually can discuss things culinary with me without either his eyes glazing over or saying, "huh?" at my every sentence.
Not only has his palate developed, so has his culinary vocabulary.
I do that with a lot of people. I cook stuff that they supposedly don't like–often unknowingly, but sometimes on purpose, and damned if they don't love it when I make it! I have had many a friend tell me, "I hate tofu, but the way you cooked it was awesome." Or, "I always thought eggplant was nasty until you made that miso-glazed grilled stuff. That was so good."
But some people defeat my kitchen super-powers, and are simply too whiney or neurotic to even try whatever it is I make for them, and it is these folks who bug the crap out of me. I guess because they aren't even willing to meet me halfway and try something new. They just want to complain.
Strangely enough, quite a few culinary arts students are that way. I met more picky people in culinary school than anywhere else I have been. It seemed as if young food-controlling people flocked to culinary college, though, why, I have no idea, since most of the chefs delighted in torturing them by insisting that they try all of these scary new foods.Personally, I cannot get why someone would aspire to be a chef and yet refuse to eat vegetables. It seems rather–well, like an aspiring race car driver who won't drive to work or something. It is just weird.
Folks like that try my patience, and tend to make me cranky, leading to rants like this one.
I guess it bugs me because extremly picky eaters tend to be narcissistic–they are so self-absorbed in their food controlling behaviors, they are either unaware of how annoying they are to those around them, or they just flat out don't care. (Remember, I am talking about really picky eaters here, not just someone who doesn't like okra because it is slimy and canned peas because they are olive green and mushy. I am talking about people who will not eat whole categories of food for no logical or sensible reason, and who make a big deal about it.)
That kind of self-centered behavior is extremely immature and childish, and I think that is the crux of the issue for me–I am not good at dealing with adults who act like spoiled little kids.
So, Amy–know this–you are not the only one out there who dislikes picky people. I'm the same exact way.
54 Comments
RSS feed for comments on this post.
Sorry, the comment form is closed at this time.
Powered by WordPress. Graphics by Zak Kramer.
Design update by Daniel Trout.
Entries and comments feeds.