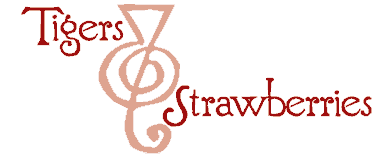 Cook Local, Eat Global
It is thick, salty and looks somewhat like peanut butter.
Everything you cook with it tastes better, but only if you don't overdo it.
It is made from ground up fermented soybeans, rather like miso, but has a deeper, less salty flavor.
It is Chinese ground bean sauce, and is a "secret ingredient" in many very flavorful stir-fries, because it packs an oomfy wallup of umami flavor in every spoonful.
Remember umami–that "fifth taste," for which receptors on our tongues have recently been discovered and confirmed? It is that savory, meaty taste that comes about from substances such as glutamate, other amino acids, and nucleotides. These substances, which are found naturally in meats, mushrooms, seaweed, fermented soybean products, fermented fish and some vegetables, enhance the natural flavors of foods, and as such have been utilized for centuries in the kitchens of Asia, long before the synthesis of monosodium glutamate and its overuse in the processed food industry.
Chinese ground bean sauce is produced similarly to Japanese miso, in that it is made from bacterially fermented soy beans, but to my tongue, it has a very different flavor profile. Most miso that I have tasted has a purer, less complex flavor, that has a very strong salty component, whereas the Chinese ground bean sauce has a deeper, more complex flavor profile, with a much more "meaty" taste. I have used miso to substitute it earlier in my experimentations with Chinese cooking, and have never been pleased with the results–the dishes just never tasted right to me, and I didn't really understand why.
The reason is that one cannot simply exchange out a Chinese ingredient for a Japanese one and expect the dish to come out tasting authentically Chinese. It is just not going to happen. Just as I have learned to taste the difference between Japanese soy sauce and Chinese, so I can taste the difference between miso and Chinese fermented bean pastes.
These ingredients are analogues of each other; they perform similar functions in recipes in their respective cultures, but they do not taste the same, nor do they give the same results.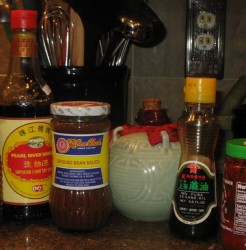 I have found a particularly good combination of ingredients to make a sauce for pork, gai lan and spiced dry tofu: marinate the meat in a bit of raw sugar, light soy sauce, shao hsing rice wine and cornstarch. Then, when cooking the aromatics, add a scant half teaspoon of chile garlic paste, and when you toss in the meat and tofu, add about a teaspoon and a half of the ground bean sauce. Do not add too much, or the dish will become overpoweringly salty. Sprinkle with a quarter teaspoon of the sugar. Add about a tablespoon of the wine and about another teaspoon of soy sauce to the wok after the meat browns on the bottom, and then when you add the gai lan to the wok, toss in a few tablespoons of chicken broth.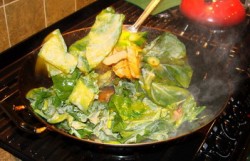 At the end, drizzle with a scant eighth teaspoon of toasted sesame oil.
The results are fantastic and subtle. The sauce is scant and glossy and clings to the meat, tofu and greens. The pork is incomparable in flavor–it is both sweet and savory, and salted perfectly. Something about the combination of ingredients makes it taste, if possible, "more porky," as if the little slices are distillations of essential "porkness."
If one does not eat pork, one can keep the tofu and substitute chicken. With chicken, I would use slightly less of the ground bean sauce, and a dash more of the wine. If one does not eat meat, keep the tofu and use instead of the meat either soaked dried shiitake mushrooms or fresh ones, marinated as for the pork. If you don't want to add the chile garlic sauce because you want the flavor to be even more fundamental and simple, leave it out, but I think that the tiny bit I add gives the dish an amazing zing that is wonderful and should not be missed.
Other uses for Chinese ground bean sauce include adding a bit of it to ramen noodles to give them a lift, adding it to other sauces for stir fried or boiled noodle dishes, and using it in marinades for meat and fowl that is to be braised long and slow. The stuff lasts forever sealed up in its jar in the fridge and is inexpensive and well worth the trouble of seeking and and purchasing. I usually buy Koon Chun brand, with the yellow, blue and white label.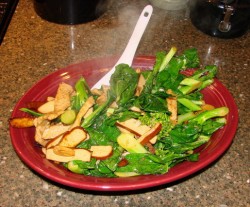 Pork, Tofu and Gai Lan with Ground Bean Sauce
Ingredients:
1/2 pound boneless pork loin, trimmed of most fat and cut into thin 1″X1/4″X1/8″ slices
1 teaspoon light soy sauce (I used Pearl River Bridge Brand)
1 1/2 tablespoons Shao Hsing wine
1/2 teaspoon raw or brown sugar
1 tablespoon cornstarch
3 tablespoons peanut oil
3 garlic cloves, sliced thinly
6 scallions, white and green parts only, sliced thinly on the bias
1 1/2″ cube fresh ginger, peeled and sliced thinly
1/4 teaspoon chile garlic paste
8 ounces spiced dry tofu, cut on the bias into slices similar to the pork slices
1 1/4-1 1/2 teaspoons ground bean sauce
1 tablespoon light soy sauce
2 tablespoons shao hsing wine
1 pound gai lan (Chinese broccoli), thick stems cut on the bias into bite sized pieces, and separated from the leaves
3 tablespoons chicken broth
leaves of the gai lan, cut into rough pieces
scant 1/8 teaspoon toasted sesame oil
Method:
Toss the pork with the next four ingredients and allow to marinate for ten to twenty minutes.
Heat wok on very high heat until it is smoking. Add peanut oil and allow to heat for another thirty seconds. Add garlic, scallion and ginger in a small pile, then put chile garlic paste on top. Allow to cook ten seconds, then stir fry until quite fragrant–about forty-five seconds to a minute.
Add meat in one layer, then put the tofu on top. Put the bean sauce on top of the tofu, and leave the meat to brown on the bottom undisturbed–about a minute or so. When you can see it is browned and smell it, start stir frying. When the pork is showing only 1/3 pink, add the soy sauce and wine and keep stir frying.
Add gai lan stems, and stir fry rapidly until very little pink is seen on the pork.
Add the gai lan leaves, and pour over it the chicken broth. Bring the meat, tofu and stems to the top of the leaves by stir frying, and stir and fry until the leaves wilt and become velvety.
Remove from heat and drizzle with sesame oil. Serve with steamed rice while still extremely hot.
15 Comments
RSS feed for comments on this post.
Sorry, the comment form is closed at this time.
Powered by WordPress. Graphics by Zak Kramer.
Design update by Daniel Trout.
Entries and comments feeds.