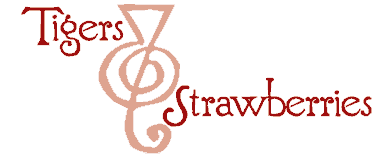 Cook Local, Eat Global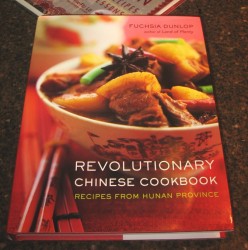 Fuchsia Dunlop opens her second Chinese cookbook with words of wisdom from Chairman Mao: "You can't be a revolutionary if you don't eat chilies." Perhaps the most famous son of Hunan province, Mao Zedong, provides one of the hooks that draws the reader and cook into Revolutionary Chinese Cookbook; the other is provided by the clear evocative words and photographs of the province, her people, and most importantly, her food.
One of the more popular cuisines of China here in the West, Hunan cookery is known for the liberal use of chile peppers as well as for the clear simplicity of its flavors. However, for all of its popularity, the subject of Hunan cuisine has been relatively ignored when it comes to cookbooks, with only a handful of them written in English, and then only one or two being worth the trouble of reading and cooking from. Just as she did for Sichuan cuisine in her first, award-winning cookbook, Land of Plenty, Dunlop immerses her readers into the culture and cuisine of Hunan, demystifying the ingredients, techniques and dishes of the kitchens of peasant and professional chef alike.
The book begins with an concise but clear exposition of pantry items, cooking equipment and techniques for the neophyte. She does not go into as much detail with this section as she did in her first book, and in fact, refers readers to her it for longer explanations of cutting and cookery. However, I don't hold this as a strike against Dunlop; it does not make sense to repeat material she has already written once. Dunlop explains specialized Hunanese cooking techniques, and ingredients, and enough about general Chinese cooking to explicate the directions in the recipes well enough that a novice can follow them without confusion or questions.
And what about the recipes, then?
First of all, each of them comes with a story; at least two paragraphs of relevant cultural material, personal experience, folklore or history are given with each recipe, and sometimes quite a bit more. The strange and convoluted tale of General Tso's Chicken, arguably the most famous Hunanese recipe in the world (except Hunan province, where it has only recently become popular) merits more than two pages of background information, because Dunlop set out to get to the bottom of where the recipe originated. I am not going to tell the story here–she is the one who did the research after all, so it is hers to tell–but suffice to say that she tracked down the chef who first cooked the dish. It turns out that he is Hunanese, but he was cooking in Taiwan and the USA, and the dish named for the famous general was his own invention based on Hunanese ingredients and techniques that were cooked to primarily American tastes. (And I swear, I must be the only American who finds that dish to be icky–too sweet and not nearly hot or sour enough.)
Secondly, of the four I have cooked so far, three of them are going to become standards in my home; as in Land of Plenty, the recipes are authentic in ingredients, technique and presentation, though Dunlop suggests substitutions where appropriate. I have found as I have been cooking along that the flavors of Hunanese food are much more clear and pure than those of Sichuan, as the ingredient list tends to be shorter and the techniques simpler. The main flavorings I have used so far have been chiles both fresh and dried, Shao Hsing wine, fermented black beans (which are used with a much heavier hand than they are in Cantonese cuisine–much to my joy as I adore their intense flavor) soy sauce and the intense smokiness of bacon and smoked tofu. It is going to take me some time to finish going through all of the recipes I have marked to try out, but rest assured, I have not come across any which are out and out awful yet, nor have I found any with inaccurate measurements.
Just as she did in Land of Plenty, Dunlop compiled a list of recipes which show the breadth and depth of the cuisine she is examining. There are dishes, such as Peng's Home-Style Bean Curd, and Chairman Mao's Red-Braised Pork, which represent the best of the countryside cookery of the peasant class. These dishes are all simply prepared, filling, and bursting with robust flavors which strongly season the staple food of plain steamed rice. At the other extreme are fussy recipes such as Yolkless Eggs with Shiitake Mushrooms, which involves blowing eggs out of eggshells, separating the white from the yolk, then cooking the whites into a sort of custard filled with mushrooms as the "yolks" inside the hollow eggshells. These recipes represent the heyday of Hunan restaurants, back in the 1930's when chefs strove to outdo each other in the presentation of ever more extravagant and dainty banquet dishes.
In between these two extremes, Dunlop strives to fairly and accurately represent the sorts of foods eaten by both the ordinary people and the elite of Hunan, as well as the foods of minority populations whose culinary traditions differ in significant ways from the majority.
The book is an embarrassment of culinary riches, one which will keep any curious culinary adventurer busy in her kitchen for weeks.
In short, Dunlop has done it again.
She has traveled to China, rolled up her sleeves and cooked her way from one end of Hunan province to the other, gathering recipes, legends, history and food lore as she goes, distilling it all down into a remarkable work that is as much a document of a land and its people as it is a cookbook.
I cannot recommend this book highly enough.
(Tomorrow, I will start presenting recipes I have tried from the book for your enjoyment.)
12 Comments
RSS feed for comments on this post.
Sorry, the comment form is closed at this time.
Powered by WordPress. Graphics by Zak Kramer.
Design update by Daniel Trout.
Entries and comments feeds.