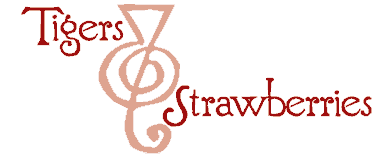 Cook Local, Eat Global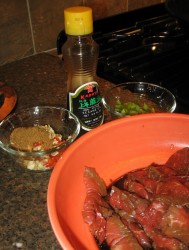 Cumin is one of my favorite spices; however, it is not a flavor one overwhelmingly associates with Chinese food. Rather, it is better known as an ingredient in Indian curries, Mexican braises and Mediterranean stews, so I was intrigued to see this recipe when I first got my hands on my copy of Revolutionary Chinese Cookbook.
Not surprisingly, beef with cumin is a specialty of the Muslim minority in China, and it is likely that cumin was brought to China along the silk road by spice traders from the Middle East and India.
The ingredient list is short and simple for this dish, and although Dunlop notes that one could use prime cuts of steak such as tenderloin to make it, she uses lesser cuts such as round and chuck, because cutting them thinly, on the bias against the grain, makes them nearly as tender as a more naturally tender cut of beef. I used a piece of top round to great effect here, in large part because that is what I had in my freezer. Left partially frozen and cut nearly paper thin with a very sharp knife, top round is just as wonderfully tender as a porterhouse steak, but with a deep beefy flavor typical of the tougher, more well-exercised muscles.At this point, I use top round for nearly all of my beef stir fries.
I do have to admit that I changed the cooking method. Dunlop uses the "velveting" method of cooking here; it is a method much employed by restaurants to cook meats to a slippery-tender result, but which I find messy, wasteful and extremely time consuming when done in the home. In short, it is a technique wherein the meat is marinated in a mixture that includes corn or potato starch and sometimes egg white. Then, it is "oil-blanched" in a vat of deep-frying oil for a very short time until it is partially cooked. Then, the oil is discarded or strained and saved, and the meat is stir fried until it is finished cooking, along with all of the other ingredients of the dish.
For a family dinner, I see no overwhelming reason to bother with the velveting technique. It results in the use of too much oil, time and energy for the result, which while it is good–is not -that- good! Not good enough to offset all of the work, mess, waste and nutritional impact.
So, instead, I followed my own usual method for stir frying meat, and found that the results were more than satisfactory; they were superb. In transcribing the recipe, I used my own techniques instead of copying out Dunlop's.
The meat was tender and flavorful, and fragrant with the musky scent of cumin, which was beautifully enhanced by the umami of the soy sauces. Garlic, scallion and sesame oil rounded out the flavors while the bright taste of fresh red chiles really sent the dish over the top.
The stir fry went together quickly and easily and went beautifully well with a dish of gai lan and sweet red bell peppers simply stir fried and flavored with ginger and fermented black beans.
This is another dish destined to be seen on our table frequently.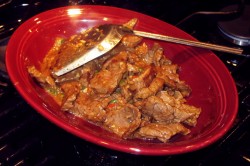 Beef With Cumin
Ingredients:
1 pound trimmed beef top round steak, cut against the grain on the bias about 1/8-1/4″ thick
1 1/2 tablespoons Shao Hsing wine
1 teaspoon light soy sauce
1 1/2 teaspoon dark soy sauce
1 tablespoon cornstarch
3 tablespoons peanut oil
2 teaspoons fresh ginger, peeled and minced
1 tablespoon finely chopped fresh garlic
2 fresh red chiles, (seeded if you like) minced
2-4 teaspoons dried chile flakes
2 teaspoons ground cumin
1-3 tablespoons Shao Hsing wine as needed
2 scallions, green parts only, finely sliced on the bias
1 teaspoon sesame oil
Method:
Toss the beef in the wine, soy sauces and cornstarch until it is well coated with the mixture. Allow to marinate at room temperature for at least twenty minutes.
Heat wok on high heat until a thin thread of smoke rises from it. Add peanut oil and heat for another thirty seconds or so. Add beef, reserving any remaining liquid marinade in the bowl. Spread beef out into a single layer over the bottom of the wok and allow to sit undisturbed for at least a minute so it can sear. When you smell it browning and the top edges begin to turn greyish brown, then begin stir frying vigorously.
While stirring, sprinkle meat with ginger, garlic, chiles, chile flakes, and cumin. Continue stir frying just until all of the red color is gone from the meat, adding a bit of Shao Hsing wine as needed to deglaze any browned bits from the bottom or sides of the wok. Add any liquid marinade and stir fry just until the liquid thickens and clings to the meat.
Sprinkle with scallion tops, and drizzle with sesame oil. Remove from heat, give a few more stirs and then serve on a heated platter with plain steamed rice and a vegetable dish.
18 Comments
RSS feed for comments on this post.
Sorry, the comment form is closed at this time.
Powered by WordPress. Graphics by Zak Kramer.
Design update by Daniel Trout.
Entries and comments feeds.