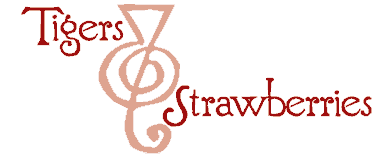 Cook Local, Eat Global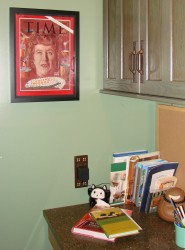 I suppose it should come to no surprise to anyone that Julia Child is my Kitchen Saint, since just this summer I wrote about my experience going on a pilgrimage to see her kitchen, which is ensconced in the Smithsonian National Museum of American History.
But, since I cook primarily Asian foods, most particularly Chinese. Indian and Thai, one might wonder why I hold Julia in such high esteem, since she was mostly expert in French cuisine.
Well, you see, the paradox does make sense, eventually, but it takes some explanation.
Julia may not have cooked the same foods which are my passion, but she had the same passion for food that I feel. She, in fact, was one of my earliest influences in the kitchen, along with both grandmothers, several aunts and my mother, none of whom cooked Asian foods, either. From watching Julia on television as a child, I learned a certain fearlessness in the kitchen, a refusal to be cowed by any unfamiliar food item or technique. From her good-natured, self-deprecating humor and sly wit, I learned not to take myself or cuisine too seriously, while at the same time, being deadly serious about those things in the kitchen which matter, such as safety and precision of measurement.
At the same time, I learned to go with the flow, loosen up and improvise, particularly if anything went awry.
I learned never to apologize, and to always move forward with utter and complete self-confidence, a trait which has served me well for years, but especially when I was in culinary school, and had to cook under the critical eyes, noses and palates of stringently critical chefs.
In reading her writings, especially her recipes, I learned how best to write recipes for my own classes, so that students could exactly replicate them at home without my help. I learned that precision of language and detailed description went very far in ensuring that my students would have the confidence to run home and try making dim sum delicacies or a complete vegetarian North Indian feast without me standing over them.
And, from her, I learned how to put students at ease.
According to my father-in-law, I am one of the most intimidating people he knows, particularly when it comes to being in the kitchen with me, so it behooved me to find a way to relate to my cooking students that did not include sending them running for the hills, screaming in terror. Instead, I took a page or two from Julia's book, and used self-deprecating humor, jokes, and bits of kitchen science, history and food lore to draw my students into the lessons, and give them something to hold on to.
Finally, I cannot help but love a woman who once said, "If you're afraid of butter, use cream."
And so, that is why Julia Child, even if she mostly cooked French food, is my own beloved Kitchen Saint, whom I call upon in times of trouble and need, and who has been enshrined as part of the decor of my sacred culinary space. (With thanks to Dan and Heather, who gave me that wonderful sign pictured above for this year's Generic Winter Holiday.)
Does anyone else have a Kitchen Saint or two, or three? If so, who?
15 Comments
RSS feed for comments on this post.
Sorry, the comment form is closed at this time.
Powered by WordPress. Graphics by Zak Kramer.
Design update by Daniel Trout.
Entries and comments feeds.