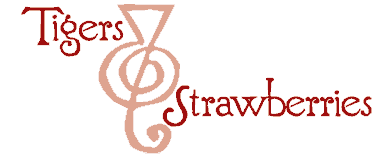 Cook Local, Eat Global
You know, I should just stop picking up Cook's Illustrated Magazine.

I should know better by now.
I should know by now that the authoritative tone that their writers take works my very last nerve. I should know that, while their recipes are researched and tested obsessively and thus WILL work, most of them are bland and boring beyond belief. I should know by now that I disagree with most of their taste test reports and opinions on which cooking tools are the best; in America's Test Kitchen, cheap tends to win out over good.
And I damned well should know better than to even look any Asian recipes that their writers decide to analyze. I have yet to read one recently which wasn't buggered up in some way or another.
But, I get sucked in by the pretty cover paintings, and pluck the magazine from the stands and flip through it. Most of the time I put it back down again, but sometimes I see something that just burns me up, like this month.
I feel stupid about being so angry, because I should know by now that my cooking philosophy, particularly when it comes to ethnic cuisines, is antithetical to the whole nature of the magazine. Cook's Illustrated's raison d'etre is to present foolproof recipes. Not only are they rigorously tested such that they can be made by anyone who knows which end of the knife is the pointy one, but they will also appeal to whoever eats them, without unduly challenging anyone's taste preferences.
That's fine when they are covering American regional or European-based classic recipes like meatloaf, brownies, pumpkin pie, pot roast and lasagne. There is a need for recipes which any competent cook can use to create old favorites which will not fail them, time after time. Most home cooks don't have time to fiddle with recipes and get them to work right, so America's Test Kitchen does the work for them. That's great. I applaud them.
I also support the sense of scientific inquiry that the recipe testers and writers bring to their investigations. As someone who can geek about food science all day and all night, who loves to use her knowledge of chemistry and physics in the kitchen to good effect, I can really get behind the careful analysis that each recipe undergoes before it is published. My nickname is the Culinary Nerd, after all.
However, the way in which Asian recipes are treated in this magazine never fails to set my teeth on edge.
It is one thing to experiment and play around with a recipe in the quest to simplify it and make it your own. However, when one violates the spirit of the cuisine in order to create a dish which no longer really resembles the original–that is culinary cultural imperialism. Instead of stretching their readers' experience, the editors strip the unfamiliar, foreign foods of nearly everything unfamiliar or foreign; It's much like when Chinese restaurateurs changed the perfectly respectable Cantonese chow mein into the strange glop that came to be called chow mein, with one significant difference: The choice isn't being made by Chinese cooks in order to survive, it's a change wrought by American writers for the sake of convenience, at best.
One of the main reasons the magazine gives for changing ethnic recipes is in order to allow an average American cook to make these dishes with ingredients found in typical American grocery stores. Apparently, typical American cooks cannot be bothered to frequent ethnic grocery stores. Or get ingredients online. Or, really, do much of anything that keeps them from going up and down the same grocery aisles, literally and figuratively. This shows that the editors have a pretty dim view of the American cook, and, what's worse, they reinforce this parochial view.
One of the latest issues (February 2007) contained the straws that broke this camel's back: two of my favorite dishes, one Thai and one Sichuan, are featured and, as usual, are turned into pale imitations of themselves. What I found perhaps more infuriating than the way the recipes were watered down was the more than vaguely patronizing way in which the foods themselves were described.
For their bastardization of Sichuan green beans, the editors chose these sentences as a subtitle: "This tangy, spicy dish offers an exotic change of pace from everyday green beans. We set out to overhaul its foreign ingredient list and simplify a troublesome technique."
Every time Cook's Illustrated writes about Asian food, the stuff is described as "exotic."
Don't believe me? Well, how about we take a peek at the subtitle for the tom kha gai recipe from the same issue: "Authentic Thai chicken soup gains complex flavor in minutes via a handful of exotic ingredients. Could supermarket substitutes deliver comparable results?"
And then, I look at the March 2007 issue and see that there is a recipe for "Chinese Barbecued Pork at Home."
Would CI's editors think of a better word than "exotic" to describe Asian foods? I hoped so. But, alas, no; the subtitle reads: "These lacquered strips of pork look exotic, but the meat is actually barbecued in the oven, making it an ideal candidate for home-cooking, in theory, at least."
Why do you think this might rub me the wrong way? Here's a suggestion that should clear things up: Step away from your computer, and tell an Asian woman of your acquaintance (or, if you lack same, the next Asian woman you run across) that she looks, "so exotic." Note the reaction, then return and finish reading. I'll wait.
Not only are Asian foods exotic, but, they are "foreign" and "troublesome," and only easy "in theory."
Those sentences smack of xenophobia. Not only is the use of "exotic" over and over in the descriptions offensive and redundant–the recipes are generally useless if one wants to actually make Asian food that tastes, well, you know, Asian. CI doesn't increase appreciation of Asian cuisines, they reinforce fear of unfamiliar techniques and flavors.
And it seems to really only be Asian recipes that suffer from the "exotic" treatment. When Italian recipes are covered in Cook's Illustrated, they are not described in a dismissive, condescending fashion. The authors simply present easier ways to create classic recipes, without removing every element of the recipes that make them recognizably Italian. The garlic is still present, olive oil is not replaced with canola, and milk is still used to make ground meats in pasta sauces tender. With Italian recipes, what the writers do is give readers step-by-step methods to create good versions of classic dishes in their homes.
This is perfectly laudable, and is akin to the way in which Julia Child made French cookery accessible to Americans back in the 1960's. Julia's philosophy was not that French food was mysterious or impossibly difficult for Americans to learn; it was simply unfamiliar. She gave Americans the cultural knowledge and techniques they needed to learn how to make authentic French foods in their homes by showing them that if she could do it, so could they.
However, the ways in which they remove much that is culturally unique about the Asian dishes they cover, are disrespectful to these cuisines and are distinctly not in the same spirit which Julia Child exemplified.
(What is really odd about this editorial xenophobia and policy of dumbing down Asian recipes is that it is fairly recent; in looking back over about a decade's worth of back issues, I found that in August 2005, Thai Chile Beef was considered "exotic." However, in 2002, both Pad Thai and Kung Pao Shrimp were presented with perfectly respectable recipes that included authentic ingredients with nary an "exotic" in sight. On the other hand, in 2001, Sichuan Noodles were "demystified" by being made "without exotic ingredients." Perhaps what is recent isn't the xenophobia, but instead a certain editorial laziness when it comes to finding different ways to say, "exotic." Maybe I should send the editorial team a thesaurus.)
Back to the February 2007 issue: for the tom kha gai recipe, the author says you cannot substitute for galangal, lemongrass and lime leaves because it won't taste right. But he then goes on to suggest replacing galangal–which by the way, is the dominate flavor in the soup, "kha" being Thai for "galangal–" with ginger, which he admits is not ideal. He does say that you have to use lemongrass instead of lemon zest (good for him), and extols the virtues of lime leaves vs. lime zest. But, due to how hard it is to find all of these ingredients, he suggest that the home cook use a mere two teaspoons of Thai red curry paste, "because it contains all of these ingredients" along with shallots, lemon grass, fish sauce and coconut milk. That way, he can avoid using ginger for the galangal, and produce a soup that "tasted every bit as good as that served at my local Thai restaurant."
Wow. Two teaspoons of red curry paste substituting for fragrant fresh or frozen galangal (which are pretty easy to find in Asian markets, but then, that would necessitate going into one) and lime leaves make a really great tom kha gai? That can only be the case if your local Thai restaurant sucks.
I mean, I use a bit of red curry paste (usually homemade, but not always) in my own tom kha gai, but that is not -instead- of the fresh ingredients. It is -in addition to- the fresh ingredients, just to give the soup a little extra kick. Sure galangal, lime leaves and lemon grass are in the curry paste, but they are in such small amounts that it is utterly laughable to see two teaspoons of canned paste substituting for them in a recipe that purports to be as good as what one can get in a Thai restaurant.
Look, even if you don't have a local Asian grocery store, you can buy fresh galangal, lime leaves, lemongrass and Thai bird chiles online at Thai Grocer. I have ordered from them several times and their quality is exceptional, and they have recently added new vegetables and herbs to their offerings.
As for the Sichuan Green Beans recipe–oy. First, the author tried to avoid using Sichuan preserved vegetables by substituting dill pickles. Then, she claimed to have discovered the way to cook the beans that avoided deep frying them–by using the technique of dry frying. I think she meant "discovered" in the same way that Columbus "discovered" America. Much as America was pretty well known to the millions of folks already living there, so dry-frying was more than passingly familiar to the home cooks of Sichuan who have been dry frying green beans for generations. I mean, how hard would it have been for her to try looking up some authentic recipes from a respected source like Fuchsia Dunlop and then find some sources for authentic ingredients online to help her readers make a dish that is not some jack-leg shadow of the real thing?
But, I guess that is just not what the magazine is all about. Based on what I've read, it is all about "do it yourself" kitchen discoveries, with a generous helping of culinary cultural imperialism on the side.
Needless to say, I am not going to bother buying Cook's Illustrated ever again, even if I do like their Brown Sugar Cookie recipe in the March 2007 issue.
Note: I would like to thank Zak, my beloved husband, for his editorial assistance in writing this post.
32 Comments
RSS feed for comments on this post.
Sorry, the comment form is closed at this time.
Powered by WordPress. Graphics by Zak Kramer.
Design update by Daniel Trout.
Entries and comments feeds.