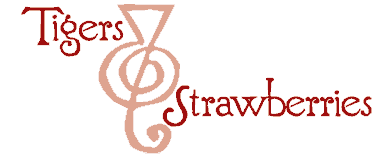 Cook Local, Eat Global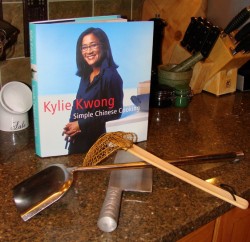 Kylie Kwong is a successful Australasian restaurateur, chef, television personality and cookbook author whose aim is to demystify Chinese cookery and make it accessible to the average home cook.
While her new book Simple Chinese Cooking is a really good step in that direction, there is too little emphasis on technique to truly explicate even a simplified version of Chinese cuisine. Each recipe is lushly illustrated in true food-porn style with sexy closeups of perfectly wok-seared meats and produce all garnished with precisely cut slivers of chile or scallions. However, there are precious few photographs showing how to shred vegetables or slice meat evenly in order to get such gorgeous results. Nor is there much description of how to do it in clear, precise prose.
Instead, the oversized book is laid out more like a coffee-table art book; in fact, the sheer size of it (approximately 9.5″X10.5″) makes it awkward to use in the kitchen. Which is a shame, because the minimalist recipes are very useful and quite scrummy.
Each recipe takes up one full page, however, there is scant instruction on method, so there is much white space. Opposite each recipe lays the finished dish, simply presented on plain white plates, but gussied up with colorful fringes of aromatics so precisely cut they look like feathers or blades of grass. It is all quite artistic, but I am sure it will look less so after soy sauce is dribbled all over that pristine white space and notes are scribbled in the margins.
But what about those scrummy recipes, you ask? Are they good? Are they simple? Can I make them?
Yes to all of those questions. I have cooked from the book, and the recipes are not just workable and simple, they give excellent results.
Kwong's recipes are minimalist to the point that at first I wondered how well they would taste. However, Kwong's Cantonese family taught her well the art of taking the freshest possible ingredients and with precise preparation, the application of high heat and a gentle hand with the seasonings, and turning them into dishes that emphasize the natural goodness of food. The first recipe I tried didn't even use soy sauce; instead, only Shao Hsing wine, salt, garlic and scallions seasoned the dish. The results were delicious. When I cooked it a second time, adding my own subtle touches (a tiny pinch of raw sugar and a drizzle of sesame oil), the results were similarly fantastic.
Following Kwong's recipes is a lesson in keeping a light touch and learning to appreciate the inherent beauty in food.
Because of her minimalist approach, Kwong emphasizes the use of the best possible ingredients. She instructs the cook to use organic eggs and free-range, organic meats and organic vegetables and fruits whenever possible, noting that the difference in flavor is well worth the extra expense. (She also uses only tenderloin in her beef recipes, suggesting that it is the only truly good cut for stir-frying. This extravagance–which is fine for upscale restaurant cooking–strikes me as odd in a book that is meant to make Chinese food accessible to home cooks.) In addition, Kwong notes that seasonal foods are to be preferred and that these foods all are more ecologically viable as well.
I wish that Kwong had spent more time instructing the newcomer on how to successfully stir fry in a wok on a home stove, and how to cut meats and vegetables with the precision necessary for successful stir frying, she did an admirable job in presenting really interesting recipes with a minimum of ingredients, most of which are available at typical American supermarkets. While I was disappointed that some of her vegetable recipes were repetitive (you really don't need separate recipes for bok choy with oyster sauce, choy sum with oyster sauce and gai lan with oyster sauce–they could have been presented as variations of each other on one page, with the other two pages devoted to different recipes), Kwong made up for it by presenting interesting variations on Chinese-style soft-boiled eggs. In fact, she presents quite a few egg recipes, all of which looked and sounded amazingly good and are nothing like what is found in most Chinese cookbooks.
In short, I think that this cookbook, while it suffers from a few significant shortcomings, does succeed at showing home cooks unfamiliar with Chinese cookery that it doesn't have to be difficult, time consuming or require a whole new pantry full of unfamiliar foods. I'd like to see more from Kwong, especially if she could manage to combine more in-depth lessons on technique while presenting more recipes that are simple, yet amazingly delicious.
6 Comments
RSS feed for comments on this post.
Sorry, the comment form is closed at this time.
Powered by WordPress. Graphics by Zak Kramer.
Design update by Daniel Trout.
Entries and comments feeds.