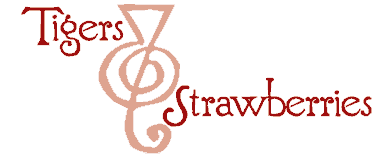 Cook Local, Eat Global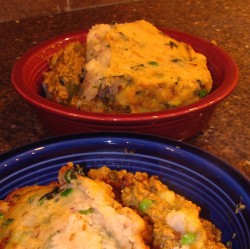 I try to love casseroles, and I do. At least, in theory, I do.
What is not to love? They are nice, warm dishes that are baked in a nice hot oven where they are transformed into cozy, homey and comfort food, that often involves bubbling melted cheese with luscious browned crispy bits on top.
Well, in theory, all of that is true. But, having grown up in the era of bland casseroles composed of a can of soup stirred into a can of gloop with a can of crunchy bits and shredded processed cheese sprinkled on top, I have to admit to being somewhat leery of casserole recipes. I will give them a wide berth out of fear that they will turn out to be tasteless gooey messes that even melted and browned sharp cheddar cheese cannot save.
However, I -do- make some casseroles myself, which I go out of my way to ensure that they never see a soup can and are never bland. Enchiladas, moussaka, lasagne, baked macaroni and cheese, and of course, the classic, if ugly, shepherd's pie have all graced my oven from time to time. All of them are excellent in large part because I start from fresh ingredients and eschew cans altogether, with the exception of using canned tomatoes for sauces when I am not cooking in the summer.
The last time I made shepherd's pie, however, as I was making the meat filling which at my house consists of ground lamb, herbs, onions or leeks, garlic, mushrooms, carrots, turnips and corn cooked with a bit of broth that is later thickened into a gravy, I realized how similar the cooking process was to the making of keema sookh–a quick weekday curry consisting of ground lamb cooked with onions, garlic, ginger, chilies, spices and vegetables until a rather dry dish is made to serve over rice. Thinking that, I wondered how it would taste if I put keema sookh into a casserole dish and covered it with a layer of mashed potatoes and cooked it like shepherd's pie.
Then, as I was mashing the potatoes, I decided that if I were to use keema sookh as a filling for shepherd's pie, I should also "Indianize" the potatoes as well. Thinking on one of my favorite Indian appetizers, potato and pea-filled samosas, I had a thought. Why not cook up samosa filling, and turn it into mashed potatoes and use that for the topping?
So, that is how I made my Anglo-Indian fusion shepherd's pie last week. I did alter my keema sookh recipe a bit in order to make it wetter–so that there would be a curried gravy. I left some of the water in with the keema, and thickened it; however, instead of using flour or roux as I usually do for shepherd's pie, I used a couple of tablespoons of Indira's Magic Powder. This powder of ground roasted, hulled chickpeas and spices not only thickened the gravy, but added a wonderful texture and flavor to the keema filling.
How did it all turn out?
Not only was it as comforting and filling as shepherd's pie always is, but it was also fragrant with spices and herbs, with the popping sweetness of peas in the mostly mashed potato topping. Even Zak, who was skeptical of the entire experiment, was converted in the end to loving the newly remade casserole, so I think this will appear on our table again and again when the cold winds of winter blow.
Ingredients for Filling:
4 cloves garlic
1 1″ cube fresh ginger
2 fresh thai chile peppers, stemmed (optional)
2 tablespoons cumin seeds
2 1/2 tablespoons coriander seeds
1/4 teaspoon cardamom seeds
1 teaspoon black peppercorns
1/2 teaspoon red pepper flakes
1 medium onion, sliced as thinly as possible
1 teaspoon salt
2-3 tablespoons vegetable oil or ghee
1 pound ground lamb, goat or beef
1/2 cup milk
2 tablespoons sweet paprika
2 tablespoons turmeric
water as needed
1 cup fresh green beans, stringed and snapped into 1″ pieces
2 tablespoons dalia powder
salt to taste
1/2 cup fresh mint leaves, lightly chopped
Ingredients for the Potato Topping:
1-1/4 lb. baking potatoes peeled and diced
8 large cloves garlic
1/4 cup ghee or butter
1 tsp. coriander seeds, ground
1 teaspoon cumin seeds, divided–1/2 ground, the other, whole
1 medium onion, thinly sliced
1-2 fresh thai chilies, sliced thinly (optional)
1 tsp. freshly grated ginger
1/4 cup milk or yogurt
1/4 cup fresh cilantro, roughly chopped
1/2 cup frozen green peas, thawed
1 tsp. garam masala
salt to taste
Method:
Preheat oven to 375 degrees, F.
For the filling, grind the dry and wet spices (the first 8 ingredients) into a paste.
Heat a heavy skillet over medium heat, add oil or ghee. As soon as oil is hot, add the onions, and cook, stirring, until they are a very dark reddish brown. When they are about halfway cooked (golden brown) add salt and keep cooking. This helps force out as much juice as possible, which hastens the browning process.
Once the onions are brown, add the ground spices together and cook in the oil for about a minute. Add the ground meat and the milk, and begin chopping the meat into the milk until it all begins to fall apart and brown. Add the paprika and turmeric, and cook down until the milk is evaporated. At this point, add water, and continue cooking for twenty minutes, adding water as needed to keep it from boiling completely away.
After twenty minutes of simmering, add the green beans and about 1/2 cup of water and cook until the green beans are barely tender and the water is nearly cooked away. Add salt to taste, and the dalia powder, and stir until the liquid is thickened into a gravy. Stir in fresh mint, and remove from the heat. Spray a 9″X9″ casserole pan with vegetable oil, and scrape filling into the pan, and set aside.
For the topping, boil the potatoes and garlic together in salted water until the potatoes are just starting to fall apart, drain.
While the potatoes are cooking, melt butter or ghee in a frying pan, then add the onions, and fry, stirring until they are golden brown. Add the spices, ground and whole, the chile and the ginger and fry, stirring until the onions are reddish brown.
Set aside 1/4 of the potatoes, and mash the rest with the garlic. Add the milk or yogurt, and beat until smooth. Stir in the onions, spices and butter or ghee, the cilantro, the peas, the set-aside potatoes, and garam masala. Add salt to taste. Spread potato mixture over the keema filling, and bake for 25-30 minutes until hot, with a bubbly filling and browned spots on the potatoes.
16 Comments
RSS feed for comments on this post.
Sorry, the comment form is closed at this time.
Powered by WordPress. Graphics by Zak Kramer.
Design update by Daniel Trout.
Entries and comments feeds.