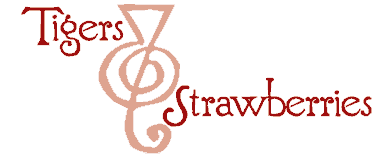 Cook Local, Eat Global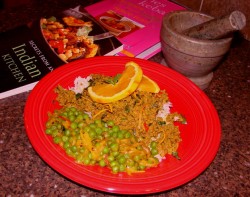 I love to try new recipes, especially if they are unusual or rare in some way.
When I first picked up and reviewed Madhur Jaffrey's book From Curries to Kebabs, one of the recipes I singled out to try in the future was a keema (minced meat) recipe that included orange zest and juice as a flavoring.
Never before had I heard of this recipe in all of my cookbooks and research had I heard of this dish.
Jaffrey notes that she had only heard of the recipe once, from the sister of a film director with whom she was working. The woman, at her request, scribbled this most unusual dish, from Hyderabad, onto a piece of paper, and Jaffrey said that fifteen years later, she still had it, and it creates a meal just as fragrant and delicious as one could imagine.
The origin for the dish as told by Jaffery is that it dates back to the Moghul Empire when governors were appointed to administer the far away southern provinces. There was a court in Hyderabad, where northern cooks practiced the royal Moghul style of cuisine which gradually became blended with the spices, techniques and ingredients typical of southern India. In this time, the rulers of Hyderabad apparently favored Persian and Turkish women for their brides, and with these women's personal retinues came cooks who brought the tradition of flavoring meats with oranges and orange zest.
Among all of the other recipes I had marked to try from this book, Narangi Keema was temporarily forgotten, until I picked up a cookbook from the noted UK Indian author Mridula Baljekar, Secrets from an Indian Kitchen.
I was surprised and thrilled to see that she, too, had a recipe for Narangi Keema, and that hers was slightly different from Jaffery's.
I decided to synthesize the two recipes and make my own using what I had in my kitchen and taking advantage of the current crop of seasonal oranges.
The main differences were in the spices, how the orange zest was treated, how much orange juice was used and in the use of dairy products.
Jaffrey's recipe called for an elaborate preparation of the orange rind using boiling water and turmeric, presumably to both color the rind and remove any residual bitterness from the white part of the pith, while Baljekar simply has the cook put the grated zest into the dish near the end of cooking, along with the orange juice. Jaffrey's recipe also included five tablespoons of yogurt cooked with the meat, presumably to tenderize it.
For myself, instead of using yogurt, which I did not have, I cooked the meat in a small amount of milk. This is a technique I learned from an Italian chef in culinary school which I use in cooking all ground and minced meats, except for the stir-fried ones. This technique results in very tender, non-clumped, almost silky ground meats, which are full of flavor.
I preferred Baljekar's spicing; she included cardamom, cloves and cinnamon, all of which seemed as if they would enhance the citrus fragrance from the orange zest. Both authors called for the use of ginger, but only Baljekar called for garlic. Since I was working with lamb, I decided to use the garlic–to me, lamb without garlic is fairly unnatural.
Both authors called for the use of fresh herbs, so just before serving, I also stirred in a handful of roughly chopped cilantro and mint leaves, which gave yet another layer of flavor to the dish. At the same time, fresh green chile slices are stirred in to add sparkles of fire to the keema. If pomegranate seeds had still been in season, I would have used a handful of them as well, not only because they are pretty, but because the flavor of them would complement the spices and orange zest beautifully.
The end result is a fresh, lightly flavored, very delicate keema. We ate ours over rice, but I am thinking that using orange halves that have had the flesh scraped out as cups would be a pretty presentation for next time. I think it would also be interesting to use this keema to stuff mushrooms or eggplant, though instead of orange, I think lemon or lime zest and juice would be even better for that purpose.
At any rate, here is the recipe–I hope you enjoy it.
Naranji Keema
Ingredients:
3 tablespoons canola oil
1 medium yellow onion, peeled and thinly sliced
1 2″ stick cinnamon
4 green cardamom pods
4 cloves
1 inch cube of ginger root, peeled and grated
3 cloves garlic peeled and crushed
1 teaspoon cumin seeds
1 tablespoon coriander seeds
1/2 teaspoon ground turmeric
1/2 teaspoon ground cayenne pepper (optional)
1 pound ground lamb
1/2 cup milk
1 cup freshly squeezed orange juice
zest of two oranges, finely grated
salt to taste
1/2 cup packed fresh cilantro leaves, roughly chopped
2 tablespoons fresh mint leaves, chopped
2-3 green chilies (I used cayenne) thinly sliced (optional)
1-2 tablespoons orange zest in thin strips for garnish
Method:
Heat oil in a heavy bottomed skillet. Add onion, and cook, stirring, over medium heat. Add the cinnamon stick when the onions just begin to take on a pale gold color and cook, stirring, until the onion is a dark golden brown, and the cinnamon is fragrant.
While the onion is cooking, grind together all of the remaining spices (from the cirdamom pods to cayenne pepper) into a thick paste. When the onion is a dark golden brown, add the spice paste, and cook stirring, for about two or three minutes. Add the lamb and the milk, and stir together, breaking up the lamb. Keep stirring until the lamb is browned, and allow most of the milk to boil away.
Add about 1/4 cup of water, turn the heat down to low and allow the lamb to continue cooking until it is mostly dried out. Add the orange juice and zest, and allow to cook until it is nearly dried out again. Taste, and add salt as needed.
Stir in the fresh herbs and the chilies, and allow to cook for one more minute, just until the herb leaves wilt and the chilies have a chance to release their oils slightly.
Serve over rice pillau or plain steamed basmati rice garnish with thin ribbons of orange zest.
7 Comments
RSS feed for comments on this post.
Sorry, the comment form is closed at this time.
Powered by WordPress. Graphics by Zak Kramer.
Design update by Daniel Trout.
Entries and comments feeds.