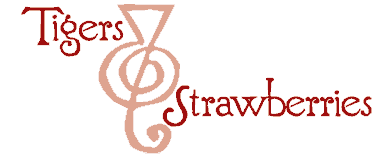 Cook Local, Eat Global
Simple does not equate with plain.
You know, the phrase, "it's plain and simple?"
Well, in cookery, those two words do not have to go together.
Food that comes together with a minimum of ingredients does not have to taste plain. Or bland. Or boring.
This recipe is a classic example of what I am trying to convey.
The stir fry, which is common in Saigon, is very easy to put together. It consists of tender beef, like sirloin, cut into thin strips, marinated in oyster sauce, fish sauce and fresh minced lemongrass, then stir fried quickly in a wok with some red onion and garlic.
That is it.
And that is all there needs to be, really. I mean, I make mine slightly differently, but it only really affects the color of the dish. The flavor, which is amazing, is still the same. It really is that simple. About ten minutes of prep, twenty minutes of marination and about six minutes of cooking time–give or take a minute or two depending on how fast you work with a knife and how hot your stove gets.
It is simple, yes, but oh, so delicious.
I do change mine up a bit. I add a bit of dark soy sauce to color the beef a more savory reddish-brown, and I use shallots instead of red onions, because I like the more delicate flavor a bit better in this stir fry. I also tend to have shallots in the pantry and not red onions, because I use them more often.
As for the presentation of the dish–it is most often served over cool, lightly cooked rice noodles–or "bun" in Vietnamese.
I love it that way, but I love the beef even better draped over a pile of freshly steamed, warm broken rice.
What is broken rice?
Broken rice is just what it sounds like: the rice grains that have not survived the milling process intact. In this case, it is jasmine rice that has gotten cracked and broken up into small bits which look like pearly, pure white couscous. When cooked the texture is also similar to couscous, but the familiar jasmine rice scent and flavor are retained. It is a thoroughly delightful use of a food product that could have gone to waste among less frugal people. I admire that.
It is also simple to cook. In the rice cooker, you just throw in equal proportions of rice and water. In other words, if you want to cook two cups of rice, you use two cups of water. That is that. You put it in the rice cooker, shut the lid down on it, push the button and walk away.
If you are cooking on the stove top, the proportion of broken rice to water is exactly the same. Put the rinsed rice into a pot with two cups of water. Bring to a boil, give it a nice stir, clap a tight lid down on it, turn the heat down to the lowest setting possible setting and cook for twenty minutes. Let it sit for five minutes off heat, then fluff with a fork. Done. Easy peasy.
The rest of the dish is just a matter of washing, cutting and preparing fresh vegetables.
Lettuces, herbs, carrots, cucumbers and bean sprouts are the classic salad ingredients that are presented in the bowl of noodles or rice with beef. I change it up a bit, and when I cannot get good bean sprouts, I leave them out. I add slivers of fresh snow peas instead, and when radishes are in season, as they are now, I cut them up into slivers and add them as well for a little icy bite. Fresh baby spinach is great in this, as is mizuna and shredded daikon or Japanese turnip. Suffice to say that I think that you could use any raw or lightly blanched vegetables that suits your fancy in this dish and all you would do is make it taste even better.
My favorite herbs, though, are cilantro, mint and Thai basil. The first two are necessary, and the third is necessary when it is in season, which around here means the summertime. But when it is in season, I use tons of it. Right now, I make up for not having it by using more cilantro.
What ties all of these disparate ingredients together into a cohesive whole which comprises cold, raw vegetables, herbs and greens with warm steamed broken rice and hot, straight out of the wok stir fried beef?
Nuoc cham. It is the glue of this dish, and without it, you might as well not even try to make it. So, if you are scared of fish sauce for whatever reason, don't try to make this–it will taste really lame, you won't like it and you will say, "Wow, why does Barbara go on about this dish so much. It is just, like boring and stuff." Avoid that, and just make the nuoc cham, then make this dish, and then sit down with a big bowl of it and eat it.
Your soul will thank you. (And then thank me, too. Souls are that way. They are very grateful things.) This is serious Vietnamese soul food.
Your stomach will thank you, too. And if you feed it to your friends and family, they will thank you. There will be lots of thanking around this dish, trust me. It is just that amazing. It is an explosion of fresh and delightful flavors, all bursting in the mouth together. The meat is tender, savory and just unctuous with juice and goodness. The rice is fragrant with a slightly sticky texture that keeps you coming back for more. The greens and herbs are verdant and sharp. The vegetables are crisp, sweet and cool all at once. And the nuoc cham just swirls around the whole dish, bringing all the flavors into a friendly state of harmony.
You know, like a hostess at a party, who flits among her guests, breaking the ice, introducing people and getting the conversation started. That is the role nuoc cham plays here. It gets the party started in the bowl and continues it on in your mouth.
So, make this dish. Eat it, and love it, and come back for more.
I know I will.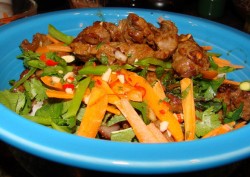 Lemongrass Beef Over Broken Rice
Ingredients:
3 cups broken rice
3 cups water
8 cups loosely packed salad greens, washed, and dried, cut into bite sized pieces (I like baby greens, leaf lettuces, and romaine for this, but mizuna and baby spinach are also fantastic, as is baby chard)
2 cups loosely packed cilantro leaves, washed, dried and roughly chopped
1/2 cup loosely packed mint leaves, washed, dried and roughly chopped
1 cup loosely packed Thai basil leaves, washed, dried and roughly chopped (if you can get it)
4 cups julienned fresh vegetable garnish (I love carrots, seeded cucumber, sweet radishes, turnips, daikon, shredded snow pea and bean sprouts here)
1 full recipe nuoc cham
2/3 pound tender beef such as sirloin, partially frozen, and sliced across the grain into very thin slices about 1″X2″ in size
2 stalks lemongrass, bottom third of stalk only, tough outer leaves removed to expose tender inner core, then minced
2 tablespoons oyster sauce
1 tablespoon fish sauce
3 tablespoons canola or peanut oil
3 cloves garlic, peeled and minced
1 large shallot, peeled and thinly sliced
1 tablespoon dark soy sauce
Method:
Cook rice according to directions in post above.
While prepping the salad greens, herbs and vegetables, mix meat with the oyster sauce, fish sauce and lemongrass. Allow to marinate while prepping other ingredients, at least for twenty minutes.
Prepare salad greens, herbs and vegetables. Set out four large bowls. Divide salad greens among bowls, then divide the herbs. Sprinkle half of each portion of herbs on top of greens, hold off on the rest.
When the rice is cooked, divide it among the four bowls.
Divide the mixed julienned vegetables among the four bowls and sprinkle over and around the still steaming rice.
Divide the nuoc cham in half and drizzle that half over the vegetables and rice.
Heat wok until it smokes. Add oil, allow to heat for twenty to thirty seconds, then add garlic. Immediately add beef to wok, and spread into a single layer on the bottom. Leave undisturbed for a minute to brown. While beef is browning, layer shallot on top of it.
After you can smell the beef browning, vigorously stir fry the meat, garlic and shallots. When most of the pink is gone from the meat, drizzle in the dark soy sauce and mix thoroughly, in order to give the meat a delicious deep brown coloring.
Cook about thirty more seconds, then remove wok from heat. Immediately divide hot beef into four portions and put over the rice and vegetables, drizzling the beef juices and shallots as you go. Do not waste a drop of this lovely liquid!
Sprinkle with reserved herbs, and drizzle with the remaining half of nuoc cham.
Stir and eat!
Note: If you want, you can serve with some Thai sweet chili sauce for each diner to drizzle as they like over their own bowls. Or, you can make two batches of nuoc cham and allow them to add more as they like. Or, you can do like me and serve with both!
15 Comments
RSS feed for comments on this post.
Sorry, the comment form is closed at this time.
Powered by WordPress. Graphics by Zak Kramer.
Design update by Daniel Trout.
Entries and comments feeds.