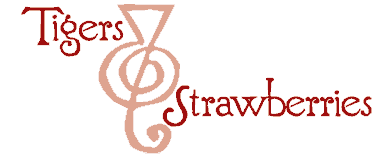 Cook Local, Eat Global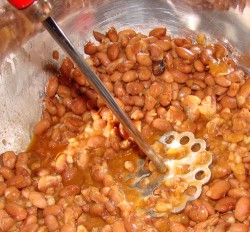 I grew up eating lots and lots of dried beans, simmered on low heat all day, in a big pot, seasoned with a ham hock. My favorites were pinto beans, which were usually served in a bowl with diced raw onions on top and cornbread on the side. They may or may not have had any other seasonings, such as a bay leaf, some garlic or hot peppers, but the one thing pinto beans always had in them was salt, pepper and either smoked jowl bacon, fatback or a ham hock.
Ham hocks gives an absolutely divine richness to the broth, and flavors the beans with the sensual kiss of the smokehouse.
Over the years, I have eaten many sorts of vegetarian beans, and while they may be quite good, most of the time they are missing that smoky richness that just says, "beans" to my palate.
So, most of the time, when I am making soup beans or beans for refried beans (refritos), I haul out whatever bit of smoked hog I have on hand, and toss it in the pot with the beans and start simmering.
However, when one is cooking for one's Muslim friend and one's eight month old baby, neither of whom are going to be eating pork any time soon, one has to change one's ways.
And that is fine. Pork fat may be good for the soul, (and the beans) but it is less good for the figure.
But, how to get that signature smokiness that I want in my beans?
Well, one could use smoked turkey wings, which I have done to great effect in making lower fat beans and greens in the past. However, Kat is still not eating meat under doctor's orders, so smoked poultry is right out of the equation.
Under normal circumstances, meaning, if I was cooking only for adults, I would use chopped up chipotle chiles to provide the smoky flavor, but since Kat is fond of spices, but not so much heat, I cannot go that route, either.
What to do, what to do?
I suppose I could resign myself to eating beans sans smoke, but I don't want to do that, and neither does my palate. My tastebuds are quite stubborn and once they have it in their minds that beans taste smoky they don't want to let go of that concept, and will thus start triggering cravings for smoky goodness that can only be satiated with fifteen pounds of bacon or a whole ham or somesuch evil nonsense, unless I give in and just give them what they really want, which is some nice, creamy, smoky refried beans that smell of all the goodness of smoked pork products.
In my pantry, I realized I had the secret to rich, smoky fully vegetarian pinto beans and thus, refried beans: Spanish Smoked Paprika.
Also known as Pimenton de la Vera Dulce, Smoked Spanish Paprika is a bright russet red colored spice derived from ripe sweet peppers that have been smoke dried slowly over an oak fire for weeks, then ground into a powder. (It also comes in a hot version called Pimenton de la Vera Picante, which is similar to Chipotle chiles, but not as hot.)
It is great stuff, fragrant and full of flavor and color, and I found that by adding a tablespoon and a half to the vegetable broth while cooking the beans produced gave them an amazing smoky punch and colored the broth a rich reddish brown.
Once the beans were mashed, salted and ready to be fried, I found that they were just as good as ones cooked with a ham hock, but were lower in fat and calories, as well as being perfectly baby safe and Muslim-approved.
Woohoo!
For Kat, I pureed the beans completely, but for the rest of us had them fairly chunky. (I like to leave plenty of texture in my refrieds.) I also added some chipotle to our chunky beans after I took out Kat's and pureed them, so we older folks could have a bit of zing in our beans.
Wholly Vegetarian Smoky Refried Beans
Ingredients:
1 pound dried pinto beans, picked over, rinsed and soaked in water overnight
1 1/2 quarts vegetable stock or broth
1 small onion, diced roughly
5 large cloves garlic, peeled and crushed
1 bay leaf
1 1/2 tablespoons Spanish Smoked Paprika (sweet)
3 tablespoons olive oil
1 large onion, finely diced
1 teaspoon salt
6 cloves garlic, peeled and minced
1/2 teaspoon ground cumin
1/4-1/2 teaspoon ground dried chipotle chile
salt to taste
1/2 cup loosely packed coriander leaves, roughly chopped
Method:
Drain pinto beans and rinse again. Put into a pot with stock or broth, onion, garlic, bay leaf and paprika, bring to a boil, and turn down heat so it simmers. Simmer until beans are tender and are just falling apart.
Scoop beans out of the broth with a skimmer or drain the liquid, reserving the juice, in case you need it to moisten the beans after they are mashed.
Using a potato or bean masher, as pictured above, (or a stick blender) mash the drained beans to the texture you prefer. (Do not remove the onions and garlic that were cooked in the beans–mash them up, too.)
After the beans are mashed, heat olive oil in a heavy bottomed pan big enough to hold all the beans. Add onions and sprinkle with the teaspoon of salt. Cook, stirring, until the onions are a dark golden/light brown color. Add garlic and keep cooking until the garlic is fragrant. Sprinkle cumin and if you are using it, chipotle chile into the pan, then add the beans all at once.
Stir to thoroughly mix beans with oil and aromatics. Keep cooking, stirring continually, until the beans dry out somewhat and become creamy and thick. Salt to taste, then right before serving stir in cilantro.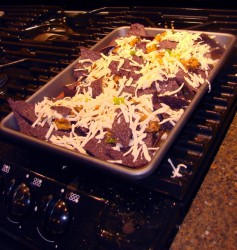 What can you do with refried beans, other than feed them to your baby? (Kat likes them as much as she likes guacamole, curry and carrot potato soup.)
They are a great filling for burritos, I like them in my Mexican rice casserole, Arroz Gratinado, and they are a classic side dish with rice.
They are also great in nachos! Just layer good quality tortilla chips in a baking sheet, dot with hot refrieds, sprinkle with grated cheese, top with scallions, cilantro and jalapenos and run under the broiler until the cheese is melted and bubbly. Then, serve with guacamole and the salsas of your choice for a great snack.
20 Comments
RSS feed for comments on this post.
Sorry, the comment form is closed at this time.
Powered by WordPress. Graphics by Zak Kramer.
Design update by Daniel Trout.
Entries and comments feeds.