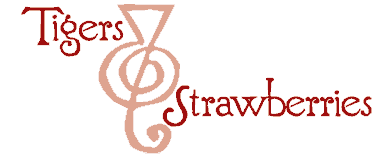 Cook Local, Eat Global
I have been having a good time playing around in the kitchen with Korean flavors and recipes.
First, the kimchi–which is fermenting along very nicely, thank you, and tastes better and better every day. (I have to remember to take some to the farmer's market tomorrow for the two farmers who grew the cabbage and the mustard greens that went into it.)
Inspired by the books Growing Up in a Korean Kitchen by Hi Soo Shin Hepinstall and Eating Korean by Cecilia Hae-Jin Lee, I decided to make authentic bulgogi, which translates as "fired beef."
For years I had been making a bulgogi-like grilled sliced steak, marinated in lots of garlic, sesame oil, soy sauce and sugar and served wrapped in lettuce leaves, and last summer, after reading one of Sarah Gim's posts on Slashfood, I made bulgogi burgers to much acclaim from friends and family, but I had never really ventured into the realm of the real thing.
It turns out that my faux bulgogi wasn't too far off from the real thing. The recipe from Eating Korean was quite minimal; including a marinade containing only soy sauce, sesame oil, sugar, Korean malt syrup, garlic, salt, and black pepper, with scallions as an optional garnish.
On the other hand, the recipe in Growing Up in a Korean Kitchen was much more complex, with inclusions of rice wine, grated Asian pear, scallions, walnuts, corn syrup and sesame seeds in the marinade. The author notes that her family's method of making bulgogi is similar to the more complex recipe from the royal kitchens, so that accounts for the added ingredients and the resulting kaleidescope of flavors.
I combined the two recipes to make my own version.
First of all, I decided to substitute nuoc mau (Vietnamese caramel sauce) for the malt or corn syrup, since I had absolutely neither of those, and only about a tablespoon of nuoc mau left to use up before making another batch. The Asian pear was an intriguing ingredient; apparently, it is used not only for its flavor and slight texture, but also for its tenderizing properties. Just by happenstance, the owner of the local Asian market had given Zak an Asian pear to try the last time he had been shopping, so there it was, sitting in my fridge, waiting to be used. Of course, I had to snack on its crisp, juicy flesh while I was shredding it to go in the marinade; needless to say, I have some more Asian pears sitting in the crisper drawer right now, for snacks or cooking. They are amazing: they have a light, honey-floral scent and a texture similar to fresh water-chestnut. And they have an icy, crystalline flavor to them that is so refreshing–it seemed almost a shame to put it on meat, but I did anyway, and am happy that I made that choice.
I had no walnuts in the house, so I went ahead and used the sesame seeds and didn't worry about the nuts.
I also made double the amount of marinade so I could reduce some of it down with beef stock to make a glaze for the finished beef. I am sure that is not traditional, but I don't really care–it tasted very, very good–especially with the Asian pear.
Growing Up in a Korean Kitchen also suggest three traditional salads as side dishes: radish salad, cucumber salad and leaf lettuce salad. Well, I was fresh out of radishes; they had all been used up in the kimchi making extravaganza, and I had no cucumbers. Leaf lettuce, however, had been in abundant supply at the farmer's market, so I had bought a great pile of it. I looked at the recipe, and it seemed stunningly simple, yet all of the ingredients were tasty, so I thought–"Why not?"
How did it all turn out?
Well, we ate all of it. I am sorry the photographs turned out so lousy; the camera was acting up and then the battery died after only a few shots. I had no backup batteries in the charger, so I went with what I had, which unfortunately are not appetizing pictures. Yet, let me say, the flavors of the beef were fantastic after a brief grilling, but were even better after the reduced glaze was applied. The salad was surprisingly great; it is hard to believe that a salad that consists of so few ingredients can taste so fresh and delightful. It was a great foil for the beef.
The kimchi, as noted above, was coming along nicely, with a strong garlic top note (probably from the combination of garlic and ramps) and a tangy fizz from the fermentation, with a whiff of incendiary power from the ginger, mustard greens and chili. The rice, which was not short grained as it should have been, but long-grain jasmine, because that is what we had, was great with the glaze drizzled over it, and the bean sprouts I simply tossed with some sesame oil were crunchy and nutty.
Since the author of Eating Korean tells me that bulgogi is an integral part of bibimbap–a mixed dish of various ingredients served over rice, I think that I shall have to try that as my next Korean culinary experiment. Although I don't think it is absolutely true that bibimbap requires bulgogi-at least the writer at Zen Kimchi doesn't seem to think so-I still think that a beefy version of it would be quite tasty. I mean, as it was, I mixed everything on my plate into a fine and tasty mess before and during eating it as it was, so bibimbap seems to be the next logical step.
Until then, though, here is my way of making bulgogi. If you want to make a glaze to pour over the beef and rice after it is cooked, double the marinade recipe, add about 1/4 cup of beef or chicken broth or stock, and simmer over medium heat until it reduces into a thick, shiny glaze.
Ingredients:
2 pounds top round or sirloin, sliced across the grain into slices about 1/8″ thick
3 tablespoons soy sauce
1/2 cup Korean rice wine, sake or dry vermouth
1 tablespoon toasted sesame oil
2 teaspoons raw or brown sugar
1 tablespoon Korean malt syrup, corn syrup or nuoc mau
1 Asian pear, peeled and finely grated
2 scallions, white and light green parts, finely minced
3 cloves garlic, minced
1 tablespoon toasted sesame seeds
1/2 tablespoon freshly ground black pepper (I left this out, alas, because of my allergy)
Korean red chile flakes to taste (for serving and as garnish)
dark green tops to 2 scallions, finely sliced (for garnish)
Method:
Mix together all ingredients from soy sauce to black pepper, and rub briskly into the beef slices. Allow beef to marinate for two hours or overnight.
Heat charcoal grill until it is quite hot, and grill meat for two minutes per side, or until done as desired, basting with any marinade left in the bowl twice while cooking. (If you put a weight to press down the beef, it will not curl. Or, thread a soaked bamboo skewer through each piece of beef before grilling to keep them laying flat.)
Remove beef from grill, and cut into bite sized pieces. Sprinkle with garnishes and serve with leaf lettuce salad, steamed rice and kimchi.
Note:
If you want to make a glaze, double the ingredients for the marinade. Use half as a marinade, and to the other half, add 1/4 cup chicken or beef stock or broth, and simmer on medium heat until it reduces to a glaze. Drizzle over the bulgogi and steamed rice is done.
Leaf Lettuce Salad
Ingredients:
1 pound leaf lettuce, washed, dried thoroughly (wrap it in kitchen towels to get it completely dry) and cut into thin ribbons
1/2 tablespoon soy sauce
1 green onion, white and pale green parts, finely minced
1 clove fresh garlic, peeled and minced
1 tablespoon sake or dry vermouth
2 tablespoons rice vinegar
1/8 teaspoon anchovy paste
1 tablespoon freshly squeezed lemon juice
1 tablespoon sesame oil
1 tablespoon toasted sesame seeds
1 teaspoon Korean hot chile flakes (or to taste)
Method:
After the lettuce is sliced up, chill it thoroughly in the fridge for at least one hour.
In a small jar, mix the other ingredients, put the lid on it tightly and shake well to combine.
Just before dinner, toss thoroughly with the lettuce, and serve immediately.
4 Comments
RSS feed for comments on this post.
Sorry, the comment form is closed at this time.
Powered by WordPress. Graphics by Zak Kramer.
Design update by Daniel Trout.
Entries and comments feeds.