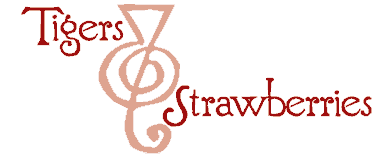 Cook Local, Eat Global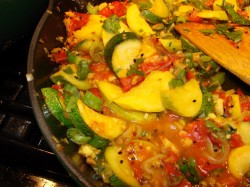 As much as I love food, sometimes I think I love color even more.
Vivid colors and strong flavors sing to me of summer.
Every time I go to the farmer's market in the summer, I can feel the excitement bubble up in my heart as I look at the jumble of gorgeous colors on display. Piles of summer squashes in hues of brilliant emerald, jade, celedon and butter yellow sit next to crimson fist-sized spheres of early tomatoes and bundles of purple scallions and verdant herbs in every shade of green.
Before I even get a whiff of the fresh baby garlic heads and spring onion bulbs, the colors of summer have me salivating, and I find my fingers itching to put as many hues in my string bag as possible. If I could sew a patchwork skirt of all of these shades, I would, and wear it proudly; instead, I content myself with buying the raw materials to cook a dish filled with the sweet flavors of summer at home.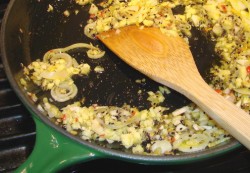 Everything in this squash dish came from the farmer's market except the mustard oil, spices, ginger and chilies. The oil, spices and fresh ginger were purchased at the local Asian market and the chilies came from my porch garden last summer. I just washed them, let them dry thoroughly and then froze them whole. Now, when I need chilies, I grab them from the freezer bag, mince or slice them and they are good to go until the fresh crop starts coming in next month.
The garlic and fresh spring onions I used in this curry are so full of flavor you can smell the goodness as the sun hits them and releases their essential oils while they sit in their baskets on the farmer's tables. It is amazing to walk past and catch a waft of garlic and onion goodness. It attracts me every time. When you add in the wonderful scents of minced fresh ginger, panch phoron and mustard oil, the entire house is perfumed with a savory goodness which I find intensely comforting and homey.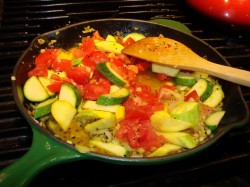 This is a summer dish; I cannot imagine making it without the sweetness of just picked squash and truly ripe tomatoes. Its vivid colors and flavors are perfect for a hot summer night, especially when paired with steamed basmati rice with turmeric, masoor dal and some raita. The spicy heat brings on sweat which helps cool the body, and the cucumber raita ratchets the cooling sensation up several notches.
Simple suppers like this are air conditioning for both the stomach and the soul, while the brilliant contrasting colors are a balm for eyes weary of gazing upon drought-parched grass.
Ingredients:
3 tablespoons mustard oil, canola oil, ghee or butter
3/4 cup thinly sliced spring onions or regular yellow onions
1/2 teaspoon salt
1″ cube fresh ginger, minced
2-5 fresh or frozen Thai chilies, minced (to taste)
1 head fresh garlic, minced (about two tablespoons)
1 1/4 tablespoon panch phoron
1/4 teaspoon ground turmeric
2 small, young summer squash, sliced in half lengthwise, then on the diagonal into 1/4″ thick slices (about 2 1/2 cups slices)
2 medium fresh tomatoes, cored and roughly chopped (about one cup chopped tomato)
2 tablespoons water
1/4 cup scallion or spring onion tops, thinly sliced
1/2 cup roughly chopped fresh cilantro
Method:
Heat oil in a heavy-bottomed skillet (cast iron or enameled cast iron is ideal), on medium heat and add onions and sprinkle with salt. Cook, stirring, until onions release their juices and and turn rich golden brown. At this point, add the ginger, chilies, garlic, panch phoron, and turmeric, and continue cooking, stirring the whole time, until the onions are brown, the mustard seeds pop and the garlic and ginger are golden.
Add the squash slices and the water, and cook, stirring now and again, until the squash is half tender–that is, it has softened a bit, but still resists the tines of a fork when you try to pierce it.
Add the tomato, and turn the heat down to low and simmer until the squash is fully tender, and the tomatoes have cooked down with the onions to create a kind of sauce.
Stir in the scallion tops and chopped cilantro and serve immediately.
This is just as good served either lukewarm or cold, and is even better the next day.
9 Comments
RSS feed for comments on this post.
Sorry, the comment form is closed at this time.
Powered by WordPress. Graphics by Zak Kramer.
Design update by Daniel Trout.
Entries and comments feeds.