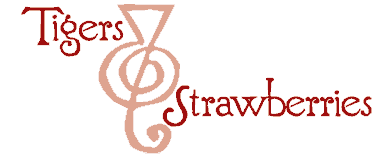 Cook Local, Eat Global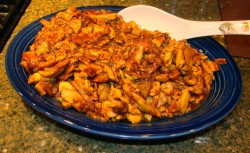 The actual name of this dish translates to "Chicken in Fish-Fragrant Sauce," but you will likely never see it on an American Chinese restaurant menu as such, for obvious reasons. That just doesn't sound appetizing to the American imagination.
The sauce does not smell of fish–and there is no fish in it–it is simply a sauce that is traditionally used by cooks in Sichuan to give fish a delicious aroma.
The rich coffee-colored sauce is sweet and sour, spicy and garlicky, and is filled with the fragrance of fresh ginger, scallions, soy sauce and sesame oil. While it is traditionally used for fish, in most American restaurants that serve the foods of Sichuan province, this sauce, granted the more palatable, if inadequately descriptive moniker "Garlic Sauce," is most often paired with shredded chicken, pork, beef or halved shrimp. I have also had it with fresh scallops–a truly decadent combination which I want to cook in my own kitchen sometime when Morganna is out for dinner, since she does not much care for scallops.
The only other traditional main ingredient besides the poultry, meat or seafood are water chestnuts and wood ear mushrooms. I was out of wood ears, which are just there for the contrasting color and wonderful squeaky-crunchy texture. but I had managed to pick up crisp, sweet and juicy fresh water chestnuts at the Columbus Asian Market the last time we were there.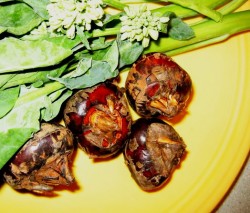 Fresh water chestnuts are where its at for this dish. Even though I had only ever eaten it with canned water chestnuts before when I first fell in love with the dish back in Huntington, West Virginia at the China Garden Restaurant, once I made it myself with the fresh ones–there was no going back. The difference in flavor is just astounding–the intense sugary hit of the crisp little slivers of water chestnut contrast perfectly with the buttery tender chicken, and combine with the zingy sauce to make a divine cacophony of flavor and texture in the mouth. They are quite simply incomparable and are well worth seeking out. If you cannot find them, try fresh jicama root–it has the exact same crunch and is almost as sweet as a fresh water chestnut, but with a bit of a musky starchiness in addition to the sugar.
This dish is the very first real Chinese recipe I ever learned, you know. It is true–I learned it from one of the under-chefs who worked for the chef-owner of the China Garden, Huy. The chef's name was Lo, and he loved me dearly, and would teach me various things about Chinese food. He said I reminded him of his granddaughter back home and he was always making dim sum treats for us all for breakfast and lunch, and he would tell me how to make them. He was thrilled when he gave me my first taste of turnip cake, because I fell in love with it, and he showed me how to make it, and would fry me up a slice in the morning when I came to work.
The recipe everyone in town wanted, however, was the one for Huy's Chicken with Garlic Sauce. When he put that on the lunch menu, people would line up around the block to get in and get a plate of it for the special low lunch price. They were crazy for it, and with good reason–it was excellent, and a great lunch value.
I don't know how many customers begged me to find out how to make it. They offered me money if I could get the recipe.
But I would never do that.
Which is good, because Huy would never let me see what he was up to when he cooked it. He knew I could cook, and he knew I was curious and smart, so when he would cook it, he would stand just so in front of the wok so I couldn't see what he was doing. It frustrated me greatly, but the two of us made a joke of it.
And what was funny, was some days Lo would make the dish, and it never tasted quite as good as the way Huy made it. Lo knew it, too, but Huy would not show him how he made it.
The last day I worked at the China Garden, when Huy went to take lunch home to his daughters, Lo beckoned me into the kitchen. He said to me, "For present for going away, to say goodbye–I will show you one time. You have to remember."
He made chicken with garlic sauce for me, while I watched, and scribbled notes furiously on a scrap of paper. He explained everything, then said to me afterwards, as we ate it together for lunch. "You know, this is how I make it. But Huy, his way, his tastes better. But I don't know what his way of making it is. So, maybe, if you practice this and experiment, you can find his secret."
I practiced the recipe, and soon, I could make Lo's version. I never gave the recipe away, though, because I didn't want to share even part of Huy's secret.
Years later, I bought some chiangking vinegar–Chinese black vinegar, which tastes similar to balsamic vinegar–for another recipe. And when I tasted it, I was suddenly transported to the loud, hot clamor of Huy's kitchen. That was it! He put black vinegar in his version of chicken with garlic sauce!
I was right, but only partially so. When I made it with only the black vinegar, it tasted flat–it was almost right, but not quite. I realized that the secret that Huy had and kept from us all was that he used half regular white rice vinegar and half black vinegar. The first time I made it that way, Zak took a bite and his eyes jolted open.
"You got it! It's Huy's sauce!"
Indeed it was. I had finally hacked the secret of the sauce that I swore I would eat most anything, including dog poop, if only Huy cooked it in that sauce. I was proud of myself, but I just cooked it for friends and family, because I didn't want to steal Sifu Huy's secret.
So, I kept it to myself for years and years until I heard that Huy had retired and closed his restaurant. Then, I taught it to some of my cooking students, and now, I am sharing it with the rest of the world via my blog.
And no, I am not taking any money for this recipe, nor should I. I just want to share it with everyone, because it is quite simply probably one of the best things I have ever eaten in my life, and it is something that Morganna grew up eating and loving. When she was two, she called it simply, "Chicken and Rice and Sauce," and would scarf down huge bowls of it. (Huge for a two-year-old, anyway.)
Here it is, in all of its simple glory. It is really great served with a simple stir fried dish of greens on the side with plain steamed rice, of course.

Chicken with Garlic Sauce
Ingredients:
1 lb boneless skinless chicken breasts, cut into 1″ long thin strips.
2 tbsp. Shao Hsing wine, or dry sherry
2 tsp. cornstarch
1 tbsp. freshly ground black pepper
2 tbsp. rice vinegar
2 tbsp. black rice vinegar
2 tbsp. dark soy sauce
1 tbsp. Shao Hsing wine
2 tbsp. sugar
2 tsp. chili garlic paste
1/4 tsp. sesame oil
1 head garlic, minced
2 tbsp. minced fresh ginger
1 bunch scallions, white and light green parts, minced
8 fresh water chestnuts, peeled and thinly sliced *
1 piece (about 2 ½-3" square) black cloud ear fungus soaked and drained
1 bunch scallions, dark green parts, thinly sliced
2 tsp. cornstarch dissolved into 2 tsp. water
3 tablespoons peanut or canola oil
Method:
Marinate chicken with wine, cornstarch and black pepper while cutting vegetables. Mix together sauce ingredients: vinegars, soy sauce, wine, sugar, chili garlic paste and sesame oil. Set aside.
Slice water chestnuts into shreds, about three pieces per slice. Trim any woody parts from the fungus and discard. Roll up fungus into a cigar shape and thinly slice crosswise to make thin ribbon-like shreds.
Heat wok on high heat until it is about to start smoking, add oil and heat until it shimmers, then stir fry garlic, ginger and white part of scallion together for thirty seconds. Add drained chicken, and pat into a layer on the bottom of the wok. Allow chicken to brown lightly by sitting undisturbed on the wok for 45-60 seconds. Stir and fry until chicken is nearly done.
Add water chestnuts, fungus and sauce ingredients. Bring sauce to a boil. Add cornstarch and water, boil until thickened and glossy. Remove from heat and garnish with green scallion tops.
29 Comments
RSS feed for comments on this post.
Sorry, the comment form is closed at this time.
Powered by WordPress. Graphics by Zak Kramer.
Design update by Daniel Trout.
Entries and comments feeds.