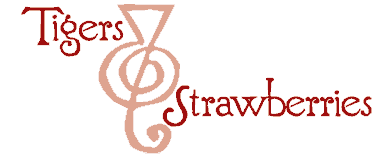 Cook Local, Eat Global
I write a lot about my younger daughter, Kat here, and post pictures about every week, but I don't post as many pictures of Morganna, the elder daughter. In large part, this is because she hates to have her picture taken, and as she is seventeen, and has a bit more energy than I do, she can usually outrun me when she sees the camera coming. However, I do not want my readers to misunderstand what an important part of our household Morganna is, and how often she is in the kitchen with me, prepping, cooking and cleaning by my side. We have fun together, she and I, and that is as important to me as knowing that I am imparting to her important culinary and cultural lessons while we sing, dance and cook in the kitchen, with cats underfoot, friends and family strewn about and a baby at the center of it all.
One thing I wanted to write about to tell everyone is that Morganna went out on Sunday and did something that I think is important for every ethical omnivore to take part in, at least once in their lives, if it is in any way practical for them to do so.
She went to her friend's farm, and helped her friend kill and butcher the calf she had raised by hand.
I grew up helping my grandparents butcher chickens, cattle and hogs, and can still kill and clean my own fish without blinking an eye, so when Morganna asked if she could go help Celeste, I gave my permission gladly. I think it is important for all meat eaters to know exactly where their food comes from, and if possible, for them to take part in the killing and preparation of an animal for consumption at least once.
Ever since Morganna was a tiny child, I never lied to her about where meat came from, just as I was never lied to by my parents or grandparents. In fact,when I ate any pork or beef from our farm, I knew exactly which individual animal any given bit of meat was from, because we put their names on the labels of the paper we wrapped each cut in before packing it away in the freezer.
To some people, this is macabre, but to me, it is only giving the animal who we cared for, nurtured and then killed and cut up so we could eat it its due: recognizing the life and death of an individual animal by remembering its name as we ate it is a form of giving thanks and respect to that animal.
So, I was pleased that Morganna was willing to help Celeste kill and butcher her calf, and allowed her to go.
She was gone for about seven hours, and when she came back, she told me something that made me doubly proud of her, Celeste, and James, another friend who came to help. The three teens did the entire job themselves.
Celeste's father loaded the gun which Celeste used to stun the half-grown calf by shooting it in the back of the head. After that, her father stepped back, and the three young people did the rest of the work–and a lot of work it was. Even though the calf was only half grown–it is still a large animal, and required a great deal of muscle.
Celeste gave the killing stroke by cutting the calf's throat with a very sharp knife: Morganna held the bowl that collected the blood that drained from the carcass. The three of them did the skinning together; Morganna said that even though she had never skinned an animal before, she understood how it was to be done because she had seen me prepare whole tenderloins by trimming the silverskin–it is the same principle entirely. Gutting was accomplished by Celeste and Morganna while James held the hanging carcass still, and Morganna helped disjoint the legs and remove them with sharp knives and pure muscle-power. She once again said she understood how to do it because I had taught her years ago how to break down whole chickens into cooking parts, and the principles are the same–it is just that the joints are bigger in a calf.
When I asked her how she felt about the killing and the butchering, she said it hadn't bothered her at all. "If the calf had been hurt or afraid or if we had messed up and caused it pain, that would have bugged me," she said. "But he died fast, and Celeste was careful, so it was okay." Once the calf was dead and the hard work of butchering started, Morganna was surprised at how much she knew how to do from my descriptions, and the bits I had taught her in the kitchen. "It wasn't hard–it was a lot of work, but it wasn't impossible," she said. "And I did better with it than Anthony Bourdain did–he felt guilty about killing the pig. I didn't feel guilty at all–it is a cow–it is what you do to eat."
Anthony Bourdain is her personal hero, and she has read each of his books at least three or four times. Even though she was rightly proud of her ability to help kill a calf without flinching or feeling guilty about it, unlike her hero, I had to point out that she did grow up in a different culture than Bourdain did. He was very definitely a city kid, while she grew up in West Virginia, in a culture that is still very close to the land, and where hunting, farming and butchering are all a vital part of life for many people.
Morganna came home tired and sore, but satisfied, with a small hunk of the tenderloin.
She was too weary Sunday night for me to cook the steak for her, and instead just fell straight into bed to sleep for hours and hours.
Last night, at midnight, Morganna decided she was hungry again, and since I was nursing Kat, she bustled herself into the kitchen and cut the tenderloin into tiny filets, and seasoned them. Then, she put a potato in the oven, and cut some broccoli, onions and garlic up to make broccoli with panch phoron–her favorite green vegetable dish.
When the potato was done, she started browning the onions for the broccoli, and began to heat the cast iron skillet to sear the steaklets. At this point, Kat, who was asleep in my lap in the living room, woke up, her nostrils twitching at all of the good smells.
Morganna's friend James, who was on the phone with her during this entire process, when told what she was making for a midnight snack, said, "This is what happens when you grow up with a chef in the house."
Morganna was pleased to eat the fruits of her labor, and I was pleased that she is learning important lessons in where food comes from, and how to process it step by step, from the field to the table.
We are lucky to live in a community which is close enough to the land so my daughters can grow up knowing where their food comes from. They can see firsthand the true cost of food, not just in economic terms, but also in sweat, bone and blood.
They will grow up understanding that life comes from life, and all life comes from the earth and the sun, and to the earth, all life returns, in an endless cycle.
That makes me very proud.
Celeste told Morganna and James that the next time she butchers a calf, they will come and help. I think I will tag along so I can photograph the process and document exactly how one goes about killing and butchering a bovine in a barnyard.
33 Comments
RSS feed for comments on this post.
Sorry, the comment form is closed at this time.
Powered by WordPress. Graphics by Zak Kramer.
Design update by Daniel Trout.
Entries and comments feeds.