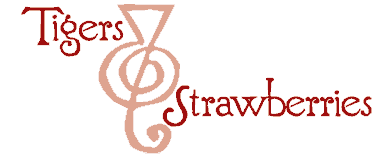 Cook Local, Eat Global
One of the best things about going to the farmer's market diligently every summer Saturday is the thrill of finding something new. And with so many farmers in Athens growing so many wonderful crops and critters, one is bound to find something new nearly every week.
This week, one of my best finds (you'll hear about the other later in the week) was this beautiful little head of purple cauliflower. Isn't it lovely, with the magenta-colored florets shading down to violet and lavender-colored stalks? Of course, I had to snatch it up and carry it home–giving me a purple vegetable to play with is like waving a cute kitten under my nose–I cannot help but cuddle it and play with it.
Cauliflower is a brassica–that is, it is in the same family of green leafies as broccoli, cabbage, collards, turnips, mustard, kale and brussels sprouts. It naturally is endowed with lots of nutritional goodness all on its own because of its family connections: brassicas are full of vitamin C, folic acid, dietary fiber, and sulfur compounds which are beneficial to the immune system.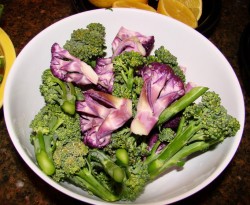 But, I also knew that purple cauliflower, in addition to being prettier than its blanched white brother vegetable, would also be even more nutritious, thanks to the compounds which give it its strong, unique coloring. Athnocyanins are naturally occurring chemical compounds which give flowers, leaves, stems and roots brilliant red, blue or purple colors. These colors, particularly when present in the flowers and fruits of plants, are used to attract pollinators and animals which eat the fruits, and thus distribute the seeds. These coloring agents, are also known to function in plants as flavanoids–secondary metabolites. In this capacity, anthocyanin, like all flavanoids, happens to be very a very potent anti-oxidant. Even after a plant containing flavanoids such as anthocyanin has been consumed by an animal, or a person, the anti-oxidant properties remain and can be exploited by the body of the creature doing the eating.
In short, purple cauliflower is even better for us to eat than white cauliflower.
Of course, that meant I had to keep the purple in the vegetable, and that is a bit of a trick, considering that all anthocyanins are water-soluble. That meant, that since I was going to saute the vegetable along with some emerald-shaded broccoli I bought from the same organic farmer, I couldn't use my normal trick of blanching the cauliflower to partially cook to soften it sufficiently. In my experience, just sauteeing cauliflower often results in a vegetable that is overcooked on the outside, and too crunchy and raw on the inside.
So, I had to go with a different approach.
Knowing as I do that acidic liquids help preserve the brilliant color of anthocyanins, (I learned this years ago from reading Harold McGee's wonderful tome, On Food and Cooking) and also knowing that the tang of lemon juice is a beautiful foil to the nutty flavor of cauliflower, I determined to use some in the dish. But still, I wanted to pre-cook the cauliflower somewhat to give it a head start on the broccoli, which cooks much faster, when I put them in the pan.
I have had great luck with roasting beets to retain the color, or boiling blue potatoes in their skins without cutting them, but I didn't really have time to roast the cauliflower, and it really doesn't have a skin, so neither of those options was satisfactory.
I finally decided to put the florets in a small bowl, add a spare tablespoon of water and microwave them on high until the cauliflower was softened sufficiently to continue with my recipe. I ended up pre-cooking it a total of two minutes, with a very small amount of color lost to the tiny amount of water in the bottom of the bowl.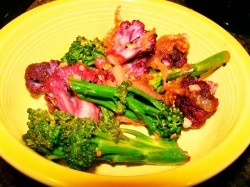 Some of the red pigment did come out when I added the lemon juice later in the cooking process, but it had the interesting effect of dyeing the onions a brilliant wine-color. It looked amazingly colorful, and it all ended up tasting very well, so I think that the experiment was a success.
So, how did I end up cooking the cauliflower and broccoli?
With panch phoron–my new favorite spice mixture, of course. The results were fantastic: the brilliant emerald broccoli and amethyst cauliflower glowed like gemstones in the bowl, and the nutty mixture of toasted spices complemented the rich flavors of the two vegetables. Onions, garlic, salt, ghee and lemon juice rounded out the recipe perfectly, making it a balanced blend of bitter, sweet, tangy, nutty, pungent, and smoky flavors.
You can of course, make this out of white cauliflower, but I think you will miss out on the technicolor beauty of combining vividly green and violet colored vegetables on your plate.
Broccoli and Cauliflower with Panch Phoron
Ingredients:
1/2 pound purple or white cauliflower, cut into small florets
2 tablespoons ghee, butter or canola oil
1 cup thinly sliced yellow onions
1/2 teaspoon salt
2 tablespoons panch phoron
2 tablespoons minced fresh garlic
1/2 pound broccoli florets
3 tablespoons fresh lemon juice
Method:
Place purple cauliflower into a microwave proof bowl, add a tablespoon or two of water, and microwave on high until cauliflower is lightly cooked and tender. Remove from bowl, and allow to drain and dry.
(If you are using white cauliflower, bring a pot of salted water to boil, and plunge florets into the water until it is as tender as you want it. Drain and rinse in cold water to stop cooking, then drain until nearly dry.)
Melt ghee or butter in a heavy-bottomed pan on medium high heat. Add onions, sprinkle with salt and cook, stirring until onions are pale brown. Add panch phoron and garlic and continue cooking until mustard seeds pop, the spices are fragrant and the garlic is golden.
Add the broccoli and drained cauliflower, and cook, stirring, until the broccoli begins to brown slightly. Add lemon juice, and toss to combine with the vegetables. When the broccoli is bright green, the onions turn burgundy and the cauliflower is bright magenta, the dish is finished.
Serve with an Indian meal.
11 Comments
RSS feed for comments on this post.
Sorry, the comment form is closed at this time.
Powered by WordPress. Graphics by Zak Kramer.
Design update by Daniel Trout.
Entries and comments feeds.