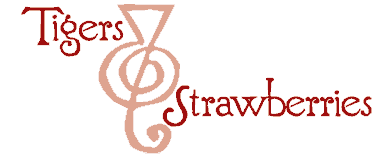 Cook Local, Eat Global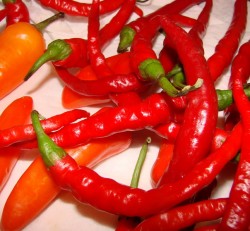 Back when Fuchsia Dunlop's Hunan cookbook, Revolutionary Chinese Cookbook came out, I wanted to make a jar of salted chilies as per her directions so that I could use them to get an authentic Hunanese flavor in my recipes. This condiment, which is easily made at home (a good thing, because it isn't available in the marketplace) is nothing more than ripe red hot chilies, chopped up and tossed with salt, then sealed up and kept at cool room temperature for two weeks.
She described them as tangy, salty and hot, and said that they added amazing color and flavor to Hunan foods. Obviously, they are the product of lactic acid fermentation just like kimchi and saurkraut.
Since I love kimchi and I love chilies, I couldn't help but want to make this.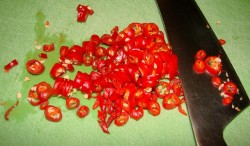 Alas, I had to wait until now to do so because my ability to get a full pound of red, ripe chilies until now has been lacking. But, another benefit of late summer heat and sun is this: there are ripe chilies available at the farmer's market in copious amounts. I picked up a pound of red cayennes–and boy are they HOT!
I know this because as I was chopping them, the back of my throat started to tickle. (I wore gloves, of course, but I didn't wear a surgical mask. Maybe I should have had a gas mask, too?) Then, my nose started to run, my eyes watered and my throat began to actively hurt. All from the smell coming up off the chilies.
My throat bothered me the rest of the night into the next morning, long after I had tossed the chilies with the kosher salt and sealed them up tightly in a jar.
I can't wait to try them in a recipe–I have one all lined up–chicken stir fried with rice noodles.
But, alas, I need to wait another week and a half. Right now, the salt has all dissolved into the juices which have come out of the chopped chilies, and the color of them has begun to deepen somewhat. The process is pretty fun to watch. I check on them every time I open up the pantry.
We'll know how they turned out when I cook with them the first time. I just think it would be best for me to remember to turn the vent hood over the stove before I start stir frying lest I kill all the cats with chili fumes.
If you are brave or crazy enough to want to make a jar of these for yourself, here is Dunlop's recipe.
Hunan Salted Chilies
Ingredients:
1 pound red hot chilies
1/4 cup kosher salt
Method:
Wash chilies thoroughly and discard any that show signs of mold or decay. Dry them thoroughly on a kitchen towel or a pile of paper towels.
Sterilize a jar and lid with boiling water or by running it through your dishwasher with a heat dry cycle. Make certain it dries thoroughly either in the air or through the dishwasher dry cycle. Do not use a paper towel or cloth to dry it directly.
Discard the stems of the chilies and chop them roughly. Do not remove the seeds. Place the chopped chilies into the jar with three tablespoons of the salt and with a sterilized chopstick or fork, stir thoroughly to combine the salt evenly among the chile bits.
When the salt is mixed in, level the top of the chilies, and sprinkle the rest of the salt over them, then tightly cap the jar with the lid and store, unopened, in a cool dark place for two weeks.
After that, it is ready to use. After opening, keep in the fridge, where it will keep for months.
17 Comments
RSS feed for comments on this post.
Sorry, the comment form is closed at this time.
Powered by WordPress. Graphics by Zak Kramer.
Design update by Daniel Trout.
Entries and comments feeds.