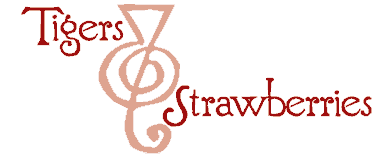 Cook Local, Eat Global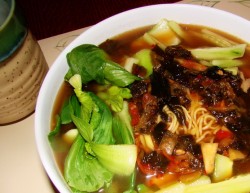 The theme of this year's Eat Local Challenge is "Preserving The Harvest," and I thought that I could use this opportunity to not only make up a few more batches of kimchi and Hunan salted chilies, but also highlight a few recipes using these delicious lactic-acid fermented vegetables.
Lactic acid fermentation is an ancient method of preserving vegetables for the winter in both the East and the West. In China, this method, which involves salting vegetables, with or without the addition of ginger, garlic and chile peppers, and then leaving them in covered crocks to allow the naturally occurring lactobacillis bacteria to begin fermentation, is used to make all sorts of pickled and preserved vegetables, from mustard greens to giant radishes. Koreans use this method to make all different sorts of kimchi, and in France, Germany and Austria, cabbage, both green and red, is fermented into saurkraut.
All of these fermented vegetables are important in the diets of people who live in cold climates, not only because they provide vitamins (especially vitamins C and A) and vegetable roughage in the winter months when the world is covered with ice and snow, but because these deliciously tart, salty pickles are filled with beneficial bacteria which help ward off viral infections. In the times before central heating and flu shots, viral illnesses killed millions, so naturally health-giving foods like kimchi were very important to people's diets. And frankly, these foods are still important, because really, I would rather eat kimchi than get a flu shot.
Kimchi I trust. Flu shots–eh, not so much.
Back to the topic at hand–a recipe using kimchi, which I admit is neither wholly Korean, nor Chinese, but is an amalgam of the two. It is a noodle soup which is similar in flavor and style to a traditional Chinese noodle shop favorite, shredded pork and fermented mustard greens soup, but which uses shredded kimchi instead of the traditional Chinese pickled mustard greens. I also used some bits of roast pork instead of stir frying fresh pork with the greens along with some onions, ginger and garlic, and for a broth, I used my Chinese chicken and pork stock. I added fresh baby bok choy and some thinly cut sticks of seeded cucumber for crunch and a fresh sweetness that contrasted beautifully with the kimchi. The noodles I used were some fresh egg noodles that took all of about forty five seconds to cook in boiling water.
It went together simply into a quick local dinner, in large part because I had the big jar of kimchi in the fridge, a batch of roast pork I had already cooked and packed up in portions for the freezer, and the stock already made and frozen in quart-sized containers. I am a big believer in cooking ahead and either stocking the freezer or pantry with staples like stocks, sauces, preserved vegetables and pre-cooked meats so that I can make my very own fast foods in no time. All I had to do tonight was shred up the cucumber, wash and core the bok choy, and bring the stock to a boil, then cook the noodles. After that, it is nothing but assembly.
How did it taste?
Quite good, actually–I think I will add it to my arsenal of winter cold fighting soups. It was quite spicy, and the broth was rich with a deep meaty flavor. The sweetness of the Chinese roast pork went well with the salty kimchi and the greens were fresh and bittersweet. My favorite part, though was the cucumber; I loved the slightly cooked texture–it is smooth and cool as jade, but still lightly crisp, with a rich velvety quality. Even better is the fact that I cannot imagine a sore throat or cold being able to stand up to the ginger, chile, garlic and friendly bacteria in the kimchi, nor the sinuses being able to resist the drainage potential of rich chickeny broth fragrant with pungent aromatics. It will be a knockout healing potion, I bet.
One of the best parts about this dinner was how local it was; the main components of it–the vegetables in the kimchi, as well as the fresh vegetables, all came from Athens county, while the chickens and pork came from both here and from near Columbus. Only the Chinese condiments used to flavor the pork, kimchi and soup stock, came from elsewhere.
Oh, and one more note–Kat really liked this soup broth, even though it was very spicy. She would point at my bowl and say, "Ma1" quite emphatically, which is her way of saying, "Mom–give me some of that." So, I put a tiny bit of the broth in my soup spoon, blew on it and then held it for her to sip. Which she did.
Then, much to our and her Uncle Dan's amusement, her eyes opened wide, and she held her mouth open, sucking air. Her eyes bugged half out of her face, and her skin turned red around them, and her nose started to run. I gave her a sip of water, which she guzzled, and then, I figured she would either start to cry or just avoid the broth from then on.
No way. Instead, she set her sippy cup down on her high chair, pointed at the bowl again, and gasped out, "Ma!" Then, with a very determined and overly emphatic point, she repeated, loudly, "Ma1 Ma!"
I gave her another sip and she slugged it down, and the eye-popping and mouth dropping routine repeated, much to our amusement. Then, she had a sip of water and grinned at me like a maniac, and started pointing at the bowl again, proclaiming, "Ma! Ma! Ma!!!!"
The endorphine rush had hit.
A chili-head is born.
Stay tuned for more on Chinese noodles, preserving the harvest and other culinary adventures.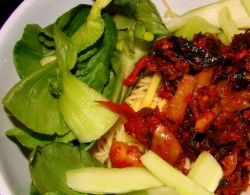 Kimchi Noodle Soup
Ingredients:
2 quarts Chinese chicken and pork stock, seasoned for soup (or, you could use 2 quarts chicken or vegetable broth, seasoned to taste with soy sauce, Shao Hsing wine or sherry and sugar)
1/2 pound fresh or dried Chinese egg noodles, cooked as described here
1/4 pound Chinese roast pork (char siu), thinly sliced (or, you could use extra firm tofu and/or dried rehydrated black mushrooms…mmm…)
4 baby bok choy, cored and rinsed
1/2 cup well-fermented kimchi, shredded or chopped roughly
1 small cucumber, peeled and seeded, then cut into thin strips
1 teaspoon sesame oil
Method:
Set out two or three noodle bowls.
Bring soup stock to a boil.
Divide cooked noodles evenly between the bowls, and top with the pork, bok choy, kimchi and cucumber. Drizzle with the sesame oil.
Pour boiling soup stock over the noodles and garnishes to cover them, and allow the fresh greens to wilt slightly as you carry them to the table.
Serve with strong fermented tea like pu er or smoked tea like lapsang souchong.
Posted by Barbara on September 19, 2007 in Recipes: Bread, Pasta, Grains, Recipes: Chinese, Recipes: Comfort Food, Recipes: Korean, Recipes: Meat, Poultry and Fish, Recipes: Original, Simple Chinese Recipes, The Chinese Pantry | 12 Comments
12 Comments
RSS feed for comments on this post.
Sorry, the comment form is closed at this time.
Powered by WordPress. Graphics by Zak Kramer.
Design update by Daniel Trout.
Entries and comments feeds.