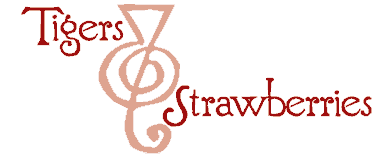 Cook Local, Eat Global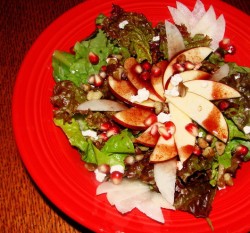 This very picturesque salad was a collaborative effort between Morganna and I, and it typifies all that I believe a salad should be–a beautiful combination of flavors, color, textures and aromas which beguile the senses while retaining an essential simplicity of presentation which is still lyrically aesthetic.
I made the dressing, and came up with the concept for the salad.
Morganna was responsible for the execution of the salad; she did the slicing, and the plating, and decided on the proportions of the ingredients to be used. All I said to her as she worked on it was that the salad had to be "pretty."
Grumbling the entire time about how she could never work as a garde manger–the person who does cold (and sometimes hot) appetizers, cold plates and salads–because it requires too much finicky work, Morganna put together a gorgeous salad with excellent presentation.
The main component is the two-toned butterhead and leaf lettuces which make the underpinnings of the salad; the other focal ingredients were locally grown tart Johnathan apples and icy-crisp, spicy Asian pears.
To add crunch and color, I included pomegranate seeds and black walnuts, which are an Appalachian native tree nut. They have a musky, dark flavor that is sweet, yet redolent of the scents of fallen leaves and damp woodlands. To me, black walnuts are the essence of autumn distilled into a very small, buttery package.
Flecks of snow white tangy goat cheese rounded out the salad, giving a touch of richness echoed by the nuts, and a bit of smoothness found in both the lettuce and the apple. Its soft, yielding texture and dairy fragrance, however, were its own.

The dressing was simple–a vinaigrette with pomegranate juice concentrate instead of vinegar, a touch of honey, a pinch of salt, and a nice dollup of really good, rich olive oil. (If I had walnut oil in the house, that is what I would have used, but I was out.)
The pomegranate juice concentrate, pictured here, could be replaced with a similar, more traditional product, pomegranate molasses, but again, I had used the last of my stash in a salad dressing a few weeks prior to this salad. So–necessity being the mother of invention, I used this concentrate, meant to be added to water to make a pomegranate juice drink, was perfect. I had found it a while back at my grocery store, and had used it in making a sauce for my pomegranate cheesecake–its ruby color and tart, syrupy consistency were a perfect foil to the rich tang of the cheesecake and the crunchy, sour nuggets of fresh pomegranate seeds.
The dressing is simplicity itself to whip up–I just put the ingredients together into a bottle and shook it up well, then let it sit at room temperature until serving time so that the flavors could meld together perfectly.
The collaboration worked–the salad captivated the senses–balanced perfectly between sweet and sour flavors, pale and brilliant colors, crisp, soft, yielding and buttery textures, and strong and delicate fragrances, it was also a delight to the eyes.
Morganna, her protestations to the contrary, would make a very good garde manger, if she set her mind to it.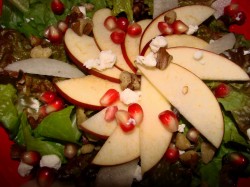 Green Salad with Chevre, Black Walnuts, Apples and Pomegranate Vinaigrette
Ingredients:
1/4 cup pomegranate juice concentrate or pomegranate molasses
3/4 cup very good extra virgin olive oil
honey to taste
salt to taste
8 ounces mixed leaf and butterhead lettuces, washed, dried and torn into bite-sized pieces
1 Jonathan, or other tart apple, washed well and sliced thinly
1 Asian pear, peeled and cut into paper thin slices
1 pomegranate, seeds removed from the peel and pith
1 ounce black walnuts, roughly chopped
1 ounce tangy goat cheese, crumbled into bits
Method:
To make the dressing, put first two ingredients into a bottle or jar, and close tightly. Shake like mad. Taste and add honey and salt to your liking. The flavor should be a balance between sweet and sour with just a tiny hint of salt to balance it. The oil should just hold it all together with a hint of buttery richness.
Divide lettuces between four individual salad bowls or plates.
Arrange apple and Asian pear slices in a decorative pattern over the lettuces. Sprinkle 1/2 the pomegranate seeds (reserve the rest of the seeds for another use or snack on them while you are fixing dinner–we chose the latter course of action) and the walnuts and goat cheese over the salad.
Just before serving, shake salad dressing again to emulsify it and drizzle over the salads in a spiral pattern.
9 Comments
RSS feed for comments on this post.
Sorry, the comment form is closed at this time.
Powered by WordPress. Graphics by Zak Kramer.
Design update by Daniel Trout.
Entries and comments feeds.