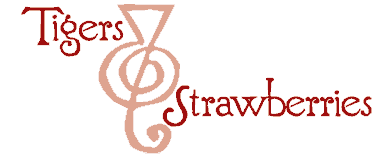 Cook Local, Eat Global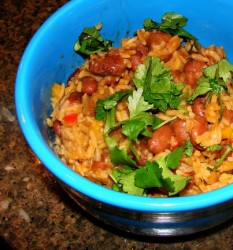 There is a song by Spearhead that I love, and it goes (in part) like this:
"….The way to my heart/ is with a garlic clove
it smells hella sexy/ when it's on the kitchen stove
(chorus)
Red beans and rice, red beans and rice, red beans and rice,
make everything nice
red beans and rice, red beans and rice, red beans and rice
I could eat a plate twice. So nice. So nice. So nice.
Most people on the planet/ eat beans and rice
some can't afford beef or they think cows are nice…."
You can see why I love "Red Beans and Rice." That's the name of the song, if you hadn't figured it out yet. I swear if I ever get a cooking show (ha!) of my own, I'd want this song as my theme music. I just love it.
Just like I love the traditional New Orleans Cajun/Creole Monday supper dish, red beans and rice.
Why was it traditionally made on Mondays? Because Monday was washing day, and Mammas all over South Louisiana could put a pot of beans to simmer all day long on the stove where it could tend itself while she tended to the laundry.
I like red beans and rice on Mondays, Tuesdays…any old day will do, really.
Now, the real, traditional way to make red beans and rice is to saute the Holy Trinity in your pot, (you know that would be bell pepper, onion and celery, right, cher?), along with some added herbs and garlic, and then maybe add some tasso and andouille sausage. (Or, you can throw in the bone from Sunday's ham–that is wholly traditional and appropriate, too.) Then you add water or stock or broth, and your dried little red beans and then bring them to a boil, turn down your heat and simmer them all day long. You only need to check on them now and again, and they make the house smell wonderful as they cook.
At dinner time, all you need to do is make a pot of fluffy white rice, and you serve the beans, along with a ladleful of the savory juices over it and you have a delicious meal. I like to add a green salad or a mess of lightly sauteed greens alongside, just to make it a balanced meal, but I have to admit to dining more than once on just a bowl of beans and rice for my supper.
It is nutritious, filling and inexpensive to make. It's peasant food.
And I am here to tell you that peasant food is good food.
In truth, I tend to prefer to buck tradition with my beans and rice, and cook it without much in the way of meat; usually, the only meat I use is a bit of smoked ham hock to give the beans a smoky earthiness when I cook them. Or a bit of ham bone. (And when we had dogs, they would love the hock or bone after dinner was cooked.) But I really like the beans to be themselves without added sausage or bits of the ham-like tasso or even ham. I guess it is because I just love beans so much that I don't want them to be all muddied up with extra added meat.
No, it isn't a completely vegetarian dish this way, but I am omnivore, after all. If you want to make a completely vegetarian/vegan dish, use smoked Spanish paprika to give a similar flavor. Or, if you do not eat pork or red meat, you could use the paprika trick or use a smoked turkey wing. Smoked turkey wings make great pots of beans that are lower in fat and quite high in flavor.
I also have to admit here to not necessarily always using the traditional small red beans that folks in Louisiana use. This is because I cannot always get my hands on them here in Ohio. (When I can get them, though, I always buy them up in bulk.) The usual substitution is red kidney beans, but you know, I don't really like the flavor of them, and I don't like the tough skins they have. So, instead, I use Italian style Cranberry beans. pictured here. They cook up a pale reddish brown, not quite as red as real red beans, and they have a sweet flavor and a silky smooth texture that is so much nicer than kidney beans. They are really delicious–just as tasty as their spotted, speckled and dappled coats are.
I also have to warn you–I don't really make my beans and rice traditionally, either. First of all, I don't let my beans simmer all day–I cook them in the pressure cooker. And secondly, I don't just serve them with their broth over plain white rice–I make a sort of rice pilaf using the cooking liquid from the beans to cook the rice in, after I have sauteed the rice with onions, pepper, celery, garlic and herbs to give it a nice flavor. I cook it in the rice cooker, but it could just as easily be cooked on top of the stove the way that other pilafs are cooked.
Then, when the rice is done, I mix it with the beans and then sprinkle it with either roughly chopped fresh flat leaf parsley or cilantro. (Cilantro is so not traditional, but it tastes good, so there.)
Really, it is easier to just serve the beans over the rice, so in my method, I give instructions to make it both ways. I just like my way better, even if a lot of Creole folks would roll their eyes at me and think I was crazy.
But still–when it comes to taste–a little extra work is almost always worth it to me.
Almost Vegetarian Red Beans and Rice
Ingredients:
2 large onions, finely diced
2 stalks celery, strings removed and finely diced
4 bell peppers (I prefer red, yellow, orange or brown ones to green) finely diced
2-4 fresh red cayenne or serrano chilies
1 head garlic, minced
2 tablespoons olive oil
1 bay leaf
1 tablespoon thyme leaves, fresh or dried
1/2 teaspoon powdered dried rosemary
ground cayenne pepper to taste
1 teaspoon smoked Spanish paprika
black pepper to taste
1 ham hock (or a tablespoon smoked Spanish paprika, or a smoked turkey wing)
1 quart vegetable or chicken stock or broth
1 pound dried small red beans, cranberry beans or kidney beans–whatever you prefer–picked over, rinsed and drained
1 cup water
salt to taste
3 tablespoons olive oil
2 1/2 teaspoons fresh or dried thyme
pinch dried rosemary
ground cayenne to taste
1 teaspoon smoked Spanish paprika
3 cups jasmine rice
3 3/8 cup of the bean cooking liquid
1 cup flat leaf parsley or cilantro leaves, roughly chopped
Method:
If you are planning on using my rice pilaf method of cooking the rice, split your fresh aromatic vegetable ingredients into two equal parts, and set one of those halves aside to be used in cooking the rice. If you are just going to serve over plain white rice, then put all of the aromatics in with the beans.
Heat the first measure of olive oil in a heavy-bottomed dutch oven or pressure cooker over medium high heat. Add half (or all) of the aromatics, and cook, stirring, until the onions turn translucent gold and everything else is soft and fragrant. Add the first list of spices and herbs, and continue cooking for one minute. (If you were going to use ham, tasso or sausages, now would be the time to put them in so they can brown and flavor the oil with their fat.)
Add the ham hock, the broth or stock, the beans and the water, and bring to a boil over high heat. If you are cooking in a regular pan, cover, turn the heat down to low, and cook for about four hours, or until the beans are completely done. Stir now and then and make sure that the water level stays about an inch above the beans, adding water or broth as needed.
If you are using a pressure cooker, bring to a boil, put the lid on the cooker, bring to full pressure, and turn heat down and cook over high pressure until done–small red beans take about a half hour, cranberry beans, thirty-five minutes and kidney beans forty-five to fifty minutes. Quick release pressure and make certain the beans are fully cooked.
When beans are done, ladle out the 3 3/8 cups of beans cooking liquid for the rice, if you are making it pilaf style–otherwise, leave it alone, and you are ready to let the good times roll–just salt the beans and liquid to taste and serve over plain white rice.
After the bean liquid is measured out, keep the beans warm.
In a heavy-bottomed skillet (if you are using a rice cooker) or dutch oven, (if you are cooking on the stove) heat the second measure of olive oil over medium high heat. Add the other half of the vegetables and cook as before–until the onion is translucent gold and everything else is soft and fragrant. Add the herbs, and cook one more minute, then add the rice and cook, stirring until every grain is coated with the oil.
If you are using a rice cooker, dump the contents of the pan into the cooker bowl, and pour in the bean liquid. Close the cooker and turn it on, Wait until it is done.
If you are cooking on the stove, pour the bean juice into the dutch oven, and bring to a boil. Turn the heat down to low, tighly cover the pot and cook for twenty minutes. Remove from heat and let sit for ten minutes before opening up the pot.
After the rice is done, mix the rice with the beans and the remaining small amount of cooking liquid and garnish with the chopped fresh herbs.
This makes about six good sized servings.

Posted by Barbara on October 24, 2007 in Nutrition, Diet and Health, Recipes: Almost Vegetarian, Vegetarian and Vegan, Recipes: Bread, Pasta, Grains, Recipes: Comfort Food, Recipes: Fruits and Vegetables, Recipes: Original, Recipes: US Regional | 19 Comments
19 Comments
RSS feed for comments on this post.
Sorry, the comment form is closed at this time.
Powered by WordPress. Graphics by Zak Kramer.
Design update by Daniel Trout.
Entries and comments feeds.