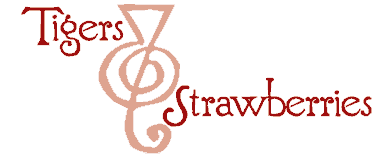 Cook Local, Eat Global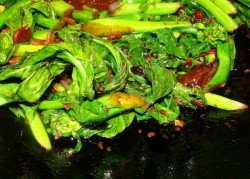 The seasons shift; a veil of mist shrouds the hills surrounding Athens, and the multi-hued leaves whisper, wafting to the newly damp ground in fluttering waves of amber, gold, russet and brown. The winds have grown chill with autumn's first frost, and most of the plants which grew summer's tender fruits, vegetables and herbs have died back, their stalks shriveling, their leaves yellowing and wrinkling like ancient parchment. At the farmers' market last weekend, I saw (and bought) some of the last sweet and hot peppers, tomatoes, eggplants, cucumbers, and bitter melons.
I traded three packets of gai lan seeds to the folks at Cowdery Farms for a handful of tiny, celadon green bitter melons on Saturday. I cooked the melons in my usual way, with chicken and fermented black beans, and they were delicious–crisp and both bitter and sweet. The gai lan, I will likely have to wait to taste until spring, though perhaps next fall there will be a second crop of it, sweet from the kiss of frost and long cold nights.
It will be nice to have locally grown gai lan, but until then, I buy it from the Asian market here in town; it is shipped in from California. Zak and Morganna and I love it so much, we refuse to give it up entirely. It is so versatile; I like it both steamed and stir fried, and it pairs beautifully with beef, tofu, chicken and pork, or it can be cooked to star in its own dish.
Its emerald green leaves can be slightly bitter, while the paler green stalks (which soften in shade to white on the inside) tend to be crisp and sweet. The flowerlets, when they appear, look much like broccoli in shape and color, but their flavor is more akin to kale. (Gai lan is often labeled in English as Chinese broccoli or Chinese kale, though, really, it is unique, and while similar to both of those vegetables, has its own flavor and texture profile.) The entire plant of gai lan is eaten, (except the roots) with preference shown to younger, thinner stalks and tenderer leaves on plants which have either not flowered at all, or which have barely set forth buds.
Sunday night, I decided to stir fry the gai lan I had to go with the Ma Po Tofu I was making. I could have done the typical, classic combination of gai lan with oyster sauce, but instead, I wanted something a little snazzier. Something with tang and bite and a scintillation of chile heat. I looked in my fridge and saw the Hunan salted chilies jar there, with the ground bean sauce right next to it and had an inspiration.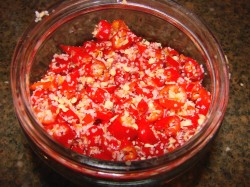 I took both of those jars out, along with the package of fermented black beans and got to cutting onion, garlic and ginger. From my pantry, I took the ever-present Shao Hsing wine and Chiangking Black Vinegar. (If you have neither of those sitting around, you can always use dry sherry and balsamic vinegar. No, really, you can. And you can use fresh chilies instead of the salted ones. But, you cannot replace the ground bean sauce–I am sorry. You will have to pick some up at the Asian market.)
The dish went together quickly and easily, and made a sharply flavored, savory, dark-sauced green to go with the tofu. The salted chilies are not only hot, but a bit sour and tangy because they are fermented, and the ground bean sauce has a deep, meaty savory flavor that is heavy in salt, but otherwise hard to describe. The fermented black beans add to that flavor, which is complemented by the aromatics–especially the onion and garlic. The wine gives depth to the sauce, while the vinegar, added at the last minute, boosts the already present tang from the chilies, and complements the slightly bitter gai lan leaves perfectly. (I grew up dressing kale and other greens with cider vinegar at the table, so I always associate greens and vinegar, so the two are inextricably entwined in my taste memory.)
I urge everyone to give this dish a try–I liked it even better than the classic combination of gai lan with oyster sauce. It is a totally vegetarian, actually, vegan recipe, so it can be enjoyed by everyone. It would go great with any tofu dish, or with a steamed or braised meat dish, too. I thought it was great for a blustery autumn night when the wind was blowing leaves in swarms and the cold rattled at our windowpanes, trying to seep into our nice warm house.


Gai Lan With Hunan Salted Chilies and Ground Bean Sauce
Ingredients:
3 tablespoons peanut or canola oil
1 medium onion, peeled and thinly sliced
1 tablespoon fermented black beans
4 large garlic cloves, minced
1 1″ cube fresh ginger, peeled and minced
1 tablespoon Hunan salted chilies, or fresh chilies, sliced thinly (or to taste)
3/4 pound fresh gai lan, washed, ends of stalks trimmed, and cut into bite sized pieces
1 tablespoon Shao Hsing wine or dry sherry
2 tablespoons ground bean sauce
1 tablespoon (or to taste) Chiangking black vinegar or balsamic vinegar
1/2 teaspoon toasted sesame seed oil
Method:
Heat wok over high heat until a thin ribbon of smoke spirals up from the bottom. Add oil, swirl to coat bottom and sides, and allow to heat up for about thirty seconds to a minute.
Add onion and black beans, and stir and fry until onions turn dark golden and go soft–about a minute and a half or two minutes. Add garlic, ginger and chilies and stir fry for about a minute or so more.
Add gai lan and the wine, and stir and fry until the leaves wilt and the stalks soften slightly–about three minutes. add the ground bean sauce, and stir to combine–if it is too sticky add either a tablespoon of water to the wok or another tablespoon of wine, to make a sauce that will coat the gai lan, but not clump up and be gross.
Remove from heat, and stir in vinegar and sesame oil until they are well combined, then serve immediately with steamed rice.
Note: If you cannot find gai lan, try this method with any kind of strongly flavored green–broccolini, broccoli rabe, kale, lacinato kale, mustard or collard greens, or plain old broccoli. They will all taste good this way, I promise. The more delicate greens, like bok choi, tatsoi, or napa will all be overpowered by the strong flavors of the sauce, so leave those for different preparations.
4 Comments
RSS feed for comments on this post.
Sorry, the comment form is closed at this time.
Powered by WordPress. Graphics by Zak Kramer.
Design update by Daniel Trout.
Entries and comments feeds.