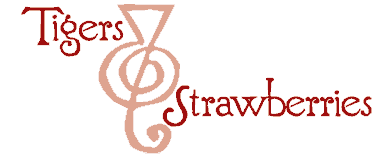 Cook Local, Eat Global
I absolutely adore little baby blue or purple potatoes. They are beautiful, with their deeply-hued skins and slightly paler to pastel flesh, and I like the barely sweet to nutty flavor they possess, which is more interesting than many other, plainer, potato varieties.
So, of course, I was thrilled two months ago, to find a small crop of them being sold by Art Gish, a local farmer here in Athens, at the Farmer's Market. I bought several pounds of them, and ate some right away, and put the rest away in cool, dark storage, to save for another time.
I figured that the birthday feast of a dear friend was a festive enough supper for the baby blues to come out and play, so out of their storage crate they came, and were duly scrubbed and polished until their deep violet skins shone, and were popped into a big pot of water to boil whole until they were soft.
I've written about blue potatoes before, and I have mentioned anthocyanins –they are the chemicals which give the potatoes their deep, vibrant colors. (They are the same coloring agents involved in making beets, blueberries, purple cauliflower and purple asparagus vibrant violet to blue fruits and vegetables–and they are powerful anti-oxidants.)
Anthocyanins are both sensitive to heat and water-soluble, so in order to retain as much color as possible, I tend to cook my blue potatoes whole. I could have roasted them, which would have resulted in the least color loss, but I didn't want the skins to become crispy. I wanted them to be soft and the interiors to be creamy, which meant that boiling them whole was the answer.
Once they were tender, then, I drained the potatoes, and after letting them cool enough to be handled, I cut them into thick crossways slices, which made them ready for the frying pan.
I really love cooking blue potatoes in Indian recipes. For one thing, their slight sweetness tastes fantastic with Indian spices, and for another thing, their brilliant and unusual colors contrast well with golden turmeric-laden curries, red tandoori meats or deep green spinach or pea dishes. The deep, vibrant hues of unusual vegetables like blue potatoes always bring to mind the peacock hues of the costumes chorus dancers wear in Bollywood films, or the colors that Indian artists have used for centuries to depict Krishna, the Hindu God who was once a cowherd, but is now a great deity.
This recipe is simpler than the recipe for blue potatoes I liked to above. All that is necessary is to heat plenty of ghee in a heavy-bottomed skillet, and cook a large onion until it is nice and brown and fragrant. Then, I added about a tablespoon each of finely ground ginger and garlic paste and two tablespoons of panch phoron, the delectable mixture of five whole spices (equal amounts of cumin, mustard, nigella, fennel and fenugreek) from Bengal. Once the ginger and garlic pastes are lightly browned and the spices begin to pop and sizzle, the drained, sliced potatoes are added and stirred. A sprinkle of salt is added, and the potatoes are stirred gently around and around–you don't want them to break up so be careful–until they are lightly browned themselves, and coated in the delicious mixture of aromatics and spices.
Then, they are served forth, hot and steaming.
Though, to be honest, they are equally good at room temperature. I know, because there were a few left in the pan when I went to do up the dishes long after supper, and I popped one in my mouth. My teeth burst through the taut skin of the potato, and the creamy flesh melted; sweet browned onions danced with garlic, ginger and spices on my tongue, and the nutty aroma of ghee held everything together.
It is a dish well worth making. And, if you cannot find blue potatoes, it is fine to make it with any other small potato you like. I have done this with fingerling potatoes, too, and while they are not so pretty, they taste just as amazing cooked this way as their showier blue brethren.


Baby Blue Potatoes With Panch Phoron and Ghee< Ingredients:
2 pounds baby blue (or any other small) potatoes, scrubbed well
4 tablespoons ghee
1 large onion, thinly sliced
1/4 teaspoon salt
1 tablespoon finely ground fresh ginger–made into a paste
1 tablespoon finely ground fresh garlic, also made into a paste
2 tablespoons panch phoron
salt to taste
Method:
Put the potatoes into a large pot and cover with water. Bring to a boil, then turn down heat and simmer until fork-tender. Drain, and allow to cool until you can easily handle them. Then, cut them into 1/2 inch thick crosswise slices.
While the potatoes are cooking, heat the ghee up in a heavy-bottomed skillet or frying pan on medium high heat. Add the onions, and spread them out into as close to a single layer as you can manage, and sprinkle with salt. Cook, stirring constantly, until the onions are a deep reddish brown. Add the ginger and garlic pastes, and panch phoron, and lower heat slightly. Keep cooking for another couple of minutes–just until the garlic and ginger pastes take on color and the spices are sizzling hot.
Add the potatoes to the pan, and cook, stirring, for about four or five minutes, until they are well coated with the aromatics and spices, and are just beginning to brown in spots.
Add salt to taste and serve, either piping hot or at room temperature.
In order to make a vegan version of this dish, and yet retain the nutty flavor of the ghee–use walnut or cold pressed peanut oil instead.
4 Comments
RSS feed for comments on this post.
Sorry, the comment form is closed at this time.
Powered by WordPress. Graphics by Zak Kramer.
Design update by Daniel Trout.
Entries and comments feeds.