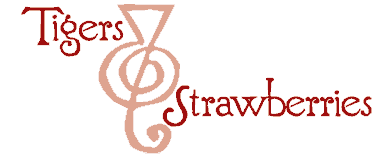 Cook Local, Eat Global
Muhammara is a dip, spread, sauce, condiment or salad that is said to have originated in Aleppo, Syria, although, it is served and eaten all over the Middle East.
It is also sexy: red, a little spicy, smooth, and oh so slippery on the tongue and tingly on the lips. It's like a long kiss that you don't want to end: and the best part is this–it's good for you.
It is made from ingredients that are full of anti-oxidants, vitamins and minerals, and it is just plain good. Low in calories, high in nutrients, and it tastes naughty, like you are blowing your diet just by looking at its come-hither-scarlet self.
Muhammara. Say it with me, slowly, sensually: "Muhammara." Mmmm. Yeah.
This delectable dish is scarlet from the roasted and fresh red sweet and hot peppers that are its main constituents, fragrant from the cumin, onion and garlic, rich from the olive oil and ground walnuts, and tangy from the pomegranate molasses. It is very pretty, especially the way I make it, which is slightly chunky from the addition of fresh red and green bell pepper, and flecked with fresh bits of fresh cilantro.
You will also note that like hummus and baba ganoush, muhammara is vegan. Not just vegan, but vegiliciously vegan. Tasty enough that everyone, vegan or not, loves it. It is just that good.
I have only had it as a dip with pita bread and used as a condiment with lamb and chicken kebab, but the muhammara was so delicious in those contexts, I couldn't help but try and think of some other ways to use it. I think it would make a great sauce for baked fish or seafood, and a lovely marinade for grilled chicken. My mind is still working out these possibilities, but I promise to have a recipe for a dinner special I am planning for Friday that will include muhammara as a component.
But, before you go cooking with it, you have to learn how to make muhammara. There are lots of recipes on the 'net, no doubt, many of them more authentic than mine, but the truth is, mine is pretty tasty, so I think you should give it a shot. It is easy to make, especially if you start out with already roasted peppers–at home, I roast them when they are in season, and peel and seed them then seal them up in ziplock bags, push out the air and stick them in the freezer. You could also use canned or jarred roasted red peppers for this, too–just drain and rinse them well. Or, you can start with fresh red peppers and roast them yourself. (That link takes you to a post that includes a recipe with instructions–and a picture on how to roast your own bell peppers.)
You can use either a fresh chile pepper in this dish, or you could use hot sauce or a spoonful of Chinese chili garlic paste. Any of these will work, though I am fond of the first and last options, myself. In either case, be sure and use some of Aleppo pepper flakes when you saute the onions–they not only add great flavor, but also give the muhammara a great fragrance.
As for the breadcrumbs–I used a freshly toasted pita to make them–I just cut it up and tossed it in the food processor with the roasted pepper. Then, I processed everything together with about a tablespoon of olive oil. I think that using fresh bread to make the crumbs gives a better texture and flavor to the dip, but if you want, you can use packaged breadcrumbs. Or, use whatever good bread you have around–the amount of breadcrumbs I give is approximate, since I didn't really measure as I made it, but I suspect that one piece of pita bread would make about a cup of breadcrumbs.
You will notice that I don't puree everything into a paste–I like my muhammara to have texture. I not only add some fresh green and red bell pepper, chopped finely, but I also only roughly chop some of the walnuts. This just makes the dip that much more interesting to eat.
Finally, if you want, you can use either fresh mint or parsley instead of the cilantro in your muhammara. I just happen to really like the way the cilantro sets off the sweetness of the peppers.
Remember: this dip is good for you. Antioxidants, cholesterol lowering ingredients and vitamins.
And it's sexy. Say it one more time: "Muhammara."
Now, get in your kitchen and make yourself a batch of it, and seduce yourself, your family and your friends.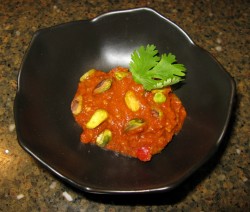 Muhammara
Ingredients:
1 1/2 pounds roasted red peppers, divided
1 toasted round of pita bread
4 cloves garlic, chopped
1 cup toasted walnut pieces
1 1/2 teaspoons (or to taste) chili garlic paste or Sriracha
4 tablespoons olive oil, divided
1 medium onion, finely diced
1 tablespoon Aleppo pepper flakes
1/4 cup tomato paste
1 teaspoon cumin seeds, toasted and ground or 1/2 teaspoon ground cumin
1 medium fresh red bell pepper, seeded, cored and diced finely
2 tablespoons fresh green bell pepper, diced finely
2 tablespoons roughly chopped toasted walnuts
3 tablespoons roughly chopped fresh cilantro, mint or parsley
salt to taste
2 tablespoons pomegranate molasses, or to taste
chopped cilantro leaves and whole pistachios for garnish
Method:
Cut roasted peppers into strips and put two-thirds of them in a food processor. Cut or tear pita into roughly 1″ squares and put into the food processor along with the peppers, garlic and two tablespoons of olive oil. Puree, then pour into a medium sized mixing bowl.
Heat remaining olive oil on medium heat, and add onions and Aleppo pepper flakes. Cook until onions are a dark golden brown and fragrant. Add to bowl, along with the rest of the ingredients, except the salt and pomegranate molasses. Stir well to combine. Taste for salt, add what is needed, then add at least 2 tablespoons of pomegranate molasses.
Chill, but bring to room temperature before serving. Garnish with cilantro leaves and pistachios, and serve with toasty warm pita wedges. (Or with lamb and chicken kebabs, but when you do that, you lose vegan points. I'm just saying. On the other hand, I bet it would make a great sauce/marinade for grilled portabello mushrooms. I bet that would rule, and still be vegan.)
20 Comments
RSS feed for comments on this post.
Sorry, the comment form is closed at this time.
Powered by WordPress. Graphics by Zak Kramer.
Design update by Daniel Trout.
Entries and comments feeds.