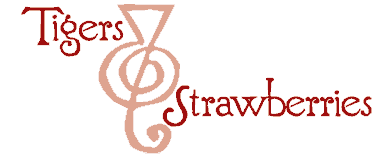 Cook Local, Eat Global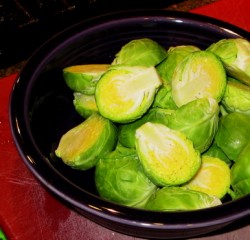 I admit it.
I used to be a hater.
I used to hate brussels sprouts, and could never understand why in the world anyone in possession of their senses would ever want to eat one, much less more than one of these mutant, alien miniature cabbage heads. They were mushy, watery, bitter, and smelled like–well, like a dirty toilet, as far as I could tell.
They were the devil.
And I have to tell you, that the salad at a meal I ate last night at the best fine dining restaurant here in Athens, Zoe, converted me from a hater of all things brussels sprouts, to a lover of that bonny wee brassica.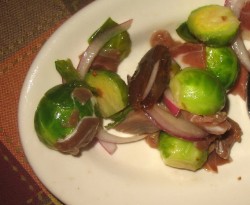 It turns out that everyone in my childhood days just overcooked brussels sprouts. And apparently, the longer you cook them, especially if you are boiling them, the more bitter they become–probably because the sugar is leached out into the cooking water, leaving only the smelly and nasty sulphur compounds behind.
But about that salad, pictured above.
The chef/owner of Zoe, Scott Bradley, is a genius. His salads are always delicious, but the above combination of steamed brussels sprouts, prosciutto, dates and thinly sliced red onions tossed with a traditional, garlicky Caesar salad dressing was amazing. The textures were perfect counterpoints with the tender-crisp sprouts, the crunchy onions, the slightly chewy prosciutto and the sticky dates–and the flavors were just perfect. From salt to honey sweet to sharp–this salad had it all, and I gobbled down a good half of it before I remembered I had a camera with me and snapped a quick picture of what remained on my plate.
I ordered the salad, because I was out with my in-laws, and my father-in-law, Karl, has been telling me for years that there was absolutely no reason in the world why I should dislike brussels sprouts. So, I was determined to try them in his presence–not to prove him wrong, but to prove him right. I wanted him to be there to see me lose my last culinary prejudice against an innocent vegetable. (My other childhood vegetable foes have long become my pals: peas and I made our peace when I learned how to cook them with Indian spices, and beets became my buddies when I was pregnant with Morganna, and out of the blue, I started craving them.)
And so, I tried it, and liked it. And I told our waitress about how good it was, and told her that Scott had made me a brussels sprouts convert. She admitted that she never much cared for them herself, but on my recommendation, she would try the salad. I sure hope she liked it as much as I did.
The sprouts didn't taste bitter and awful. They were like a combination of collard greens and bok choy with a little bit of hazelnut thrown in for good measure. They were nutty and sweet and lightly crunchy and tender at the same time.
Amazed, I had Morganna try them, and she pronounced them delicious. And Zak–he liked them too.
Oh, frabjous day, calloo callay!
So, of course, tonight, I had to figure out how to cook my very own brussels sprouts. I decided to try a stir fry with onions, garlic, Hunan salted chilies, fermented black beans, tofu and carrots.
It turned out to be mighty tasty.
I did cook this recipe a bit topsy-turvy from the way I usually do a stir-fry: I put the brussels sprouts in the wok right after the aromatics were cooked, so that they would soak up plenty of of the onion, garlic, black bean and chile flavor, and could sear and brown against the hot surface of the wok without any other major ingredients in the way. After the sprouts where half-tender, I removed them, and added the tofu to the wok, and continued cooking as normal, adding the carrots next, and then returning the brussels sprouts to the wok, before deglazing, so that the quickly reducing wine would steam them to perfection, and they would get thoroughly coated in the glaze it produced.
As fine and tasty as this recipe is, I cannot wait to roast them in the oven and season them with ghee, panch phoron and lemon.
And of course, when I do make that, I will present it here and show you all how.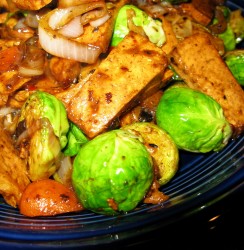 Stir Fried Tofu with Brussels Sprouts and Carrots
Ingredients:
1 pound extra firm tofu, (with the liquid pressed out if necessary), cut into thin slices about 2″X1/2″X1/8″
1 1/2 tablespoon dark soy sauce
1 tablespoon cornstarch
3 tablespoons canola or peanut oil
1 large onion, peeled and thinly sliced
2 tablespoons fermented black beans
2 teaspoons Hunan salted chilies or thinly sliced fresh chile to taste
1 pound brussels sprouts, bottom and outer leaves trimmed away–then cut each sprout in half
4 large cloves garlic, peeled and cut into thin slices
1/2 pound baby carrots, cut into thin slices diagonally
1/8 cup Shao Hsing wine or dry sherry
2 tablespoons dark soy sauce
1 1/2 tablespoon ground bean sauce
1/4 teaspoon toasted sesame oil
handful cilantro leaves, roughly chopped as garnish–optional
Method:
Gently toss the tofu with the soy sauce and cornstarch until the tofu is coated. Allow to marinate while preparing the other vegetables.
Heat wok on high heat until a thin thread of smoke arises from the surface of the pan; add oil, and heat for another forty-five seconds or so. Add onions, black beans, and chilies, and stir fry until onions are golden brown–about two to three minutes. Add brussels sprouts, and allow them to sit, cut side down on the bottom of the wok until they are beginning to brown–about a minute, then stir fry for about two more minutes.
Remove sprouts from wok, and set aside. Add tofu to wok, laying it in a single layer against the bottom and lower sides of the wok, and allow to brown well undisturbed–about a minute. While tofu browns, sprinkle garlic slices over it. Stir fry tofu and garlic for about a minute after tofu browns, then add carrots and brussel sprouts into the wok. Stir fry for another minute, then deglaze wok with Shao Hsing wine or sherry. As thick sauce forms, add the soy sauce and ground bean sauce, and continue stir frying for another minute until all is glazed with the deep brown sauce.
Remove from heat and add sesme oil and cilantro and serve with steamed rice.
Note: Sweet red peppers would be great added to this. Only, I didn't have any. But you could have some, and try it out. I bet fresh or dried shiitake would be great with this, too.

15 Comments
RSS feed for comments on this post.
Sorry, the comment form is closed at this time.
Powered by WordPress. Graphics by Zak Kramer.
Design update by Daniel Trout.
Entries and comments feeds.