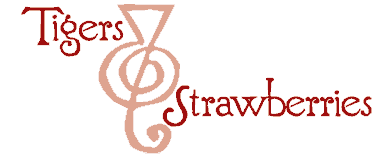 Cook Local, Eat Global
I grew up eating meat and potatoes at least once a day; but I never had them in a curry until I was an adult. The first time I ate this curry, it was at the home of a Pakistani friend's mother, who put it in front of me humbly and said, "This is not much, just an everyday curry. Nothing special."
It may not have seemed special to her, but to my tastebuds, it was absolutely delicious, and was a completely new and amazing way to cook what was a rather plain staple from my childhood. I praised it vociferously, much to her surprise, and begged for the recipe. She had never written it down, but she told me how she made it, and then said that if I wanted to, I could add tomatoes to the sauce, or near the end, I could add peas or green beans to the dish so they barely cooked, to give, as she said, "A fresh, new taste and texture."
Or, I could do as I did New Year's Eve, and make it with several vegetable side dishes.
This is a very easy to make curry, but it is fairly unusual in that the meat (in this case, lamb) is cooked in milk. This makes it especially tender, and makes for a thick, rich sauce, when yogurt is added and the liquid reduced. There is no heavy cream or half-and-half in this recipe, so the fat content is a bit lower than it would be for a korma. There are no ground up nuts, either, so this dish, while seeming to be rich, is lighter than one would think.
I am giving pressure-cooker instructions along with conventional cooking instructions in the method of the recipe; I make most of my long-cooked red meat curries in the pressure cooker because it cuts the cooking time by about two thirds and makes the meat very tender. That way, I can use tougher cuts of meat which are less expensive, but which have more flavor than tenderer cuts. The pressure cooker extracts the greatest amount of flavor possible, and tenderizes the meat to a delectable, fork-tender texture.
Everyday Pakistani Meat and Potatoes Curry
Ingredients:
4 tablespoons canola oil
4 large yellow onions, peeled and thinly sliced
1 teaspoon salt
2 bay leaves
5 cloves garlic, peeled and minced
2″ cube fresh ginger, peeled and minced
6 whole cloves
1 1″ stick cinnamon
2 whole dried Indian chili peppers (I used the narrow red 1″ long peppers)
1/2 teaspoon whole peppercorns
1 whole black cardamom
4 whole green cardamoms
1/2 tablespoon while cumin seeds
1 tablespoon whole coriander seeds
1/4 teaspoon fennel seeds
1 tablespoon turmeric powder
1 1/2 tablespoons paprika
1 pound cubed lamb–shoulder and leg mixed if you can get it
1 1/2 cups whole milk
1 pound whole or halved baby potatoes
1 cup yogurt
salt to taste
roughly chopped cilantro and/or mint for garnish
Method:
Heat oil over medium high heat in a heavy-bottomed pan–cast iron is great for this–and add onions and bay leaves. Sprinkle with salt and cook, stirring constantly until the onions are a deep golden color and have shrunk considerably. This takes about ten minutes or more. Add the garlic and ginger, and whole spices and continue cooking until the onions are a deep reddish brown, and everything is fragrant.
Remove contents of pan to a spice grinder, pick out and reserve bay leaves, and grind everything into a paste, mix in the turmeric and paprika, and set aside.
Add lamb to the pan, and brown on all sides. Transfer lamb to a pressure cooker, and add bay leaves and spice paste. Pour in milk, and bring to a boil over high heat. Lock down lid, set pressure to highest setting and when the cooker comes to pressure, turn down heat to low and cook for about twenty five minutes. After twenty five minutes, turn off heat, and allow pressure to release naturally. (To cook this without a pressure cooker, put meat, spices and milk into a dutch oven or stew pot, cook on low heat, covered, stirring as needed, until meat is tender. Continue with directions as written from this point on.)
While meat is cooking, boil potatoes until tender, and drain well.
When pressure has come down, open cooker, and stir in yogurt and add potatoes. Cook over high flame, with the cover off to reduce liquid to a thick, velvety sauce, stirring as needed. Taste for salt and correct seasoning as needed.
Garnish with chopped cilantro or mint, and serve with basmati rice and vegetables.

14 Comments
RSS feed for comments on this post.
Sorry, the comment form is closed at this time.
Powered by WordPress. Graphics by Zak Kramer.
Design update by Daniel Trout.
Entries and comments feeds.