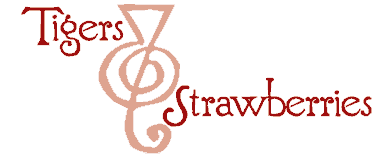 Cook Local, Eat Global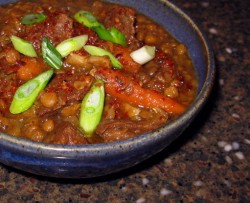 This hearty stew is based upon the plain German lentil soup I grew up eating.
The soup of my childhood was taught to my Dad's mom by her mother-in-law, Anna Marie Fisher, whose parents were German immigrants. She had it from her Bavarian mother, and as I understand it, the dish was typical winter food for the farmers and working class people of the region. Gram taught the soup to my mother, who then taught her sister-in-law, my Aunt Nancy, and her mother, Grandma how to make it. I learned how to make it, and taught my ex-husband who taught his sister.
This is the way that recipes are passed, not only down through the generations, but back around, over and through whole communities.
The original recipe was very simple, not spiced, the way I make mine. It consisted of beef chuck cubes and perhaps a beef soup bone, browned with onions in a pot. Then water was added, and salt, and pepper, and the beef was simmered until it was half tender. Then, the lentils were added, along with sliced celery and carrots, and perhaps diced potatoes. Then, the whole thing was cooked until the lentils were soft and the beef was tender.
It was warming, simple and good, and very few people, once they tasted it, disliked it.
Of course, every cook who has made it in our family circle has added his or her own touches. Aunt Nancy added bay leaves and garlic. Aunt Judy added thyme, I think. I liked thyme, rosemary, garlic and bay leaves.
The truth is, every version of it is good.
This version is a particularly good one, though one cannot call it quite "simple."
In addition to the celery and carrots, there are both shiitake and white button mushrooms, which add texture and a wonderful, earthy flavor to the stew which goes perfectly with the lentils. As well as onion, garlic, bay leaves, salt, pepper and thyme, there is cumin, a dash of cinnamon, and Aleppo pepper for added fragrance and a deeper beef flavor. (I am certain that cumin has the ability to make beef taste beefier, if used judiciously.)
I also added a tot of dry sherry which gave a sweet, nutty flavor to the broth that then made the lentils taste almost toasted.
In the end, this stew turned out to be a very welcome, warming supper on a very cold, very snowy night. It was, if not purely simple by nature and flavor, simple in execution, and was very, very filling.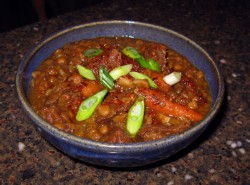 Spiced Beef and Lentil Stew
Ingredients:
4 tablespoons olive oil
1 pound cubed beef chuck
3 cups thinly sliced onions
1 teaspoon salt
6 large cloves garlic, minced
1 teaspoon dry thyme
1 tablespoon Aleppo pepper
1 tablespoon ground cumin
1/4 teaspoon ground cinnamon
2 bay leaves
1 cup dry sherry
1 quart beef broth or stock
1 pound brown or green lentils, sorted and rinsed
2 stalks celery, cleaned and thinly sliced
2 cups small baby carrots or peeled and sliced larger carrots
4 ounces button mushrooms, cleaned and sliced
4 ounces fresh shiitake mushrooms, stems removed, and sliced
water as needed
salt and pepper to taste
lemon juice to taste (optional)
1/2 cup thinly sliced scallions for garnish
Aleppo pepper for garnish
Method:
Heat olive oil in a heavy bottomed pot. Pat meat cubes dry with paper towels and then add to pot, and brown well on all sides. Remove from pot and add onions and sprinkle with salt. Cook, stirring, until they turn deep golden. Add garlic, spices and herbs, and cook, stirring, until the onions are brown and fragrant. Add meat back to the pot, and deglaze with sherry. Add broth, and bring to a boil. Simmer until the meat is tender enough to pierce easily with a fork, but will not slide off the fork easily.
Add lentils and vegetables. If needed, add more water to cover the lentils. Cook, stirring now and again, and checking to make certain that the water doesn't boil completely away, until the lentils are soft and the meat is fork tender–it not only is easily pierced with a fork, but will slide off the tines with no effort.
Season to taste with salt and pepper and lemon juice, if you desire.
Garnish with scallions and Aleppo pepper.
5 Comments
RSS feed for comments on this post.
Sorry, the comment form is closed at this time.
Powered by WordPress. Graphics by Zak Kramer.
Design update by Daniel Trout.
Entries and comments feeds.