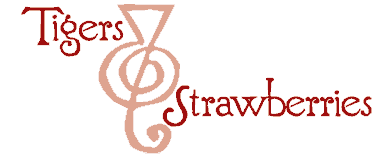 Cook Local, Eat Global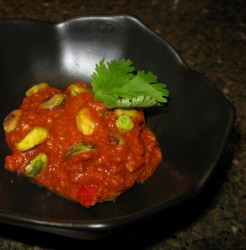 It is very fun working in a small, local restaurant, especially around holidays.
For something new and different this coming Valentine's Day at Salaam, Hilarie came up with the idea of offering a prix fixe menu that included special appetizers, soup, salad, a choice of two main courses, and a dessert. The Django Reinhardt tribute band, the Coolville Hotclub will be playing gypsy jazz with guest singer Emily Burhans, whose whisky-smooth voice slithers sensually through love songs like a silk dress over a woman's hip.
Considering the intimate, cozy dining room, the ambiance created by the band, and the general Silk-Road theme of Salaam, I had a great time coming up with a series of courses to beguile and entice our guests.
The appetizers will be lebni, which is a cheese spread made from strained yogurt, walnuts, dill and spices, muhammara which is just the sexiest dip ever conceived by humanity, and feta stuffed Spanish olives marinated in preserved lemons, herbs, olive oil and Aleppo pepper, all served with a side of toasted pita triangles.
Then, we will have a cream of Asparagus soup with chives and Indian spices, garnished with asparagus spears.
Next is a salad of caramelized pears over mixed greens with fried chevre and almonds, dressed with pomegranate salad dressing.
The entree choices are Moroccan roasted leg of lamb with roasted vegetables or salmon steaks baked over rice and tomatoes with green chutney. (We are also doing a vegetarian option of a sweet pepper stuffed with rice, lentils, golden raisins and almonds with bechamel sauce and feta cheese on top for vegetarians who call ahead.)
The dessert is the show-stopper–chai creme brulee. I developed the recipe using Anthony Bourdain's basic creme brulee recipe from his Les Halles Cookbook which I fiddled with to give the the rich custard the delicate flavor of spiced tea, without making it taste–well, like some very nasty cremes brulees I have had in the past at other restaurants.
The menu will be a bit of a challenge to serve considering how tiny our kitchen is, but the staff we have to work with is amazing, so I am confident that all will go well. I spent most of today prepping appetizers (remind me never to suggest stuffing olives with feta cheese again–yeah, it tastes great, especially after they are marinated, but geez, Louise, is it a royal pain in the hind end), and making on the chutney for the fish, the caramelized pears, and the creme brulee. Well, I made the custard today, after letting the flavorings steep in the cream overnight. The burnt sugar topping won't get made until service tomorrow–I don't like burning the sugar and sticking it in the fridge–I like the contrast between the cold custard and a crisp, warm sugar crust.
Tomorrow, I need to go in early and make the soup, prep the garnishes and the cheese, which will be fried at service.
It should be fun.
I promise to post pictures either tomorrow night or Friday morning!
12 Comments
RSS feed for comments on this post.
Sorry, the comment form is closed at this time.
Powered by WordPress. Graphics by Zak Kramer.
Design update by Daniel Trout.
Entries and comments feeds.