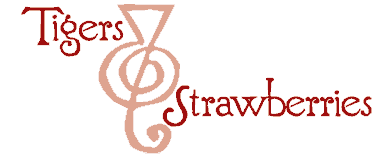 Cook Local, Eat Global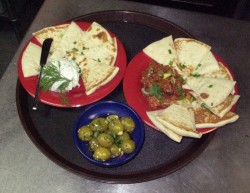 It is true when people say that for restaurant people, working Valentine's Day and Mother's Day is like the entire pre-Christmas retail season rolled into one long shift or so. Those are the two days in a restaurant's calendar that are destined for wild and crazy amounts of business.
This year, Hilarie had the idea to put together a special prix fixe five-course menu which would include a small selection of appetizers (we ended up with three), a soup, a salad, a main course (we had three options), and a dessert. Of course, a prix fixe menu is all-inclusive, with one price for the menu which includes no substitutions. (Although, the truth is, we made substitutions from our regular menu for some customers, ones who are lactose-intolerant, for example. We just are not good at being true hard-asses as some restaurant folks are.)
Of course, the problem with the prix fixe menu, is that we also offered our regular menu items; this isn't necessarily problematic, except that it tended to confuse the flow of food out of our kitchen.
Basically, what happened is that the kitchen crew had to learn how to cook, plate and garnish totally new menu items, in addition to the usual items we can all do with our eyes closed. It was a little confusing at times, but the truth is, the staff did beautifully, and everything went out smoothly. There were some little mix-ups, but nothing horrible happened during service. No courses were lost, no patrons were run over by errant food runners (I count myself in that number), nor did any of us trip and fall up on the stage where the band was playing great gypsy jazz and torch songs.
It was really a lot of fun, if tiring. I spent most of the first part of this week prepping the food for this one meal, but it was all worth it.
For an example, take a look at the appetizers up above. The muhammara was made yesterday, and it is really simple and delicious. The lebni–which is on the left hand side, is a delectable drained yogurt cheese blended with fresh dill, a bit of salt, and walnuts, with a few other seasonings. Both of these were served with pita triangles.
Between those two spreads is the troublesome menu item: green Spanish olives stuffed with feta cheese and marinated in lemon juice, preserved lemon bits, chili pepper, black pepper, olive oil and garlic.
Everyone loved these, which was great. They should love them, because stuffing feta cheese into olives is a bloody annoying task which I would wish on no one. I declared to all and sundry that I was never going to make them again, and in fact, cursed myself for having such a daft and maniacally obsessive-compulsive idea the entire time I stuffed these critters, but really, they are good. You'd think that the olives and feta would be too salty together, but they really weren't. The marinade, which was tangy and lemony and garlicky, helped with that.
After all of the compliments on those olives, I resolved that if asked nicely, I would probably do them again, even if they were tedious to put together.
But they still stand as a testimony to the streak of compulsive behavior that most chefs have in the makeup of their personalities.
The next course, of course, was soup.
As you can see, this is cream of asparagus soup spiced gently with cardamom and other Indian spices.
There are all sorts of tasty ingredients in the soup: chicken stock, fresh asparagus, lemon zest, lightly caramelized onions, fresh garlic, cream, half-and-half, potatoes and chives. I also made a vegetarian version that did not include the chicken stock–I made it with water, but finished the soup with a bechamel sauce enriched with egg yolk.
It turned out beautifully. The compliments for the soup came fast and furious, and I was thrilled with the response.
I especially liked the elegant presentation: I put a dollop of unsweetened whipped cream in the center of the bowl of soup: it floated like a fluffy island of dairy goodness. Next to the whipped cream are two steamed asparagus tips, with a long spear of chive between them, with tiny flecks of chopped chives surrounding everything. The deep green of the chives and the emerald of the asparagus tips contrasted with the pale jade of the soup and the pure white of the whipped cream. It looked just like spring, the spring that we all hope is going to be wending our way soon.
Here is the salad: caramelized pears over mixed greens with sliced almonds and pan-fried goat cheese with a pomegranate dressing.
I was surprised that no one had tasted pan-fried chevre; I thought that it was a rather over-done appetizer and salad topping. Then, I had to remember that I was chided for loving that when I was in culinary school, among chefs from New York, Paris, Alsace, Italy, and all over Europe. These folks had seen and done everything, so pan-fried cheese was passe to them.
But not to the folks of Athens.
I have to say, they took to it naturally–folks raved about it. We fried the little patties of cheese a la minute, which means, at the last minute, so the were sizzling hot on top of the cold greens and chilled caramelized pears.
I promise to put up a recipe for this one–caramelizing the pears was fun, and making the cheese is even more fun. I think that it would make a great salad for a dinner party.
Now we come to the main courses.
Here is Hilarie's Moroccan roasted lamb and vegetables. This is one of my favorites of her dinner specials, leg of lamb marinated with garlic, olive oil, spices and herbs then roasted with sweet potatoes, onions and carrots, all marinated in the same tasty goodness. She makes a cracking-good gravy to go with it, and tonight, we had it with rice, though it goes perfectly with couscous, too.
Do you like the cute little red heart cut from bell pepper? Those are fun to make with little heart-shaped cutters, and they are fast, too.
I can still smell that lamb.
I probably should have had some to eat myself. Duh!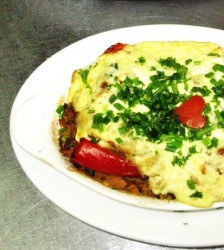 That is one of the stuffed peppers I made for a vegetarian entree.
It is a blanched sweet red bell pepper, with the top cut off, and then cut partway in half from top to bottom, and spread apart.
The stuffing is a mixture of rice, chickpeas, tomatoes, lentils, onions, garlic, spices and almonds. I put a scoop of the stuffing under the pepper, then a generous mound of it in the pepper. I topped it with some more of that egg enriched bechamel sauce, and topped that with crumbled feta cheese, and then baked it. When the sauce was bubbly and the feta was browned, I sprinkled some chives and parsley over it and added another little pepper heart.
As for the salmon with green chutney–it looked pretty much like the fish I posted about last week, except it had another red pepper heart tucked in the lemon twist.
Now we come to the dessert: Chai Creme Brulee.
I was a goof and forgot to take a photograph of it plated and pretty, but here is an action shot of the sugar topping being caramelized with a propane torch by Becky. It was a huge, HUGE, and I mean HUGE hit for everyone, such that it is going to become a signature Salaam dessert which we will have on our dessert tray most of the time.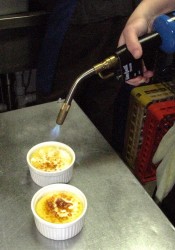 The guests, of whom there were many, loved the dinner, especially the creme brulee. When I was taking various courses to the tables, I was thrilled to be thanked by all and sundry, many of whom were effusive in their praise of the entire dinner. When asked what my next project would be, I answered, "Ice cream and sorbet!" and was met with many anticipatory smiles.
I finally left near the end of dinner, after the third seating came in and their dinners were going out. Hilarie introduced me to many of her old friends, and then gave me a hug. I looked at her and said, "Whose stupid idea was this anyway?"
She snorted and retorted, "Hey, you went along with it!"
What could I say except, "I'm crazy enough to think that stuffing hundreds of olives with feta cheese by hand is a good idea, so what do you expect?"
It was fun, even if it was a lot of work.
The payoff was great–we were surrounded by people with happy bellies, the scent of great food in our noses, and the sound of lovely music in our ears.
I can't wait until next Valentine's Day.
12 Comments
RSS feed for comments on this post.
Sorry, the comment form is closed at this time.
Powered by WordPress. Graphics by Zak Kramer.
Design update by Daniel Trout.
Entries and comments feeds.