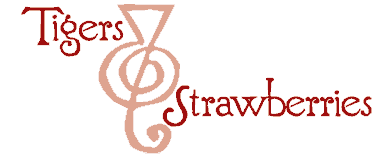 Cook Local, Eat Global
I have been craving gai lan something fierce for two weeks, but sadly, our local Asian market hasn't had any.
So, while we were in Columbus buying supplies for Morganna's better late than never 18th birthday party, I picked up gai lan. I am glad I bought extra, because I want to make this recipe again for the party. (We are doing Thai food for the party, the dishes will include tom kha gai, spicy basil chicken and massamun beef curry–and now this pork with gai lan dish.)
I doubt that this is traditional in any sense, although I know that both pork and gai lan are eaten in Thailand, and I used all traditional Thai ingredients: Thai sweet soy, fish sauce, shallots, bird chilies, garlic, lime juice a touch of palm sugar and oyster sauce, so maybe this dish really is something like a stir fry one would eat in Thailand. (I had Thai basil, too, but resisted the urge to use it, as I think that the flavor would not meld with the gai lan. I don't think that they would get along in a dish–I think that the two greens, both possessing strong flavors, would duke it out on the plate and every bite would be a cage match. So, I just didn't go there.) As an improvisation made without consulting any food blogs or cookbooks, this dish turned out to taste quite good–it was a balance between sweet, sour, salty and spicy with a great fragrance from the garlic and the browned shallots.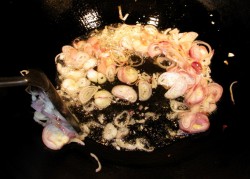 Let me give a word about shallots: they are an often overlooked ingredient in Thai food, and I find them to be indispensable when I am cooking Thai. They give a delicious sweetness to Thai stir-fries and roasted, they are often incorporated into curry pastes. I have tried onions and scallions both in the same capacity and they just don't taste right. It has to be shallots. And you will notice that I used quite a bit of them in this stir-fry–they are a main component of the overall flavor of the dish, not to mention that they give a little subtle hint of pale violet color–at least in the parts of the slices that aren't browned.
One more word of advice before I give the recipe–the number of bird chilies you use depends on how spicy you like the dish, and how hot your particular batch of chilies is. I bought some at a local store last week which were not at all that hot, but the ones I bought from the Thai grocery store in Columbus were smokin'! I tasted one while I was prepping, and boy was it hot! It brought tears to my eyes. For less spicy chilies, I might have used around eight of them, but for these wicked little red fellows, I used five.
This would be really tasty with spiced pressed tofu and mushrooms in place of the pork, too. I love both of them with gai lan and they would go beautifully in this sauce.
Thai Pork and Gai Lan with Shallots, Garlic and Chilies
Ingredients:
3/4 pound lean pork loin, trimmed of excess fat and thinly sliced in pieces 1 1/2″ X1/4″X1/8″
1 1/2 tablespoons cornstarch
2 teaspoons Thai Sweet Soy
1 tablespoon dry sherry
2 tablespoons fish sauce
3 tablespoons canola or peanut oil
1 cup thinly sliced fresh shallots
8 cloves fresh garlic, peeled and minced
5-8 Thai bird chilies, to taste, thinly sliced on the diagonal
1 tablespoon palm sugar
2 teaspoons Thai sweet soy sauce
2 tablespoons fish sauce
1 pound gai lan, washed and dried, stems cut thinly on the bias, and leaves cut into large pieces
2 tablespoons chicken broth or stock
1 tablespoon oyster sauce
juice of one lime
Method:
Mix pork slices with the next four ingredients, and allow to marinate for at least twenty minutes, but no longer than about a half hour while you prepare the other ingredients.
Heat wok until it smokes, and add oil. Allow to heat for another thirty seconds. Add shallots to the wok and stir fry until they turn golden brown and fragrant. At this point, add pork, spread it into a single layer on the bottom of the wok and sprinkle garlic. chilies and palm sugar over it. Leave the pork undisturbed until the pork browns lightly on the bottom, and then stir fry until most of the pink is gone. Add sweet soy and fish sauce, then the gai lan and continue cooking. Sprinkle the gai lan with the chicken broth or stock, and stir fry until all the pink is gone from the pork, and the gai lan leaves are wilted and the stems are have brightened to a nice emerald green. Add the oyster sauce and lime juice, and toss over heat for a few seconds to combine, then remove from heat and scrape into a warmed serving plate.
Served with steamed jasmine rice.
8 Comments
RSS feed for comments on this post.
Sorry, the comment form is closed at this time.
Powered by WordPress. Graphics by Zak Kramer.
Design update by Daniel Trout.
Entries and comments feeds.