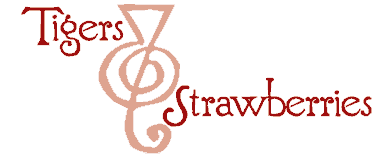 Cook Local, Eat Global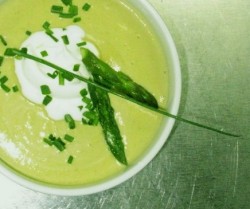 There are few foods more luxurious than a velvety cream soup. The cream not only gives the soup its incredible mouthfeel, which is decadently intense bordering upon sinful, but it also boosts the flavors of the main ingredients because, as we should all know by now, fat carries flavor.
When your soup is based upon a vegetable, cream really strengthens the flavor and fragrance because the flavors and scents of many vegetables, herbs, aromatics, and spices, are fat-soluble, which means that if they are bathed in warm fat, more of the molecules that carry their scent and flavor will be extracted from the vegetable matter. Adding to this flavor-boosting effect is the fact that cream soups are always pureed–this process also releases more flavoring agents into the dish, because of course, the more surface area of a substance that is exposed to heat, the more flavor can be extracted.
So, I guess you can tell from the above two paragraphs that I am personally in favor of cream soups.
And it is true, I am, although it was not always thus.
I grew up with hearty vegetable soups that were based on tomato and meat broth and which contained chunks of vegetables. The only creamy soup I really liked was cream of broccoli or cheddar broccoli soup, which I ate rarely because few people I knew made them, and the canned versions were, well, they left a lot to be desired. (The truth is that I also loved Campbell's Cream of Tomato Soup, too, but as it is not made with real cream, I don't really count it as a cream soup. It may have been good, smooth and silky, but it was made with milk, so it didn't count.)
But when I first had a sip of a real cream-based soup, which I believe was lobster bisque, it was love at first taste.
Not surprisingly, when Hilarie asked me to come up with a soup course for the Valentine's Day menu, and I saw that asparagus was currently cheap at the wholesaler, I jumped on the idea of a cream of asparagus soup with Indian spices. Besides, it would offer a beautiful, cooling, spring-like color scheme of shades of green and white, which is soothing, while the flavor would be at once subtle and seductive.
As I was thinking of how to serve the soup–in what way I would present it for the greatest visual impact, I had the inspiration to put a dollop of unsweetened whipped cream in the center of the soup, and garnishing it with a pair of emerald colored steamed asparagus tips, some thinly sliced chives and a gracefully curved long chive leaf.
I could have used creme fraiche or sour cream, but I liked the idea of unsweetened whipped cream better. I didn't really want to change the flavor profile of the soup in the way that either creme fraiche or sour cream would, but I loved the idea of a cloud-like island of billowy soft cream in the center, framed by darker green vegetation, floating in the sea of pale jade soup.
So, that is what I did, and it made people very, very happy.
One more note before I give the recipe: you can make these completely vegetarian by using vegetable broth instead of the chicken stock in this dish. I did, in fact, make a small pot of a vegetarian version of this for the vegetarian guests whom we knew to be coming, and it was quite good. It was not quite as luxurious and richly golden in flavor, but it was still very, very good.
I wouldn't make it vegan, however–unless you are really allergic to dairy products. And even then–well, I would hesitate to make this recipe without real cream or at least half and half. In my experience vegan alternatives to dairy products do not always taste as good in cream soup recipes as the real McCoy, so keep that in mind. If you do decide to substitute and it turns out odd or weird tasting–don't complain to me–I warned you, but do indeed experiment, try again and let me know if you manage to come up with a vegan version that is really, really tasty and doesn't suffer from the lack of real dairy products.
One more note–you really need a good immersion blender to make this soup successfully. If you have a good one like we do at Salaam, you don't have to strain the soup after it is pureed–it will be velvety enough on its own. If you only have a conventional blender, you can still make this soup, but be prepared to strain the resulting puree through a fine-meshed sieve. I say go for the immersion blender–once you have one, you will never know how you did without one for so long.
Cream of Asparagus Soup With Cardamom and Chives
Ingredients:
3 tablespoons olive or canola oil
1 cup thinly sliced yellow onions
1 teaspoon salt
1/4 cup dry sherry
6 cloves garlic, minced
1/4 teaspoon freshly ground cardamom seeds
1/4 teaspoon freshly ground white peppercorns
2 teaspoons finely grated lemon zest
4 quarts chicken stock or broth or vegetable broth that was made without tomato
3-4 pounds fresh asparagus
1 really large potato peeled and cut into thin slices
1-2 cups heavy cream–use at your discretion
salt and white pepper to taste
fresh lemon juice to taste
1/2 cup heavy cream whipped to soft peaks
thinly sliced fresh chives and uncut long fronds of fresh chive for garnish (In season, chive blossoms would look amazing as a garnish with this soup–the pale lavender would look stunning with the light jade color of the soup, the white cream and the deep green chive leaves and asparagus tips)
Method:
Heat oil in the bottom of a heavy-bottomed soup or stockpot over medium heat. Add onions and sprinkle with salt. Cook, stirring as needed, until the onions turn a medium gold color. Then deglaze the pot with the sherry, add the garlic, spices and lemon zest. Allow the alcohol to boil away, then add the stock or broth, and bring to a boil.
Remove the lowest quarter of the asparagus stalks–the toughest parts, and choose about twenty of the prettiest tips, and cut them off on the diagonal from the stalk. Put them in a bowl, add a few tablespoons of water, cover loosely with plastic wrap and microwave for about forty five seconds to a full minute–just until the tips become tender and deepen to a vibrant emerald green color.
Slice the rest of the asparagus stalks and tips into slices about 1/2″ in length, and add to the boiling stock or broth. Add the thinly sliced potato, and cook until the potato is completely tender and the asparagus has just turned tender. Do NOT overcook the asparagus–you want it to retain as much of the fresh green color as possible. If you cook the stalks until they are completely mushy, the color will become a dull olive drab and the resulting soup will not look fresh and inviting, but instead will look rather vile and unappetizing. So take my advice and watch the asparagus like a hawk.
When it is done, strain out the solids, by pouring the soup through a sieve set over another soup or stockpot. This way you can reserve the cooking liquid, because you are going to need some, but probably not all of it.
Then, put the vegetables back into the soup pot, add about a cup of the cooking liquid and then puree with an immersion blender, adding liquid as needed to help the vegetables form a velvety smooth pureed texture.
After you have the vegetables completely pureed, warm the cream you are going to add to the soup in the microwave. Add as much cream and the reserved stock to make the soup as thick and creamy as you like. When it is done, adjust the seasoning to taste with the salt, pepper and most importantly, the lemon juice, and hold above 141 degrees F. until service.
To serve, ladle into small bowls, add a little dollup of the whipped cream to the center of the bowl, sprinkle sliced chives around the little whipped cream island, place two asparagus tips next to it at close to 45 degreet angles to each other, with the cut ends sunk into the cream, and place a long curved frond of chive with the cut end in the cream between the asparagus tips, arcing over the soup gracefully. (Use the photos above as reference for plating.)
I guarantee that this soup will not only taste amazing, it will also look gorgeous on the table. It is perfect for an evening of romance and seduction.
11 Comments
RSS feed for comments on this post.
Sorry, the comment form is closed at this time.
Powered by WordPress. Graphics by Zak Kramer.
Design update by Daniel Trout.
Entries and comments feeds.