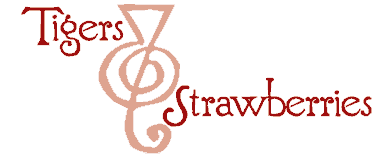 Cook Local, Eat Global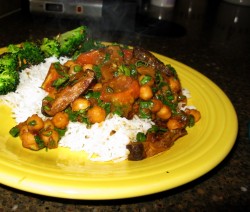 This is one of those recipes you want to make for your non-vegan friends in order to prove to them that vegan food can be delicious. Consider this curry to be an "ambassador recipe" to the world of non-vegetarians. I have quite a few such recipes, and they nearly always work. This one is great because it includes dried shiitake mushrooms, also called "Chinese black mushrooms," which you can get at nearly any Asian grocery store. These umami-filled fungi have a wonderful earthy aroma, meaty texture and rich flavor which pair perfectly with chickpeas, also known as chole.
I came across this recipe in Geeta Samtani's excellent cookbook, A Taste of Kashmir while I was gleaning ideas for lunch and dinner specials at Salaam. I like to do at least two or three vegetarian or vegan specials a week, and I really like to find unusual recipes that no one else in town would ever make.
As soon as I saw this one, I had to make it.
And we sold out of it. People loved it.
And, it is simple to make.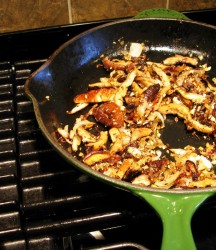 The one "tricky" part of the recipe is soaking and cooking the mushrooms. I have found that the best method is to boil water, and pour it over the mushrooms, and let them soak until you can stand to stick your fingers into the water. When they are cool enough to touch, they are completely rehydrated.
Just squeeze the excess water out, cut off the stem and discard it because it will be too tough, and slice the mushroom cap into thin pieces. Then let the pieces dry slightly on a paper towel before you saute them with the onions, garlic, ginger and spices–this removed the last of the excess water so that the mushrooms will get just a little bit crispy and absolutely delicious as they cook.
The other hint I have for making this recipe is that if you happen to have a bit of hummus in your fridge, instead of mashing some of the chickpeas to thicken the curry, you could add a heaping tablespoon of hummus. I have discovered that you cannot taste the tahini in a curry if you use it as a thickener and the lemon juice, garlic and cumin in it are already part of this recipe to begin with, so it all works out perfectly. This is just a little shortcut if you don't want to take the time to mash chickpeas, although, in reality, that doesn't take very long, either, even if you just use a manual potato masher.


Kashmiri Dhingri Chole–Mushroom and Chickpea Curry
Ingredients:
10-20 Chinese black mushrooms
boiling water as needed to rehydrate mushrooms
3 tablespoons canola or peanut oil
2 cups thinly sliced onions
1 teaspoon salt
1 1/2″ cube ginger, peeled and minced finely
1 teaspoon cumin seeds
1/4 teaspoon black peppercorns
1 teaspoon fennel seeds
1/2 teaspoon coriander seeds
1 cardamom pod, seeds removed and pod discarded
1 clove
1 pinch ground cinnamon
8 cloves garlic, peeled and minced finely
2 14 ounce cans of chickpeas, drained
handful fresh cherry tomatoes, quartered
lemon juice and salt to taste
1/2 cup scallion tops, thinly sliced
1 cup cilantro leaves, roughly chopped
Method:
Put mushrooms in a bowl, and cover with boiling water. Allow to sit while you prep the rest of the ingredients. When the water is cool enough to touch, squeeze out excess water, cut off the stems off, and slice the caps thinly. Sit slices on paper towels to drain while you prepare everything else. KEEP THE MUSHROOM SOAKING WATER!!!
Heat oil in a heavy-bottomed skillet, and add onions, Sprinkle with salt, and cook, stirring, until medium golden brown. Add ginger, and cook.
While ginger is cooking with the onions, grind spices to a powder, and add to the skillet. Add mushroom slices, and cook, stirring until onions are deep reddish brown, and the mushrooms are lightly crispy on the edges and brown. Add garlic, cook for one more minute, stirring, and add to the pot the chickpeas and all but the last tiny bit of the mushroom soaking water. (That last bit contains the little bits of grit that come off the mushrooms that is not tasty–throw that bit away.)
Turn down the heat and simmer for about twenty minutes. Take out about 1/4 of the chickpeas, and mash them to a near puree, and add them back to the pan. Add the tomatoes, and cook until they just begin to wilt. Add the lemon juice and salt to taste, and stir in scallion tops and cilantro leaves.
Serve over steamed basmati rice.
23 Comments
RSS feed for comments on this post.
Sorry, the comment form is closed at this time.
Powered by WordPress. Graphics by Zak Kramer.
Design update by Daniel Trout.
Entries and comments feeds.