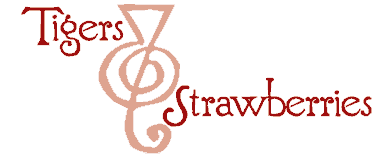 Cook Local, Eat Global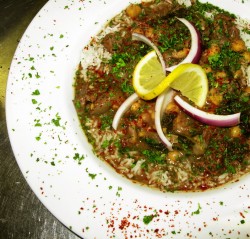 One of the best parts of working at Salaam is that I get to do research into new cuisines and dishes for dinner specials which I may not have ever sought out otherwise.
In point of fact, while I was interested in the food culture of the Middle East before I began working at Salaam, it was only a moderate interest at best, easily overshadowed by my love for Chinese, Indian and Thai cuisines. And while it is true that I had a small collection of cookbooks from the Middle East, I had not really ever delved very deeply into them, seldom cooked from them and generally just read them for pleasure and to add to my store of knowledge on subjects related to food in the context of culture.
Once I needed to start coming up with dinner specials that fit within Salaam's general concept, however, all of this changed, and I began digging through my little collection of cookbooks in earnest, and started testing dishes to see if they would suit the tastes of the people of Athens. (I also took this as an opportunity to start adding to my collection of Middle Eastern cookbooks as well, of course. Cookbook collectors seldom need a reason, I know, but still–it was good to have one anyway!)
The dish pictured above, which is a stew of lamb and chickpeas seasoned with and thickened by sumac, is one of the results of my research. Sumakiyah is a delicious dish with ancient roots in the southern Palestinian region of Gaza. It was, until recently, a featured dish at every wedding feast, and was also cooked for every celebratory occasion. This practice now, alas, is only carried on by the older generation of Palestinian women, according to May S. Bsisu, author of the amazing cookbook, The Arab Table.
It consists of a large quantity of boneless lamb shoulder and leg pieces stewed with chickpeas, onions, garlic, chilies and spices, then thickened and further flavored with tahini, which is ground sesame seed paste, and sumac, which is the coarsely ground tart berries of the Middle Eastern sumac plant (Rhus coriaria.)
Before we go any further, let me tell you about sumac, the spice, (Rhus coriaria,) as opposed to sumac, the poisonous native American plant (Rhus vernix.)
Yes, they are in the same genus–they are indeed related. They are both members of the family Anacardiaceae, a large family of plants which includes the plants which bear the edible cashews, mangoes, and pistachios. All members of this family exude some amount of a compound which is a skin irritant–which explains why one does not eat unprocessed or raw cashews and why one should not gnaw upon the skins of mangoes, unless one wishes to break out into an itchy rash. (Unfortunately, I like the taste of mango skin–but it does make me break out just to peel a lot of mangoes, so I don't chew the skins anymore–I just smell them and enjoy the evergreen fragrance of them.)
The ripe berry of the Rhus coriaria, however, is perfectly safe to eat and like the berries of the non-poisonous native American sumacs, which were used by Native Americans to make a drink very akin to lemonade, is endowed with significant amounts of vitamin C, a nutrient which is vital to human health. The ascorbic acid and citric acid content makes the wine-dark powdered berries very tart indeed, and they are a favored souring agent in many Middle Eastern cuisines. The lovely deep mahogany to burgundy color is also a reason for its popularity; it adds a rich, vibrant color to foods to which it is added, either by cooking it into the dish or by sprinkling it on at the end of the cooking process.
It is commonly found in Middle Eastern markets across the US, and is quite inexpensive. I urge you to get a jar of it and start playing with it. Or, you can a jar of sumac or za'atar–a popular spice blend that features sumac–from Penzey's and have them delivered to your door.
Now that you know more about sumac than you thought you would ever need to know, here's the recipe for sumakiyah–a hearty, healthy lamb and chickpea stew that I would hate to see forgotten, left by the wayside as culture and times move forward and change too quickly for old traditions to catch up. It is very easy to make, and very flavorful and is well worth experimenting with. This is the recipe I used for a dinner special at Salaam, which I adapted considerably from May Bsisu's wonderful book. We served it with a fatoosh salad and pita bread for scooping, (or over rice, if people preferred) and it turned out to be quite popular.
Oh, one more thing–I cheated and used hummus to thicken this dish, again, instead of using just sesame tahini. It worked perfectly well, it tasted awesome, and it had a lot of tahini in it to begin with. It also kept me from having to stir up the bucket of tahini we keep for dressings, hummus and other dishes. So, if you have some hummus sitting around in your fridge, you can put it to good use in this dish. Or, you can use the tahini as the recipe calls for and maybe take out a cup or two of chickpeas and mash or puree them to make a thicker stew.
I served this with red onion slices on top of it and some dried chilies sprinkled over it. You can also serve it with sliced fresh chilies for your guests to add as much as they like to the stew.
Sumakiyah
Ingredients:
2 tablespoons olive oil
2 pounds onions, thinly sliced
1 teaspoon salt
2 1/2 pounds boneless chunks of lamb shoulder and leg, mixed (or just buy lamb stew meat), excess fat removed
1 quart lamb, vegetable or chicken broth
3 cups cooked dried chickpeas, drained, or 3 cups canned chickpeas
1 teaspoon freshly ground black pepper
1/2 tablespoon ground allspice
1/2 teaspoon ground cardamom
1 tablespoon dried thyme leaves (or 2 tablespoons fresh thyme leaves)
pinch cloves
pinch cinnamon
2 bay leaves
16 cloves garlic, peeled and finely ground or mashed into a paste
1 pound Swiss chard or kale leaves, large veins removed, washed well and cut into bite sized pieces
2 tablespoons Aleppo pepper
1 fresh jalapeno pepper, seeded and finely diced
1/2 cup ground sumac
1/4 cup all purpose flour
water as needed
1 cup tahini (or 1 1/2 cups hummus bi tahini)
lemon juice, salt and black pepper to taste
Thinly sliced red onions for garnish
Method:
Heat olive oil in a deep, heavy-bottomed Dutch oven or stockpot. Add onions, and sprinkle with salt. Cook, stirring, until they become deep golden brown, almost reddish. Remove with a slotted spoon to a plate. Add meat, a little at a time and brown well in the pot, removing each batch as it cooks and adding more, until all the meat is finished cooking.
Remove the last bit of meat, and deglaze the pan with the broth, scraping up all the browned bits stuck tot he bottom of the pan. Add the onions and meat back to the pot and add the chickpeas. Add the seasonings, from the pepper to the garlic, and enough water to barely cover everything. Bring to a simmer and cook, simmering, adding water as necessary to keep the stew from sticking or burning or boiling dry, until the meat is fork tender–that is, when you insert a fork, it not only goes in easily, but also is easy to remove. The meat should just slide right off the tines of the fork.
Add the chard, the Aleppo pepper and the chli pepper, and cook until the leaves just wilt.
Make a paste with the sumac and flour and enough cold water to blend them together. Add this to the stew, and cook, stirring, until it thickens. Add the tahini, and stir well to blend it.
Season to taste with lemon, salt and pepper. It should be spicy and tart in flavor with the earthy undertone of the chickpeas and the richness of lamb. If you want your stew to be thicker, take out about a half cup to a cup of chickpeas and puree them then add them back to the pot.
Serve with a garnish of thinly sliced raw red onions with warm, soft Arab flat bread on the side. (You can also serve it over rice, which is apparently not traditional, but which some people prefer–and it tastes good, too.)
11 Comments
RSS feed for comments on this post.
Sorry, the comment form is closed at this time.
Powered by WordPress. Graphics by Zak Kramer.
Design update by Daniel Trout.
Entries and comments feeds.