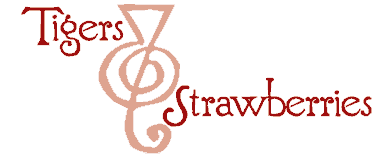 Cook Local, Eat Global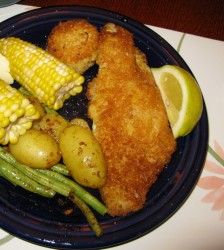 I am never going to pan fry cat fish in the Southern manner again.
As much as I love the cornmeal-dredged classic recipe I grew up with, I have discovered that I prefer the Japanese way of pan-frying better.
This is the method used to make tonkatsu–pan fried thin boneless pork cutlets with the most light, ethereal, crispy crust imaginable–adapted to catfish fillets.
What is so special about tonkatsu?
It is breading.
It is made from panko–a special Japanese breadcrumb that makes a light, crisp coating that is not just texturally fascinating, but also utterly delicious. Panko is made with crustless white bread and the bits are very crisp and irregularly shaped, making the the bits quite interesting in texture. My favorite type includes honey, making for a lightly sweet crust on whatever it coats.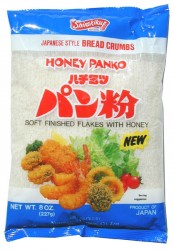 Panko makes tonkatsu a wonderful dining experience, but it turns a farmed catfish–one of the most safest, most sustainable fish choices available–fillets into a divine treat.
And panko coated fried catfish is simple to make–just as easy as the cornmeal crusted variety.
But it tastes so much better. It takes a food that is fairly stereotypical to the Southern palate and makes it truly special.
With just a squeeze of lemon juice, the catfish katsu is a perfect summer supper–especially when paired with the first local corn of the season, and garlic-sauteed new potatoes and green beans. (The corn is from Wittens, in Lowell, Ohio, where they grow it under plastic in order to get it to mature sooner than the rest of the corn in Southeastern Ohio.)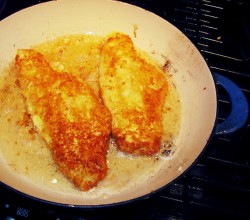 Panko-Crusted Fried Catfish
Ingredients:
4 large catfish fillets
salt and freshly ground pepper to taste
3/4 cup all purpose flour on a shallow plate
2 eggs well beaten
1 cup honey panko on a shallow plate
canola or peanut oil as needed for pan frying
Method
Salt and pepper both sides of catfish fillets well.
Dredge 2 fillets in flour on both sides, shaking to remove excess.
Pour oil into wide, heavy-bottomed skillet to depth of 1/2 inch. Heat on medium heat.
Dip in egg, coating well on both sides, then lay on panko on plate, scooping crumbs and patting onto egg-coated fish to coat well.
Lay fillets side by side in the pan, and cook without turning until you see the breadcrumbs on the edges of the fish begin to turn golden. Then, with a wide, long spatula, turn each fillet. The formerly bottom side should be golden brown and quite crisp. When fish is crisp on the other side, remove from pan, drain on paper towels and keep warm.
Repeat with other two fillets, and serve immediately.
8 Comments
RSS feed for comments on this post.
Sorry, the comment form is closed at this time.
Powered by WordPress. Graphics by Zak Kramer.
Design update by Daniel Trout.
Entries and comments feeds.