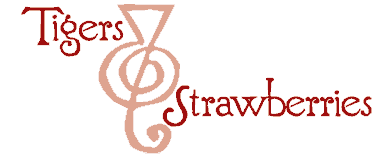 Cook Local, Eat Global
I have already written about the delectably sensuous pasta sauce from Naples, puttanesca. This velvety concoction of tomatoes, olives, capers and anchovies which is known as "whore's sauce" is one of my very favorite comfort foods. It makes for a quick supper from the pantry when I haven't had a chance to think too long and hard about what to cook. but it never tastes like something thrown together thoughtlessly.
It tastes artful.
A good puttanesca is a balance of salty, sweet and savory flavors sparked with the fragrance of capers and garlic.The salty flavor obviously comes from all of the preserved ingredients: the olives and capers are brined, and the anchovy paste is also well-salted. Sweetness comes from the cooked canned and sundried tomatoes, as well as from my carefully caramelized onions and lightly browned garlic. The savory note comes from the umami punch carried by the anchovies or anchovy paste; I have tried to make purely vegetarian versions of puttanesca, and while they were all very good, they lacked the depth and smoky nuance that the anchovies bring.
But, you know, as much as I adore spaghetti puttanesca, and could probably eat it three times a week without being fatigued, I always wondered if there wasn't something else I could do with that sauce.
When Hilarie at Restaurant Salaam asked me to come up with a new sauce for seared tuna, for whatever reason, puttanesca leaped into my consciousness and refused to be dislodged. And even though Hil is not herself fond of olives, she jumped on the idea and insisted that I give it a whirl.
So, I did.
And I am really glad I did, because this is a dish I would serve proudly to anyone, anywhere, anytime. (Provided, of course, that they were able and willing to eat fish and olives, of course. I would never, ever serve this to a vegan, for example, or a Jain, or to someone who just plain old didn't like fish. That would not only be cruel to the diner, it would be a waste of a rare and delicious bit of fish.)
I like the combination of a very expensive cut of fish with what is essentially poor-folks food from the back-alleys of Naples. (And the irony of serving whore's sauce on tuna steak appeals to my bawdy sense of humor as well.) But as appealing as the combination is intellectually, it is even more pleasing to the palate.
Rare or medium rare seared tuna, with its clean, rich ocean flavor really pairs amazingly well with the melange of salty, sweet and savory flavors and strong fragrances of puttanesca. They are just two great tastes that taste great together, to use the old advertising line from those old Reese's Peanut Butter Cup commercials.
A note here on the issues of the overfishing of tuna–I am of the opinion that if we are going to eat tuna at all, it should be very sparingly. I think that everyone gives up a portion or two of sushi, sashimi, seared tuna and tuna fish sandwiches per week, that perhaps the resulting slump in demand for the fish would cause overfishing them to slow down, and perhaps stop altogether. Besides, with the amount of mercury found in the flesh of these large predatory fish, it is probably a good idea to treat tuna as "a sometimes food" as the modern, newly-ascetic Cookie Monster would say. (What is up with that, anyway? The whole reason that Cookie Monster is a monster is because of his immoderate love of cookies and his habitual gluttony regarding same. Or, at least, I got that message when I was a kid. Political correctness has gone too far.)
Be that as it may, tonnato puttanesca turned out to be a delicious entree, one that combines the richness of seared fish with the earthiness of whore's sauce, and I am very pleased I had the idea to combine them.
Tonnato Puttanesca
Ingredients:
3-4 tablespoons olive oil
1 small onion, thinly sliced
4-5 cloves fresh garlic, minced
3 anchovy fillets, chopped finely or 1 1/2 teaspoons anchovy paste
1/2 pound pitted Kalamata olives, drained and chopped roughly
1/3 pound pitted green unstuffed olives, drained and chopped roughly
1/4 cup finely minced oil-packed sun-dried tomatoes
3 tablespoons capers, drained of brine and rinsed thoroughly, then drained again
1 teaspoon or to taste red chile flakes (optional)
1/4 cup dry red Italian wine
1 14 ounce can diced tomatoes with their juice (I use Muir Glen Fire Roasted Organic)
handful of fresh basil leaves, minced
1/4 cup extra virgin olive oil
1 clove garlic, minced and pounded into a paste
1 cup basil leaves, minced and pounded into a paste
2 teaspoons olive oil
4 tuna steaks
minced basil and basil sprigs for garnish.
Method:
First, make the puttanesca sauce. This recipe will make a sauce that is not very fluid. Instead, it will hold together like a salsa or relish on the plate, making a good platform for the tuna steak.
Heat the first measure of olive oil on medium heat in a heavy bottomed skillet or pan. Add onion and cook until softened and golden, stirring now and then. Add garlic and anchovy and continue cooking until garlic turns golden, the onions brown slighty and the anchovy fillets disintegrate. (If you are using anchovy paste, do not add at this point–add it after the olives and capers have cooked for about a minute.)
Add olives, sun-dried tomatoes, capers, and chile flakes, and continue cooking until very fragrant, about three minutes. Add wine and allow alcohol to boil off.Add tomatoes and their juice after the alcohol has boiled away and turn heat down slightly and allow to cook until it thickens up and most of the liquid is boiled away.
Remove from heat and stir in first measure of minced basil.
Next, make the garlic and basil infused olive oil.
Mix together the 1/4 cup extra virgin olive oil with the garlic and basil paste, and allow to steep for about an hour or so.
Just before serving, stear tuna steaks.
Heat two heavy-bottomed skillets (not nonstick–I like cast iron or heavy stainless steel) over medium high heat until they smoke slightly. Add one teaspoon of olive oil to each and tip pans back and forth to coat the bottom thoroughly. Add tuna steaks two per skillet. Allow to sear on the first side undisturbed for a few minutes, or until a nice brown crust is formed. Watch the sides of the fish; a line of white cooked flesh will come up from the bottom toward the top. At this point, turn the fish and press the second side down with the back of the spatula. Put a lid down on the pan, and allow to cook undisturbed for the same amount of time it took to sear the first side.
For rare tuna, sear both sides of the steak, then if you like, using tongs, lift and hold each edge of the tuna against the hot pan to sear them as well. This looks much prettier, and you still have a nice red interior.
For medium rare tuna, after you sear both sides and clap the lid over the fish, let it cook until the edges turn beige on their own. That should lead to a pinkish red interior that is warm all the way through.
For medium well tuna, meaning warm all the way through and barely pink on the inside, before you clap the lid on the pan, squirt about 1/4 cup of water into the pan, then slap the lid on it (the oil will make is splatter, so use the lid as a shield while you squirt in the water–I use a squeeze bottle as it is easier to get the water in without being burned since my hand can stay out of the way. Pouring the water in usually involves getting my hands spattered and burned by hot oil, which, while I am used to it, still sucks.
The steam from the water will help cook the tuna through without drying it out.
For well done tuna–open a can. Okay, okay, if you really want well done tuna, do yourself a favor and slice the steak in half so you have two thinner tuna steaks instead of one thick one. Then cook as per my instructions for medium-well tuna, except because the steak is thinner, it will steam through more quickly and lose less juice and flavor that way.
To plate this dish, take about a half cup of the sauce and drain any remaining liquid from it. Mound it in the center of the plate. Place a tuna steak on top of the mound, and then drizzle the basil garlic oil over the fish. Then place about a tablespoon of the puttanesca on top of the fish, and dot the edges of the puttanesca on the plate with basil garlic oil, then sprinkle with minced basil, mild chili flakes (;like Aleppo or Kirmizi pepper) and top the little mound of puttanesca with a basil sprig.

4 Comments
RSS feed for comments on this post.
Sorry, the comment form is closed at this time.
Powered by WordPress. Graphics by Zak Kramer.
Design update by Daniel Trout.
Entries and comments feeds.