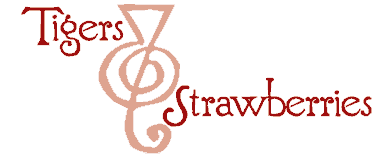 Cook Local, Eat Global
Last week, two different people sent me a link to this New York Times Op-Ed piece: "The Maggots in Your Mushrooms".
With a title like that, of course I had to read the thing, but after I did, I ended up shrugging my shoulders and saying, "So what?"
Which is definitely not the reaction that a writer wants when he or she writes an opinion piece. Editorial writing by its nature wants to inspire a response, preferably a strong one; the last thing the author of an opinion essay wants is for someone to finish reading it and say, "So, uh, dude–what's your point?"
Because the point of an opinion essay is to have a point and to drive it home, skillfully, with carefully honed arguments and beautifully constructed spires of logic and reason.
Unfortunately for, E. J. Levy, the author of "The Maggots in Your Mushrooms," the point of her essay is rather dull, and while it is factually based, her arguments, if you can call them that, are, on the whole, insipid.
What is the point of the essay?
As near as I can tell, Ms. Levy apparently just found out that the FDA allows a certain level of naturally occurring foreign matter in both processed and unprocessed foods, and it disturbed her.
At least I think it disturbed her, but I can't be certain because she never states an opinion one way or another on what should be done about this policy. She never agrees nor disagrees with the FDA's acceptance of a certain level of ""insect filth," "rodent filth" (both hair and excreta pellets), "mold," "insects," "mammalian excreta," "rot," "insects and larvae" (which is to say, maggots), "insects and mites," "insects and insect eggs," "drosophila fly," "sand and grit," "parasites," "mildew" and "foreign matter" (which includes "objectionable" items like "sticks, stones, burlap bagging, cigarette butts, etc.")" in our food.Instead, Levy merely states facts gleaned directly from the FDA publication, The Food Defect Action Levels: Levels of Natural or Unavoidable Defects in Foods That Present No Health Hazards for Humans, without stating her objections to or support for the FDA's policies regarding these unappetizing yet unavoidable food contaminants.
It is almost as if she is trying to scare her readers, without coming out and taking responsibility for scaring them by simply using the FDA's own facts against them while at the same time never giving a solution to what I suspect she considers to be problematic, lax rules concerning food purity.
It is damned sloppy writing for an award-winning, nationally acclaimed essayist.
And, as someone who spent much of her childhood on a farm, I have to say that this essay displays the kind of silliness I have come to expect from many city folks who are shocked, yes, shocked, to find out that farmers fertilize their fields with composted cow, pig and chicken manure, and who freak out at the thought that they may find a slug on the underside of a lettuce leaf. You know the kind of folks I mean–the ones who seem to fear dirt and all of the unsavory critters it contains, never realizing that without dirt, aka soil, we would bloody well have nothing to eat.
This sort of attitude irritates the crap out of me. I mean, after I read the essay I was ready to drive off to Missouri and shake some bugs over this lady's lunch, which is really childish of me, but still–the whole thing just sounds so immature that I couldn't help but want to respond in kind. It all seemed to come down to, "Oooh, scary–there are bugs in our food–icky-poo! And the evil, nasty FDA knows all about it and does nothing–grody to the max!
And since she starts out her essay referencing the current salmonella in peanut butter fiasco, it isn't like Levy doesn't know that there are legitimate concerns to be had regarding the safety of our food supply, and that there are honest-to-God gripes to be leveled at the federal agencies we entrust with overseeing food safety.
But bringing up the fact that there are a certain small number of nearly microscopic bug bits and vermin hairs in our canned goods and some stones in our dried beans which are allowed by the FDA trivializes the seriousness of the salmonella outbreak which has resulted in hundreds becoming ill and quite a few deaths. In heaping scorn upon the FDA for these realistic policies regarding harmless natural contaminants, I think that Levy is missing the point and muddying the water when it comes to the very real issue of foods contaminated by illness-causing pathogens, and is doing nothing to help the FDA do a better job of protecting consumer health.
But that's just me. I grew up in the country where I was party to growing food in close contact with dirt, poop, insects, field mice, cats, slugs, snails, rocks, sticks and all sorts of other unsavory things.
So, I just don't get it.
Food comes from dirt, and insects and rodents eat the same food that we do, and so they track dirt onto the food. All of it can't be removed and it doesn't hurt us (because really, if it was harmful, we wouldn't be sitting here having this conversation at all–we'd have all died out long ago from overdoses of bugs, mouse droppings and blowfly maggots), so why freak out and divert attention from real problems with our food supply which can kill us?
20 Comments
RSS feed for comments on this post.
Sorry, the comment form is closed at this time.
Powered by WordPress. Graphics by Zak Kramer.
Design update by Daniel Trout.
Entries and comments feeds.