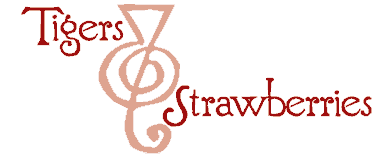 Cook Local, Eat Global
Here are some photographs of more of my sewing projects.
The first two are half of the set of four place mats I made for my parents for Christmas.
They are both made of 1930's reproduction fabrics, and the two quilt blocks in each mat were popular during that period. They are called "pinwheel" and "broken plate." The idea for the appliques came from a book from 1923 which I had as a kid, which was a handbook of how to sew practical and decorative items for young girls, called, "When Sally Sews." The illustrations in the book included flower and butterfly appliques made from simple shapes, very like the ones I ended up putting on the place mats.
I edged the appliques with hand-done satin stitch and embellished them with stem and outline stitches; the butterflies each have delicate antennae, and the leaves all have veins in them. The bodies of the butterflies are made of pieces of black rickrack.
The mats were so pretty that Dad refuses to eat off of them, and instead they are placed on the kitchen table between meals to make the kitchen brighter and happier looking.
Here is an apron that looks like it was made to match the mats–it was also made from 1930's reproduction fabrics–25 of them altogether and the design of it is based on a pair of aprons I have from the same period made from old feed sacks, shirting and dressmaker's cottons.
This apron is like having two aprons in one, however, because I made it reversible. That way you can cook wearing one side and then serve dinner wearing the other side, if you make a spill on the first side.
Note the pretty little flower-shaped button details on the bottom edge. I thought they looked pretty there.
The first side has no pocket, but the second side does–and I embellished it to make up for the second side being so much plainer.
It is weird, I love the apron, but I would never wear it. I look crappy in pink and I am just NOT a pink person.
Needless to say, this apron will be among the first items up for sale when I open my Etsy store. Yes, I am going to be selling aprons soon. And maybe place mats, potholders and maybe even little girl skirts–more on those later.
Now here is an apron I would wear, but I decided to put it up for sale anyway. It is another reversible apron–bistro style this time–just below the knee length and straight. All of the fabrics are Asian in style, and include Japanese and Chinese foods, tea and Japanese good-luck cats, maneki neko. The reverse side is the black with white calligraphy that you see making the waistband and ties–so you can be subtle or stunning depending on your mood.
I'll have to make another one of these for myself soon, since I collect maneki neko.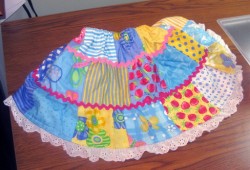 .
Here is why I haven't posted for two days–I was too busy watching Kat while Zak did taxes and rehearsed for a guitar gig, and I was sewing these cute little patchwork skirts for Kat. They are made from five inch squares of fabric, each one different. These are marketed by fabric companies as "charm packs," and they include a single five inch square of each fabric in a given line. This first skirt is made from parts of two different charm packs from Moda–I split two very similar packs into colorways–blue, turquoise and yellow for one, and pink, green and purple for the other. This skirt is from the first colorway–the pink, green and purple are being made into a sundress for Kat even as I speak, and will be done in a day or so.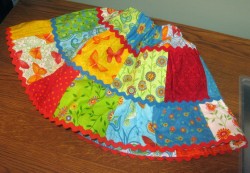 This second skirt, which I made yesterday evening, is from a totally different charm pack, this one from Benartex, I believe. I love the brilliant colors of both of the skirts, but I think I like this second one slightly better.
The skirts were simple to make once I figured out what I was doing, and I may end up making more of them to sell on Etsy, along with aprons, place mats, potholders and other kitcheny sorts of items.
That is all for this time–I hope you enjoyed a peek into my sewing room!
6 Comments
RSS feed for comments on this post.
Sorry, the comment form is closed at this time.
Powered by WordPress. Graphics by Zak Kramer.
Design update by Daniel Trout.
Entries and comments feeds.